238-mph jet stream shaves an hour off cross-country flights to East Coast
Some planes reached ground speeds of 740 mph as roaring tailwinds spread across much of the middle of the country on Monday.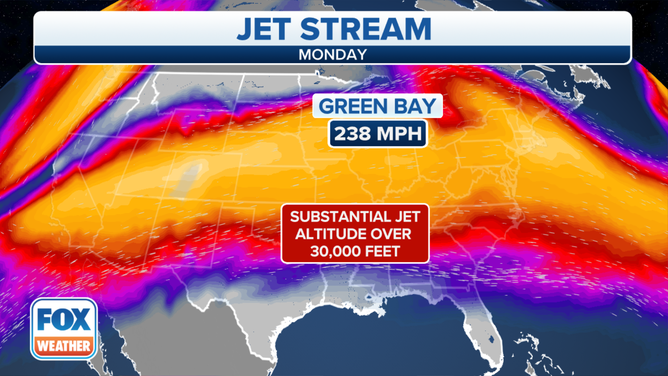 If you like to spend as little time on a flight as possible, you were lucky if you were heading east across the country on Monday.
A roaring jet stream was present across much of the Midwest, into the Great Lakes and New England. A weather balloon launched at the National Weather Service office in Green Bay, Wisconsin, recorded a wind speed of 238 mph at just over 30,000 feet.
Those tailwinds helped planes shave about an hour off their typical cross-country flight times to the East Coast.
An American Airlines flight on Monday made it from Los Angeles International Airport to Boston's Logan Airport in 4 hours and 24 minutes, according to FlightAware.com, with relative ground speeds reaching 740 mph at times during the flight.
Last Wednesday, that same flight took 5 hours and 9 minutes, and it took 5 hours and 32 minutes on Dec. 18, according to FlightAware.
However, a reverse fate awaited those trying to head west with strong headwinds, making for a much longer flight.
Another flight heading from Boston to Los Angeles Monday took an elongated flight path up into the southern corner of Manitoba and northern Minnesota to dodge the headwind, landing in Los Angeles after a 7 hour and 38-minute flight. 
That flight was two minutes longer than the Iceland Air flight that went from Seattle to Reykjavik, Iceland, according to FlightAware. That flight is typically a 1,000-mile longer flight path. 
For one plane that flew into the headwind, the slow progress required an unscheduled stop. 
American Airlines confirmed to FOX Weather a tweeted report by @MichaelPageWx that American Air flight 2323 from Boston to Phoenix had to divert to Oklahoma City to refuel after encountering the strong headwinds.
The jet stream was expected to remain nearly as strong through Tuesday then weaken a bit toward the end of the week, though still providing decent tailwinds for eastbound aircraft.