What excess rain means for California's burn scars
Excessive rain from atmospheric rivers and wildfire burn scars are a dangerous setup for deadly debris flows.
As atmospheric rivers continue to drench California, officials worry about the impact the rain will have on the state's burn scars. 
Wildfire dangers are not over once the fire is out. Atmospheric rivers that produce ample rain bring another risk, as burn scars from the enormous summer fires leave nearby communities at risk for sudden and deadly debris flows.
Burning trees and other vegetation release soil-sealing wax making the ground almost waterproof across a burn scar. 
WHAT IS AN ATMOSPHERIC RIVER? EARTH'S LARGEST FRESHWATER RIVERS ARE IN THE SKY
"In addition, vegetation like trees, shrubs and grasses intercept rainwater as it falls lessening erosion," said Daniel Horton, professor of Earth and Planetary Sciences at Northwestern University"
Burned land is barren of vegetation with roots that would normally bind the soil, preventing erosion and slipping.
"In places where the wildfire was burning for a while, the soil afterward almost repels the water. Rainfall that would normally be absorbed, especially in dense forests, will very quickly run off and pose a threat for extreme flash flooding for whoever or whatever is down the mountain," Meteorologist Heather Brinkmann said.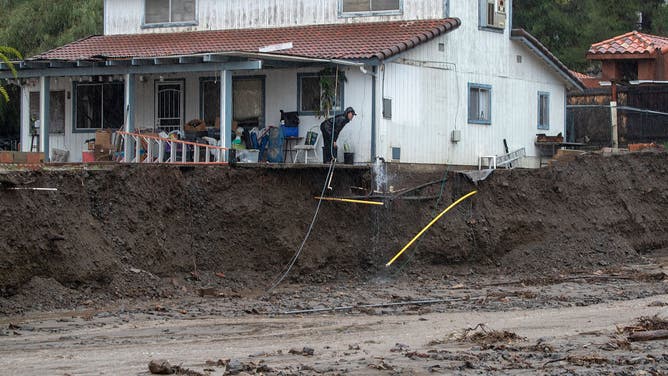 Fire also burns trees and roots, leaving behind hundreds of acres of fallen tree trunks that can easily be picked up by flash flooding to create a debris flow. Those trees can also dam flood channels to exacerbate flooding.
The USGS says as little as 0.3" of rain in 30 minutes to trigger a debris flow during an area's first post-fire burn. A burn scar can take several years to recover. Most debris flows occur in the first two years after a fire.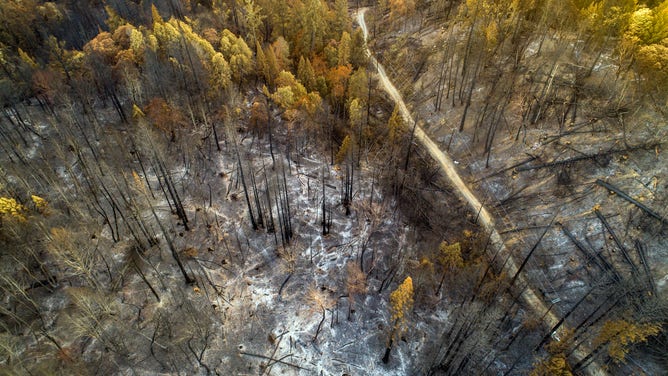 California already had a preview over the  summer of what could happen when heavy rain hits burn scars.
Video caught a debris slide destroying a restaurant as 7 feet of boulders, mud and tree trunks swept through. Monsoon rain fell on a southern California burn scar.
'ROCKS THE SIZE OF RECLINERS': MUDSLIDE FILLS SOUTHERN CALIFORNIA STEAKHOUSE WITH UP TO 7 FEET OF DEBRIS
"The size of a burn area and the severity of the burned area are both closely related to debris flow hazard levels," said Horton. "Generally speaking, higher burn severity, higher debris flow hazard. Larger the burn area, larger the downstream areas that are affected." 
Monsoon rains fell over the burn scar of the largest wildfire in New Mexico's history over the 2022 summer. The debris flows and runoff polluted an entire town's water source. 
POLLUTION FROM FED-SPARKED WILDFIRES LEAVES NEW MEXICO TOWN WITH UNDER 50 DAYS OF WATER
Monsoon rains in September 2022 fell over the Bobcat Fire burn scar in Southern California. Two inches of rain in just hours triggered a slide that buried 50 people in cars. Crews were able to rescue everyone.
SOUTHWEST MONSOON SEASON: WHAT YOU NEED TO KNOW
Horton calls debris flows a "slurry," meaning a mix of water and dirt, boulders, trees, sand and anything else in its path.
"Debris flows are very dangerous and have been known to destroy roads, homes, and other structures and result in fatalities if people are not able to evacuate," said Horton. "Debris flows speeds vary depending on the event, but can reach up to 35 mph."
The U.S. Geological Survey states that 25-50 people in the U.S., on average, are killed by landslides which cause up to $2 billion in damage every year. One of the most tragic flows killed 23 people, injured 167 more and damaged over 400 homes in Montecito, California, in January 2018. Heavy rain fell on the Thomas Fire burn scar in the upscale Santa Barbara County community. 
HOW TO WATCH FOX WEATHER ON TV

Atmospheric river-fueled storms in January 2023 renewed fears of residents that survived the debris flow, five years ago to the day.