Pollution from Fed-sparked wildfires leaves New Mexico town with under 50 days of water
Monsoon rains falling on the burn scar of the largest fire in New Mexico history pollutes city's water shed and reservoir supply. A state of emergency declaration clears $2.25 million for emergency filter systems.
LAS VEGAS, N.M. – The city of Las Vegas, New Mexico, says it has less than 50 days of clean drinking water left after heavy monsoonal rains washed debris, soot and ash from the burn scar of the state's largest wildfire in history into the water supply and polluting it. 
CAR SWEPT AWAY IN DEATH VALLEY AS MONSOON THUNDERSTORMS SOAK THE SOUTHWEST
New Mexico Gov. Michelle Lujan Grisham declared a state of emergency for the city, and its residents, securing $2.25 million. The funds are already at work building a temporary pre-treatment/filtration system drawn from a different source. That water would replenish the dwindling 50-day clean supply.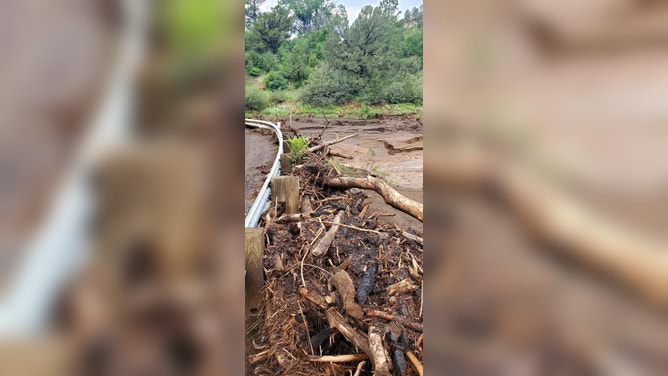 "The contaminated water flow from the Gallinas caused by the wildfire damage to our watershed has compromised the availability of water to the Las Vegas municipal water system," said Las Vegas Mayor Louie Trujillo in a press release. "Rest assured that the city will be holding the federal government responsible for our current situation."
LARGEST FIRE IN NEW MEXICO HISTORY CAUSED BY PLANNED BURNS, FEDERAL REVIEW FINDS
Prescribed burn gets out of control
On April 6, the U.S. Forest Service lit a prescribed burn to clear brush to prevent a larger wildfire. The Forest Service wrote in their incident report that initially, wind conditions were within the parameters required to light the controlled fire. But, erratic afternoon winds quickly blew the embers well beyond the planned perimeter. By afternoon, the Hermits Peak Fire was out of control just six miles outside of Las Vegas.
Hermits Peak merged with the nearby Calf Canyon Fire, which started in January by a planned debris pile burn. The 'sleeper fire' continued to burn underground, dormant. The same erratic winds fed the flames.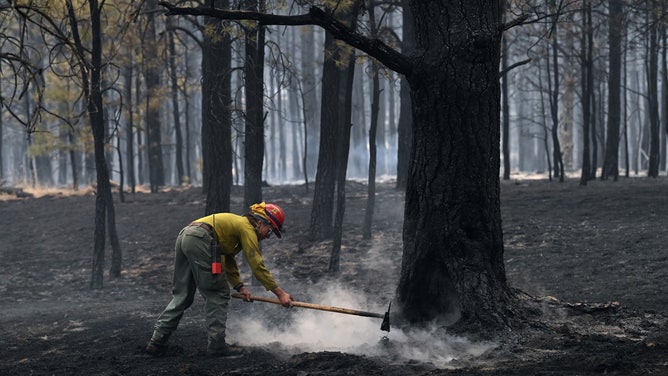 The fires consumed almost 342,000 acres so far and still burn. Crews managed to contain 98% of it.
"The destruction that continues to befall New Mexico communities affected by the U.S. Forest Service planned burns from earlier this year is unfathomable," said Lujan Grisham in the declaration. "New Mexicans in San Miguel County have been through enough – we will continue to do everything we can to support them and prevent additional damage as a result of the wildfires."
HERMITS PEAK/CALF CANYON FIRE ASSISTANCE ACT ONE STEP CLOSER TO BECOMING LAW
The fire destroyed almost 300 structures, including over 160 homes. Tens of thousands of residents were forced to evacuate. Smoke tainted air quality for months.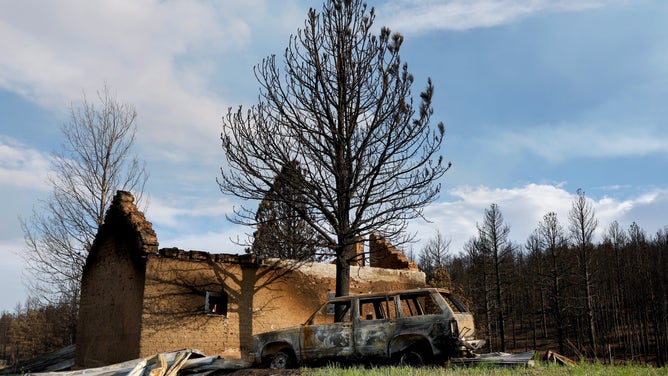 "The government has claimed responsibility for the damage and for both fires," Trujillo told FOX Weather. "This is something that was 100% avoidable."
'Such a weird situation'
As summer progressed, then came the seasonal monsoon rains. Torrential downpours fell on the scorched land and burned homes, and the polluted water found its way into the watersheds that supply Las Vegas' water. 
SOUTHWEST MONSOON SEASON IS HERE: WHAT YOU NEED TO KNOW
"It's such a weird situation that we're in. Not only after the largest wildfire in our history but one of the most fruitful monsoon seasons we've had… I think they said over seven years," explained Trujillo. "So we're not able to capture any of that water coming … because it's so contaminated with heavy particles and ash and dirt and debris."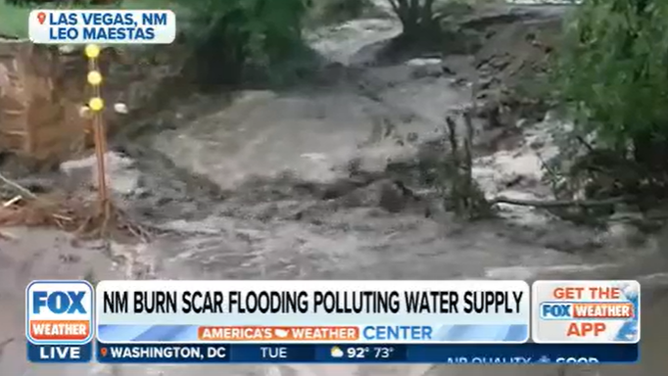 While the water district builds an emergency filtration system, flooding rains continue to fall, and residents are counting down the 50 days.
Be sure to download the FOX Weather app to track any storms in your area and receive potentially life-saving weather alerts issued by the National Weather Service. The free FOX Weather livestream is also available 24/7 on the website and app and on your favorite streaming platform. The FOX Weather Update podcast also provides weather information for the entire country.