Car swept away in Death Valley as monsoon thunderstorms soak the Southwest
Heavy rain and thunderstorms in the Southwest washed out roads in California and turned streets into rivers in the Phoenix area over the weekend.
The monsoon season across the Southwest continues to bring periods of torrential rain that has wiped out roads across California's Death Valley and Mojave National Preserve and turned streets into rivers in Las Vegas and Phoenix.
"It's been very active across the Four Corners states, all of these Flash Flood Warnings, 616 to be exact to be issued just in the month of July alone," FOX Weather meteorologist Jane Minar said.
EXPLAINING FLOOD ALERTS ISSUED BY NATIONAL WEATHER SERVICE
The National Park Service posted a photo to Instagram showing a car swept off a highway near Stovepipe Wells in California.
"We urge people traveling in this area to use extreme caution, as storms are forecast to continue through Thursday," the National Park Service said in the Instagram post. "If you see flowing water or debris, remember: turn around, don't drown!"
Flooding also washed away roads across California's Mojave National Preserve.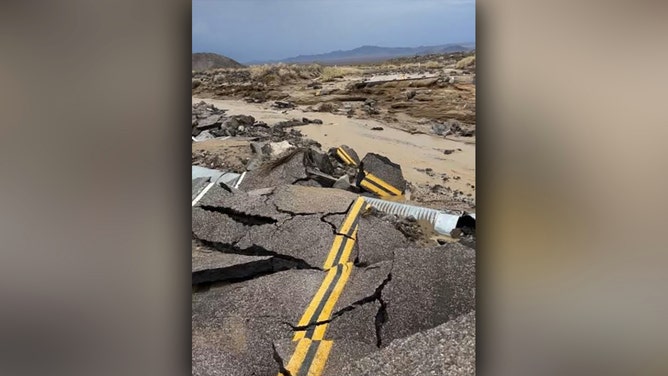 Photos from the National Parks Service show Kelbaker Road in shambles near where it was previously interested with Mojave Road.  Parks officials said all roads inside the park were closed as crews assessed the damage.
HOW TO WATCH FOX WEATHER ON TV
Roads remain closed as of Tuesday afternoon.
Flash Flooding remains a threat from monsoon in Southwest
Thousands of people across the Southwest are under the risk of flash flooding on Tuesday.
Areas most at-risk of flash flooding include places from California to the Four Corners region, as well as stretching into parts of the Pacific Northwest and Wyoming.
The Flash Flood Outlook on Tuesday, August 2.
(FOX Weather)
---
Several inches of rain could fall across the Southwest over the next week.
The highest totals will be seen in Colorado, with some parts of the state could pick up 3-5 inches of new rain.
The Southwest rain forecast over the next seven days.
(FOX Weather)
---
Heavy rain is also expected in Arizona, where places closer to the border with Mexico could see an additional 3-5 inches of rain over the course of the week.
Flooded roads have been a problem in Arizona, where over the weekend streets in Phoenix were under several inches of water after passing thunderstorms.
PLAN, PREPARE, PROTECT: HOW TO BEST COVER YOUR PROPERTY AGAINST FLOODS
Last week, a monsoon storm dumped heavy rain across the Las Vegas Valley on Thursday night, triggering flash flooding along the Las Vegas Strip and several famous casinos.
CLICK HERE TO GET THE FOX WEATHER UPDATE PODCAST
The FOX Weather app is a great resource that can be used to alert you of any watches or warnings issued for your area. The free FOX Weather livestream is also available 24/7 on the website and app and on your favorite streaming platform. The FOX Weather Update podcast also provides weather information for the entire country.