Harold weakens to tropical depression after dumping torrential rain on Texas
Tropical Storm Harold was downgraded and lost the force of its punch, but heavy rains continue to fall across Texas.
What was Tropical Storm Harold has weakened to a tropical depression Tuesday as it moves farther inland, dropping inches of rain across South Texas along the way.
Harold made landfall on Padre Island late Tuesday morning as a tropical storm with torrential rain, strong winds and large waves battering the coast. Worries of flash flooding and tornadoes continued as the storm moved inland. 
Meteorologist Jason Frazer tried to stand up to the wind and rain on Padre Island but conditions made it almost impossible to hear him.
The National Weather Service recorded wind gusts of 65 mph at Corpus Christi and a 67 mph gust at Loyola Beach – both solidly within tropical-storm criteria. Corpus logged 5.42 inches of rainfall and Portland, 5.15 inches.
Where is Harold?
Tropical Storm Harold is now about 15 miles east of Laredo, Texas, and is moving west-northwest at 21 mph. The storm has maximum sustained winds of 35 mph with higher gusts.
GUIDE FOR 2023 ATLANTIC HURRICANE SEASON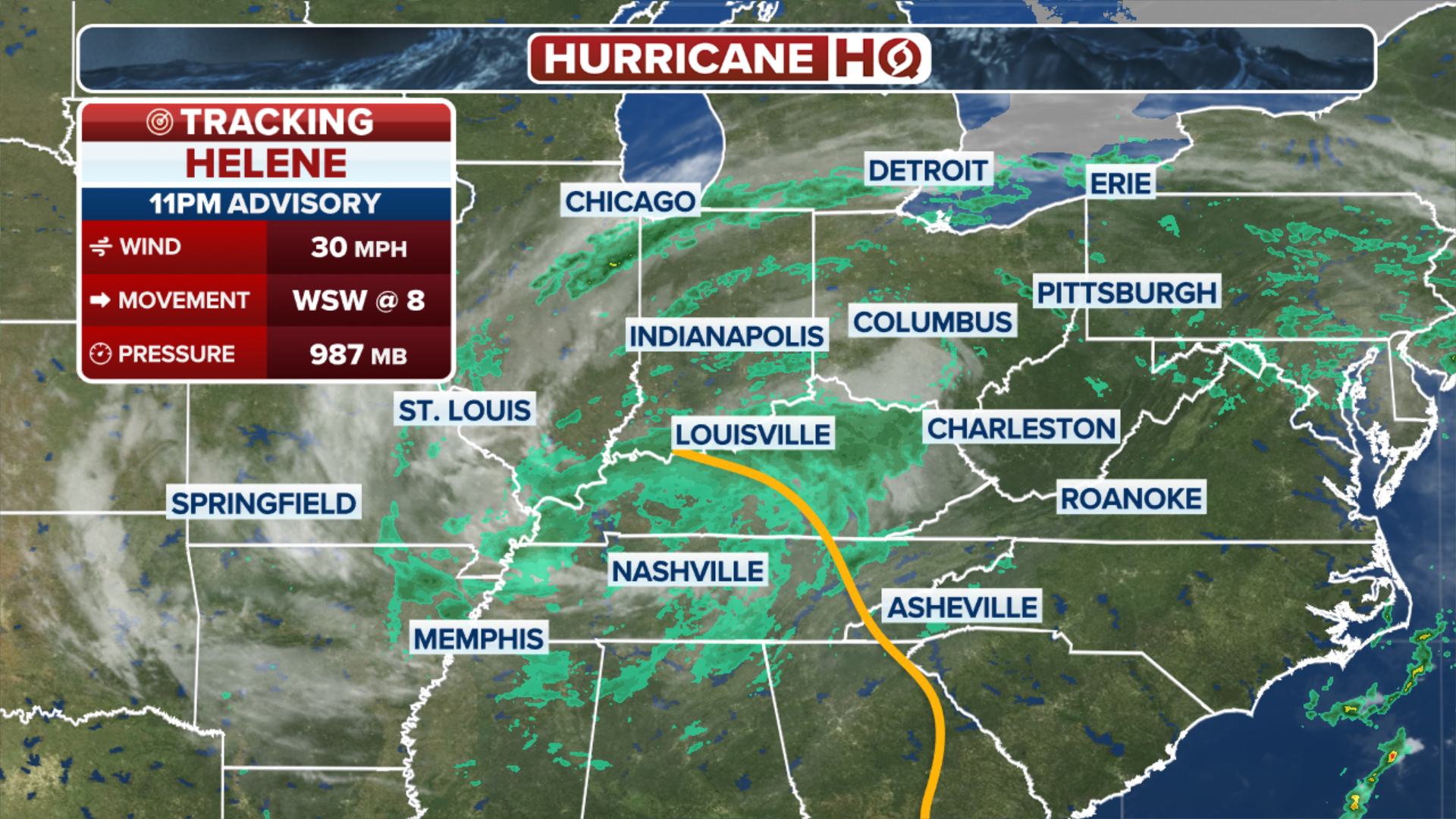 Tropical Depression Harold.
(FOX Weather)
---
What are the expected impacts of Tropical Storm Harold?
Tropical Storm Harold is expected to bring much-needed rain to the South Texas area through Wednesday, according to the FOX Forecast Center. Rainfall amounts of 2-3 inches, with locally higher amounts of about 3-5 inches across South Texas are possible through early Wednesday.
The heavy rainfall may produce areas of flash and urban flooding. 
Flash flood threat.
(FOX Weather)
---
Harold's remnants will also bring moisture to much of the Southwest through the end of the workweek. 
Rainfall forecast through Saturday.
(FOX Weather)
---
New Mexico, Arizona and Utah all have a flood threat Wednesday into Thursday as the system continues into the region. 
Flash flood threat through Thursday.
(FOX Weather)
---
HERE ARE THE HURRICANE NAMES FOR THE 2023 ATLANTIC SEASON
Texas State Emergency Operations Center activated
Preparations were made across the region as Tropical Storm Harold spun across the western Gulf of Mexico on a path toward the Lone Star State.
Schools in Santa Gertrudis, Texas, were closed ahead of Harold's arrival. And out of an abundance of caution, all Texas A&M University-Kingsville locations, including the Citrus Center in Weslaco suspended normal operations at 8 a.m. CDT Tuesday.
In addition to schools, roads across the region were also closed due to flooding.
According to the Corpus Christi Police Department, Harbor Bridge Project crews were forced to close the Northwest Loop Ramp connecting to southbound SH 286 (Crosstown Expressway). Flooding also forced the closure of the Northwest Loop Ramp connecting southbound SH 286, and drivers in the area needed to be detoured around the flooding.
FOX Weather's Exclusive Storm Tracker witnessed an accident on a flooded highway in Corpus between live reports.
The Laredo Police Department listed roads closed by flooding on social media. They made a plea on Facebook to stay home. An officer stated that police and fire had to perform deep water rescues for several vehicles and drivers that started floating in the floodwater.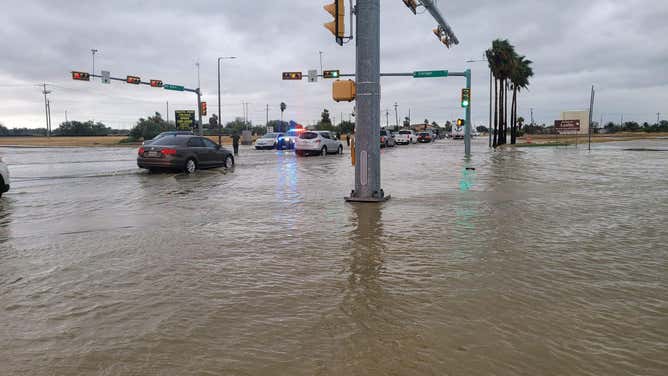 Critical fire weather conditions remain where Harold misses
While parts of South Texas may get a little too much rain from Tropical Storm Harold, drought-stricken areas just to the north of the storm are looking south with jealous eyes.
"The tough thing when it comes to Harold is the spots that really needed (the rain): San Antonio, Austin, Houston and Dallas -- so close, yet so far away," said FOX Weather Meteorologist Britta Merwin. "Folks in Southeast Texas and Hill Country; they were so excited there was going to be a weak tropical storm to bring them rain, and they're going to be left out."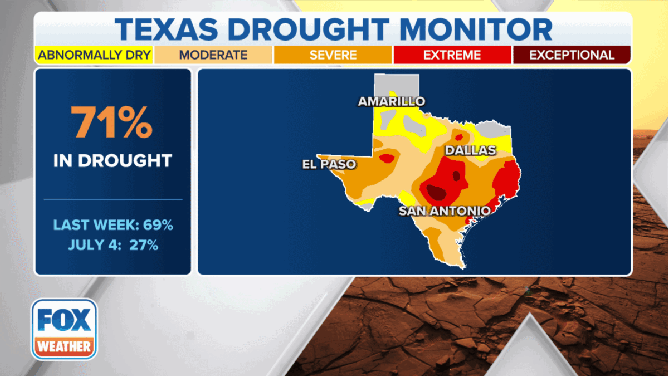 Much of Texas is in some level of drought, and it's been weeks since it's rained in Dallas and San Antonio.
Areas to the north of Harold may see a little rain Tuesday, "but not like what we're going to see in South Texas," Merwin said. "When you're facing extreme drought conditions from the Hill Country and Southeast Texas into North Texas these are areas that could be facing huge wildfire risks in the next 4-6 weeks if they don't get rain and unfortunately, they are missing out, and they are missing out by such a close margin."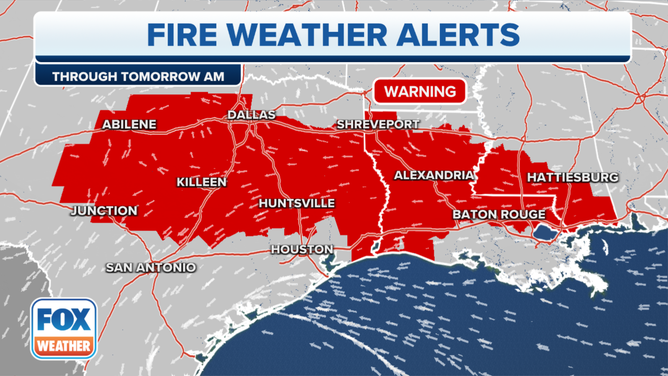 To illustrate the dichotomy, critical fire weather conditions are forecast Tuesday for parts of Texas just north of Harold's expected trek across the southern border Tuesday.
Fire Weather Warnings are in effect for a large swath of central and east Texas as hot and dry conditions outside Harold's rain bands combine with a period of gusty winds as the tropical storm passes by to the south to bring dangerous conditions ripe for rapid spread should any fire begin.