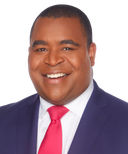 Jason Frazer
FOX Weather Meteorologist
Jason Frazer joined FOX Weather in 2021 where he currently serves as the morning co-anchor of the ad-supported streaming weather service. 
Prior to joining the network, Frazer served as a meteorologist for the NBC affiliated WKYC-TV in Cleveland, OH and spent two years at FOX affiliate WTGS-TV in Savannah, GA where he covered several severe weather events, including Hurricanes Florence, Irma and Michael. He got his start in television news as a reporter, working for CBS affiliated stations in Rochester (WROC-TV), Columbus (WBNS-TV) and Hartford (WFSB-TV), where he was a part of the station's investigative unit. He went on to work as an investigative reporter for WHDH-TV (NBC) in Boston and NECN, New England's 24-hour cable network, where his reporting uncovered how landlords in Massachusetts were improperly placing young children on eviction notices, impacting their credit ratings. 
A graduate of Columbia University with a degree in Political Science, Frazer completed the Broadcast Meteorology Program at Mississippi State University, earning his certificate in meteorology. He is married to NBC New York anchor Romney Smith, and lives in Queens, New York. He is also a certified drone pilot.