Tornado risk continues overnight along Gulf Coast after damaging storms ripped through Houston
Severe storms in the South Tuesday evening created damaging wind gusts and several tornadoes. Homes and buildings were destroyed in parts of Texas, as the storm system now makes its way to Louisiana.
DEER PARK, Tx. – Tornadoes tore through southeastern Texas and western Louisiana Tuesday afternoon, causing damage and injuries as the line of severe weather now targets Louisiana and the Gulf Coast Tuesday night. 
The Houston area was particularly hard-hit by the storms that triggered dozens of Tornado Warnings, including a rare Tornado Emergency -- among the National Weather Service's most dire warnings.  
It was the first tornado emergency issued in Houston since the warning type was first created in 1999.

"It was definitely a different experience," said Ryan Lee, senior captain at the Houston Fire Department. 
"Just from my 20 years in the Houston Fire Department, even in my decade in the Rescue division, we'd go to building collapses and stuff like that, but this was a different experience," he added. "It was just widespread damage – it was impressive, the level of damage."
LOOK AT THE DAMAGE LEFT BEHIND BY SEVERE STORMS THAT RIPPED THROUGH HOUSTON AREA
Tornadoes strike in Texas
Extensive damage was reported in the Houston suburb of Deer Park. 
Several commercial buildings were destroyed along Center Street. Some trees were found snapped in half, while others fell on homes and cars.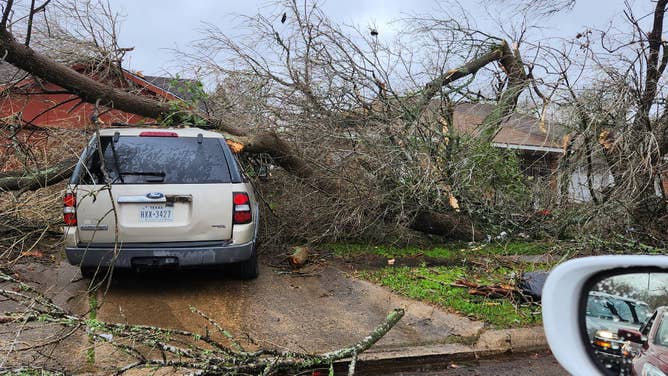 Two locomotives were derailed near Highway 225 and Underwood Road.
'EXTENSIVE DAMAGE' REPORTED AFTER FIRST TORNADO EMERGENCY ISSUED FOR HOUSTON AREA
Texans experiencing minor to moderate injuries were being treated on the scene.
"I can remember just hearing the wind – it was just insane," said Shannon Moore, who was working in Deer Park when the tornado struck. 
She noted how the tornado sounded like a freight train and rumbled like an earthquake.
Another tornado struck the Houston suburb of Pasadena. Officers with Pasadena Police noted power lines were knocked down, and commercial trucks were toppled on nearby highways. 
LOOK AT THE DAMAGE LEFT BEHIND BY SEVERE STORMS THAT RIPPED THROUGH THE HOUSTON AREA
The Pasadena Animal Shelter, home to about 70 animals, also experienced storm damage from a tornado. A couple of dogs were injured, and some of the animals are being moved to another facility, police said.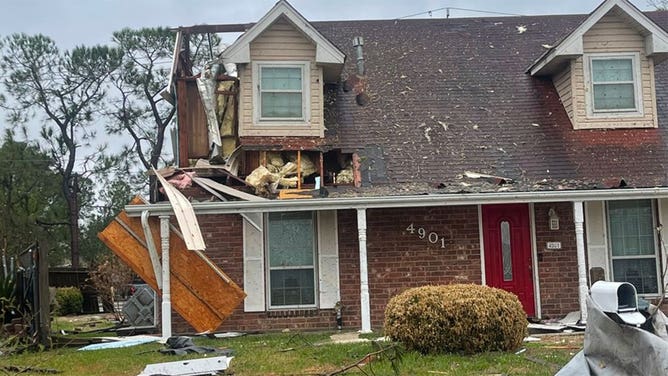 "In my 25 years here, this is probably the worst damage I've seen," said Pasadena Police Chief Josh Bruegger.  
School districts in the tornado warning, including Katy and Spring, said their students were sheltering in place early Tuesday. The warning was later canceled with no reported damage.
A James E. Taylor High School student tells FOX Weather that his high school, located in Katy, Texas, was forced to take cover.
"There was an announcement about how there was a tornado drill, and we should be evacuated somewhere safe," Austin M. said. "All of the students sat in the hallways and everyone on the second floor moved to the first."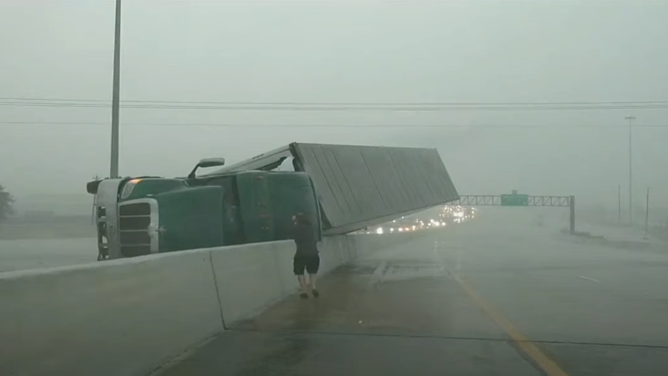 Storm system pushes through Louisiana
As the evening progressed, another tornado was confirmed as the storm system made its way toward the border of Texas and Louisiana. 
Orange County in Texas, along with Acadia, Allen, Calcasieu and Beauregard Parishes in Louisiana, came under Tornado Warnings early Tuesday evening.
Another tornado reportedly struck Ragla and Gillis in Beauregard Parish. 
The Beauregard Parish Sheriff's Office reported that there are several homes and structures damaged and missing roofs, with multiple roads blocked, downed power lines and poles and debris covering a lot of the area.
HOW YOU SHOULD PREPARE FOR A TORNADO
Other parishes in southern Louisiana came under tornado warnings as the night went on.
As of Tuesday evening, there were over 70,000 power outages in Texas and nearly 30,000 power outages in Louisiana.
Tornado threat Tuesday, Jan. 24, 2023.
(FOX Weather)
---
HOW TO STAY SAFE IN YOUR MOBILE HOME DURING A TORNADO
Nearly 5 million people remained at risk of significant tornadoes Tuesday night. 
Tornado threat for Tuesday, Jan. 24, 2023.
(FOX Weather)
---
All of southern Louisiana, including the New Orleans metro area, was under a Tornado Watch until 1 a.m. CST Wednesday. 
Here's a look at the Tornado Watch issued on Tuesday, Jan. 24, 2023.
(FOX Weather)
---
No rest for storm weary along Gulf Coast
Severe thunderstorms are expected to spread eastward Tuesday night through southern Louisiana, coastal Mississippi, southern Alabama and the western Florida Panhandle.
According to the FOX Forecast Center, these storms will be capable of damaging wind gusts and several tornadoes, a few of which could be EF-2 or stronger.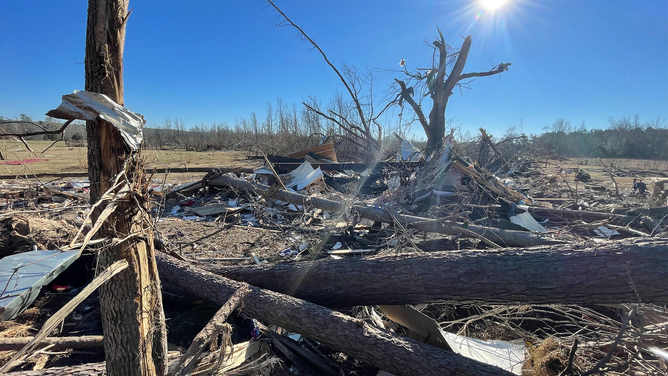 Less than two weeks ago, a deadly severe weather outbreak pummeled nine states across the South, which included an EF-3 tornado in Alabama that killed seven people as it tracked more than 76 miles from Autauga County to Chambers County.
Wednesday: Severe weather threat extends from Southeast to southern mid-Atlantic
On Wednesday, strong to severe storms could impact portions of the Southeast and southern mid-Atlantic states, the FOX Forecast Center said.
The risk of severe thunderstorms stretches across parts of southeastern Alabama, northern Florida, southern and central Georgia, the central and eastern Carolinas and southeastern Virginia.
Severe weather threat for Wednesday, Jan. 25, 2023.
(FOX Weather)
---
These storms will pose a threat of damaging wind gusts and a few tornadoes.
HERE'S WHERE TORNADOES ARE MOST LIKELY TO OCCUR IN JANUARY
As the storm system moves off the East Coast Wednesday night, the severe weather threat will diminish for the remainder of the week.