How to stay safe in your mobile home during a tornado
Residents in mobile and manufactured homes are 15-20 times more likely to be killed during a tornado than residents in a permanent home. Here are a few mobile home tornado safety tips.
For many mobile home residents, safety and security can be very difficult to come by when severe weather is in the forecast. In fact, mobile home residents are advised to seek refuge in storm shelters or with family and friends who live in traditional homes.
Mobile homes – which are also known as trailer homes or manufactured homes – are not safe structures to shelter in during severe weather events, particularly events that involve tornadoes.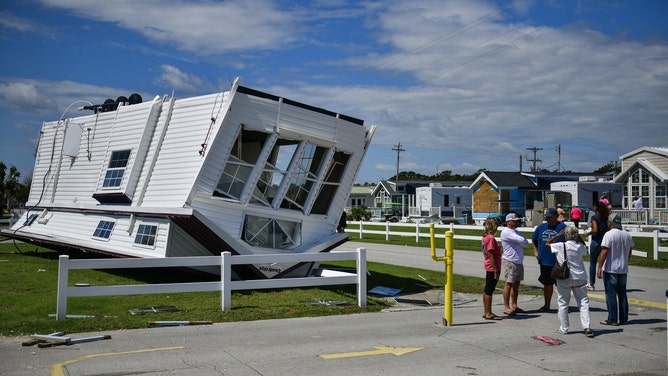 About 54% of fatalities that occur in a home during a tornado happen in mobile and manufactured homes. However, those homes make up only 6% of the nation's homes, according to the National Weather Service.
HOW TO WATCH FOX WEATHER ON TV
Residents of mobile and manufactured homes are 15-20 times more likely to be killed in their homes during a tornado compared to residents living in permanent homes during the storm.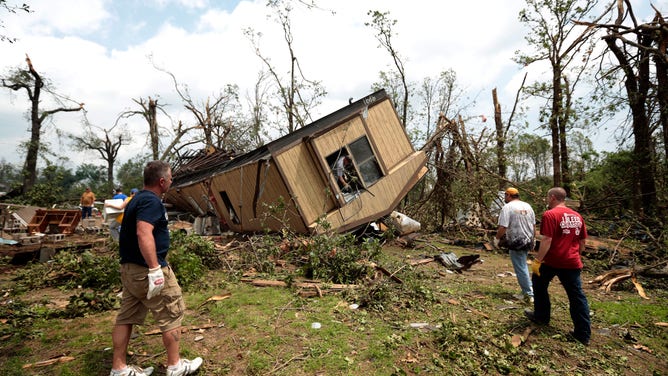 A deadly difference between homes
"Why we see such a disparity in fatalities and serious injuries between mobile homes and permanent homes is the way they fail," said David Roueche, assistant professor of civil engineering at Auburn University. Roueche says he grew up in a manufactured home and has done extensive research on these type of failures. 
HOW YOU SHOULD PREPARE FOR A TORNADO
According to Roueche, permanent homes fail from the top down in a tornado. Often, the roof sheathing comes off first, followed by the roof structure, trusses and then rafters. The walls may then collapse.
Manufactured and mobile homes, however, typically begin to fail underneath the home. There, the home may be anchored by metal straps and anchors that are either screwed straight into the ground or into concrete slabs.

Other homes may use less secure anchors called "pan systems." Unlike ground anchors, pan systems connect the steel chassis on the bottom of a mobile or manufactured home to metal pans.
"There's no concrete, there's no anchoring. It is literally just resting on the ground," Roueche said.
He added that the idea behind pan systems is that the mobile home will be pushed laterally by the wind. If a strong gust blows, the pan is supposed to dig into the ground and use the friction between the ground and the pan to resist lateral movement.
Wind zones for mobile and manufactured homes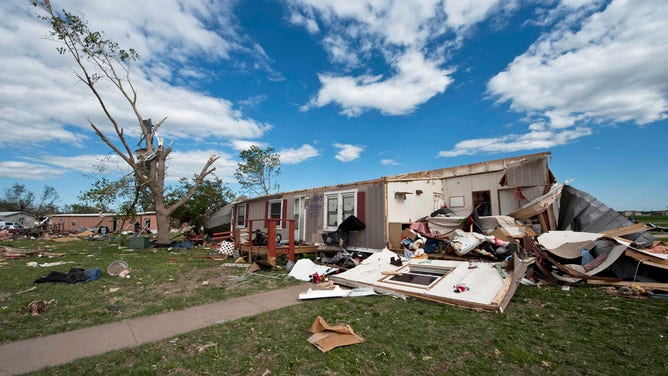 Anchoring systems may also vary depending on the Wind Zone for the mobile homes. Wind Zones are three geographical regions established by the Department of Housing and Urban Development, which outlines areas prone to experience different strengths and frequencies of windstorms.
Wind Zone III includes a few counties in Florida and along the Gulf Coast, which experience the strongest hurricane winds, according to Roueche. Wind Zone II includes more inland areas. In Alabama, that includes Baldwin and Mobile Counties. Wind Zone I includes the rest – and the majority – of the United States.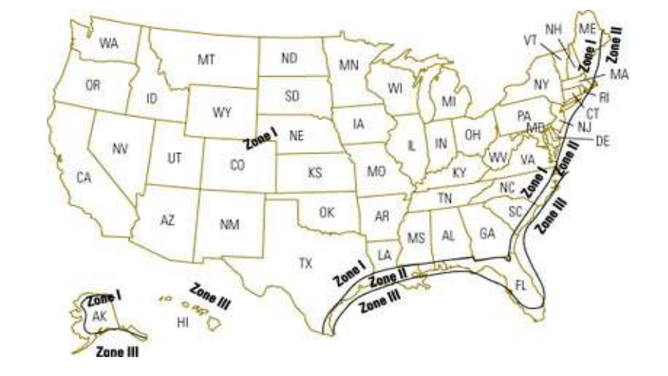 WHERE ARE TORNADOES MOST COMMON?
Mobile and manufactured homes are made and anchored based on the intensity of wind in the particular Wind Zones.
Homes made for Wind Zone III are built to withstand wind gusts of around 130 mph. Homes made for Wind Zone II are built to withstand gusts of about 120 mph. Homes made for Wind Zone I are built to withstand gusts of approximately 97 mph.
For comparison, a permanent home can usually withstand 115 mph gusts.
The critical role of a proper anchoring system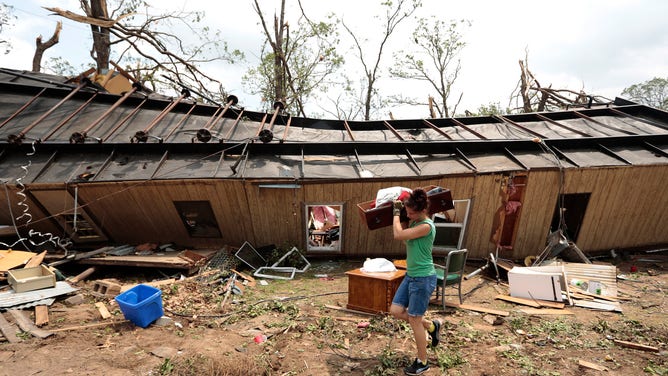 For Roueche, however, there is still a limit to how secure mobile and manufactured homes can be during a tornado, as it largely depends on how well – if at all – the home is connected to the ground in a major storm.
"The home really doesn't have a chance – it immediately is rolling over, in some cases, we see them flying through the air," he said. "So, regardless of how well-built they are on the top, it's the foundation that's the first thing that fails it. The occupants really don't have anywhere safe to shelter inside of that home."
TORNADO SAFETY: HOW TO IDENTIFY THE SAFEST PLACES IN YOUR HOME
"That's why we see the higher risk of fatalities and serious injuries," he noted. "So, it really comes down to how they're anchored."
The design and anchorage of mobile and manufactured homes can determine how safe they may be in a tornado. This is important for residents of those homes, particularly if they are in a rural area and may live miles away from their nearest storm shelter.
Mobile home tornado safety tips
People who are unable to find a storm shelter or a permanent home to stay in during a storm can consider a few ways to make their mobile or manufactured homes more structurally sound during a tornado.
For those in the market for a new mobile home, Roueche recommends the following:
Buy a Wind Zone II or Wind Zone III home and place it in Zone I area.
Install anchors in concrete slabs, a concrete footer or a concrete perimeter around the home.
Talk directly to your installers to ensure they install the anchors you request.
For those looking to retrofit an existing mobile or manufactured home, Roueche noted that the options are limited as little research and guidance for proven methods exist. He provided a couple of options: 
Install more ground anchors and diagonal metal straps.
Set the ground anchors in concrete.
Invest in a storm shelter outside your home - Even if it is custom-built, Roueche said the shelter would be a homeowner's best bet for increasing their chances of survival relative to being inside the home.
The importance of information and sheltering behavior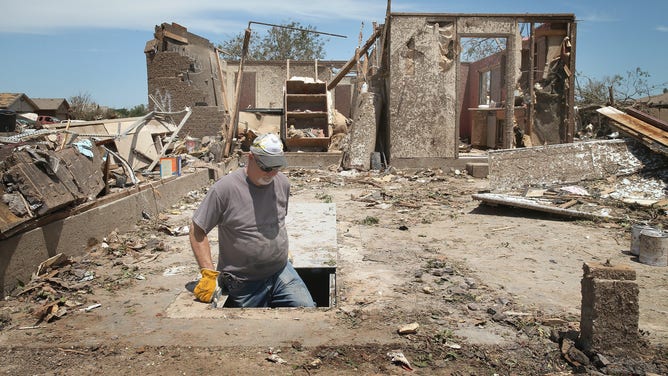 For all owners of mobile and manufactured homes looking for ways to be safe during a tornado warning, however, Roueche stressed that his most important recommendation involves sheltering behavior.  
"You have to take every storm seriously because you have to assume that if the tornado gets anywhere close to you, your home is flipping over," he said.
TORNADOES RIP APART HOMES, UPROOT TREES AFTER SEVERE STORMS PUMMELED TEXAS, OKLAHOMA
"It's really about making [residents] aware of just how vulnerable manufactured homes are to motivate them to find alternative places to shelter, if at all possible," he added.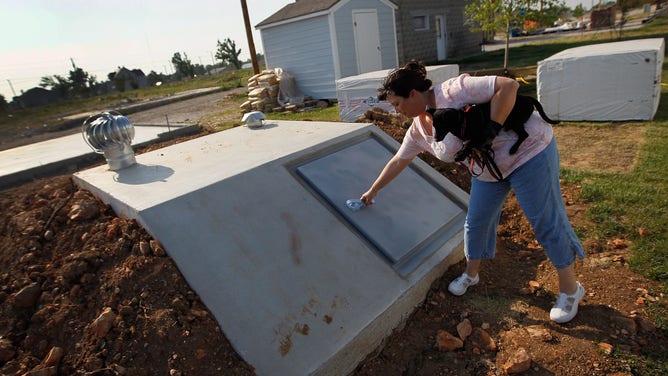 Also keep a close eye on the forecast and listen to a weather radio or app for any information about your community being at risk.
Methods, such as wearing helmets or sheltering in the bathroom of a mobile or manufactured home, may help prevent blunt force trauma, but Roueche said it's a high-risk situation either way.
"I understand, it's challenging," he said. "In an ideal world, yes, everybody would have the money to buy their own Zone II home or strengthen or permanent home or so on, and that's just not always the case."
"But if we're at least informed and understand our vulnerabilities, then you can make the best decision to shelter and elsewhere and try to do what's best for your family in the moment."