Severe weather outbreak turns deadly after violent storms tear through South leaving widespread destruction
Storm damage was reported in nine states, with Alabama appearing to be the hardest hit during the severe weather outbreak. A Tornado Emergency was issued for Autauga County, Alabama, where a large twister was spotted and at least seven people were killed. In Georgia, at least two other deaths were reported.
SELMA, Ala. – Severe thunderstorms that spawned several tornadoes and left behind trails of destruction across parts of the South on Thursday have been blamed for at least nine deaths – seven of which were reported in Autauga County, Alabama.
Storm damage was reported in at least nine states during the severe weather outbreak, with Alabama appearing to be the hardest hit.
The deadly storms also prompted the National Weather Service to issue rare Tornado Emergencies for parts of Alabama when a large and destructive tornado was spotted outside the state capital of Montgomery.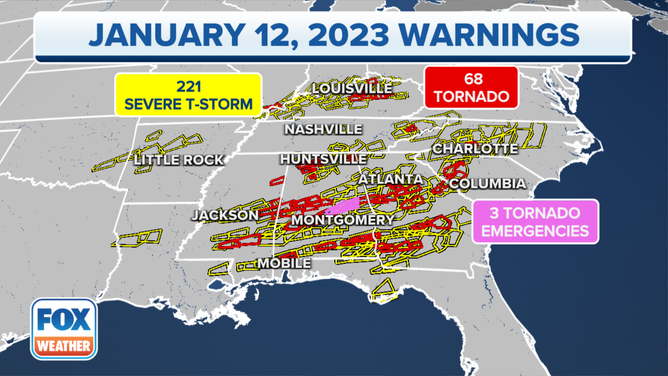 Throughout the severe weather outbreak, National Weather Service offices across the region issued 221 Severe Thunderstorm Warnings, 68 Tornado Warnings and three Tornado Emergencies, which are only issued during the most dire situations, according to the FOX Forecast Center.
During the height of the activity, about 200,000 customers from the Ohio Valley to the Gulf Coast were without power, and a ground stop was issued at the country's busiest airport in Atlanta.
The FOX Forecast Center took the data from storm reports and created the video above that shows the destructive line of severe weather and the tornadoes spawned from that.
In total there was a 218-mile stretch of storms that produced several tornadoes in Alabama and Georgia, including an EF-2 tornado with winds of 130 mpg in Selma, Alabama, and an EF-3 tornado with winds of 150 mph that tore a 76.7 mile long path of destruction through several counties in Alabama, including hard-hit Autauga County.
HOW ARE TORNADOES RATED? THE ENHANCED FUJITA SCALE EXPLAINED
9 tornadoes touch down in Alabama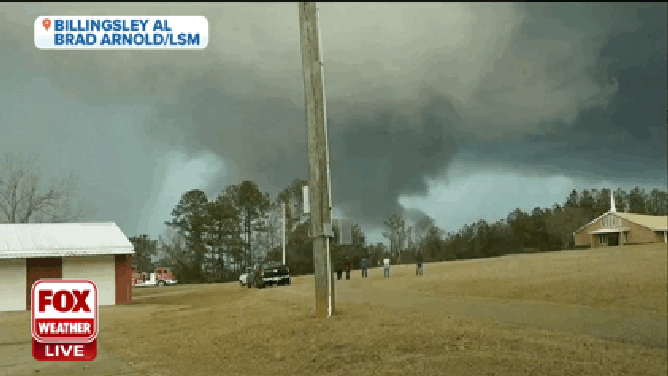 A series of supercells moved across the state on Thursday, and those produced nine tornadoes, according to the National Weather Service in Birmingham.
The NWS completed its survey of storm damage on Sunday and found one continuous tornado damage path that stretched from Autauga County into western Chambers County.
The NWS said the Old Kingston-Lake Martin tornado had a long-track path and was on the ground for more than 76 miles. That EF-3 tornado was estimated to be at least 1,500 yards wide, caused seven fatalities and injured 16 others.
Among the nine tornadoes that touched down on Thursday were two EF-1s, six EF-2s and one EF-3.
The NWS said it would continue to analyze aerial and satellite images over the next several days to determine if any changes need to be made to the assessment.
Witnesses recount terrifying twisters
Officials said dozens of homes were either damaged or destroyed during the outbreak.
Lachandra Sturdivant witnessed one of the tornadoes from a coffee shop in Selma, Alabama.
"We could hear the train – the tornado sounds like a train just roaring through," she told FOX Weather. "It just started ripping trees, roofs off buildings, stuff was just everywhere."
Sturdivant said she was waiting in her car to check on loved ones as roads were blocked in parts of central Alabama.
"It's horrible through here," she said. "The power's off, they're trying to cut trees out of the roads to open a way for people to get around."
The office of Selma Mayor James Perkins Jr. said the city received significant damage from the tornado.
"Citizens, please refrain from traveling the roadways and stay away from downed power lines," the office said in a Facebook post. "City crews will be out as soon as practical to clean up."
The City Council held an emergency meeting Thursday and said there were several injuries but no fatalities.
The NWS Birmingham's storm survey found that the Selma tornado was an EF-2.
Outside the downtown region, Crosspoint Christian Church was in the crosshairs of the tornado. Video taken by a worker showed the destruction of buildings where dozens of children were attending daycare.
Miraculously, only one minor injury was reported among staff and students, and all were safely evacuated to a nearby church by firefighters.
"I'm so thankful we made it out ok, but my mind is messed up," Amanda McCloud stated.
'WORST DAY OF MY LIFE': TORNADO DESTROYS SELMA DAYCARE, TRAPPING DOZENS OF CHILDREN INSIDE

Farther north, significant damage was reported in Decatur, Alabama, where images showed buildings and other structures that had been damaged after a severe storm moved across the area.
"So far, we've only had one report of an injury, and I don't know the status of that individual," said Hilary Granbois, of the Morgan County Emergency Management Agency in Alabama. "As of right now, the preliminary report of a lot of downed power lines. We have some overturned 18-wheelers."
Additional damage has been reported at boat ramps and marinas, according to Granbois, and damage reports were slow to trickle in.
Alabama Gov. Kay Ivey was briefed on the severe weather and commented on the tragic deaths.
"I am sad to have learned that six Alabamians were lost to the storms that ravaged across our state. My prayers are with their loved ones and communities. We are far too familiar with devastating weather, but our people are resilient. We will get through it and be stronger for it," Ivey said in a statement on Thursday.
The number of fatalities in Alabama later increased to seven.
Kentucky wakes up to early-morning tornadoes
The NWS office in Louisville, Kentucky, has confirmed at least two tornadoes struck the Blue Grass State on Thursday.
The strongest of the twisters was given a preliminary rating of an EF-1 as NWS meteorologists surveyed the damage in Mercer County, Kentucky. The tornado is believed to have had winds of 100 mph as it damaged power lines and trees.
Another EF-1 tornado, with winds of around 90 mph, was also confirmed in Boyle County.
In addition to the tornadoes, there were several reports of wind damage and large hail.
The severe storm pushed through Daniels, Kentucky, where witnesses observed roof damage to Ben Johnson Elementary.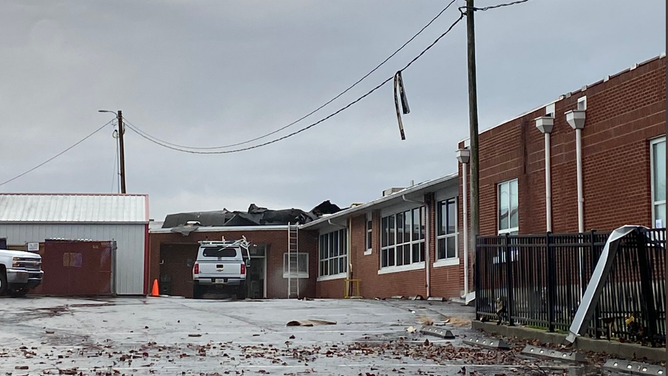 Brad Cox, emergency management director of Mercer County, said there was plenty of damage but no injuries from the storm.
"We had quite a bit of substantial damage out in our county area. We're a rural county, and we had two houses that got hit pretty hard and several barns that got hit," said Cox. "We also had a couple of roofs that got damaged, and one was a daycare. We were very fortunate that children were able to take shelter inside the main building."
HOW METEOROLOGISTS DETERMINE IF A TORNADO IS TO BLAME FOR STORM DAMAGE
Severe storms turn deadly in Georgia during the late afternoon
As severe thunderstorms entered the Peach State, enough instability was around to cause several cells to rotate and produce tornadoes. The storms were responsible for at least 125,000 customers to lose power, and they left behind plenty of damage.
In Butts County, Georgia, about an hour south of Atlanta, a 5-year-old child was killed during the severe weather Thursday afternoon after a tree fell on the vehicle in which he was riding, county officials confirmed.
Georgia Gov. Brian Kemp confirmed a second death in the state on Friday after a state employee was killed while assessing the storm damage. 
Farther north, Cobb Fire and Emergency Services crews said they spent the afternoon surveying damage, and several roadways were closed in the Atlanta metro area due to fallen trees.
Video from Austell, Georgia, showed at least one wall of a warehouse that collapsed during the high winds. 
Cobb County officials did not say whether there were any injuries associated with the collapse.
The storms also impacted country's busiest airport, and FOX Weather's Robert Ray was in the right place to observe the storm's impacts.
"I'm actually sitting on a Delta Air Lines plane coming in from San Francisco. We landed at 3:50 p.m. right when that Tornado Warning occurred right when that tornado was spotted near the airport," Ray said. "The pilot came on and said, 'Look folks, we are either the last plane or there was a plane right before us to land.' We sat on the tarmac for a good 25 to 30 minutes, as the gates were evacuated, according to the pilot, because of this system that came in."
The Federal Aviation Administration reported that a ground stop was put in place at the Hartsfield-Jackson Atlanta International Airport, and planes were temporarily prohibited from landing during the height of the storm.
After the storms rolled through, airlines reported significant delays that averaged at least half an hour.
STRIKING IMAGES SHOW DESTRUCTION CAUSED BY SEVERE WEATHER IN THE SOUTH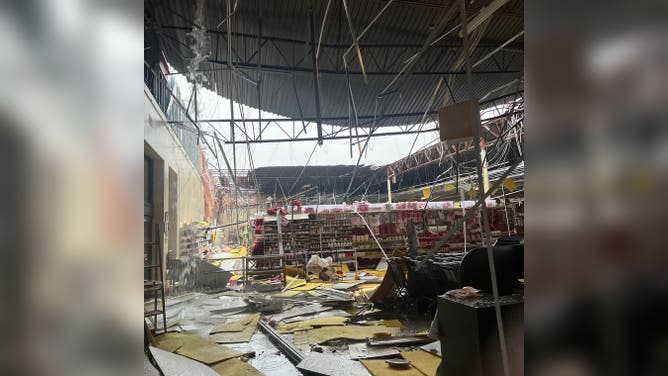 Less than an hour south of Atlanta, the Griffin Fire Department reported several structures were damaged by a confirmed tornado that moved through Spalding County.
After conducting a survey of the storm damage, the NWS office in Atlanta confirmed two separate tornadoes, rating them an EF-3 and EF-2 in Spalding County.
Video showed extensive damage to a Hobby Lobby store in Griffin.
After the storms cleared the Atlanta metro region, Kemp declared a State of Emergency for at least a half-dozen counties and said the state was in an "all-hands-on-deck approach" to help the affected communities.
FOX Weather's Will Nunley was in the hard-hit area of Griffin, Georgia, and said travel was difficult.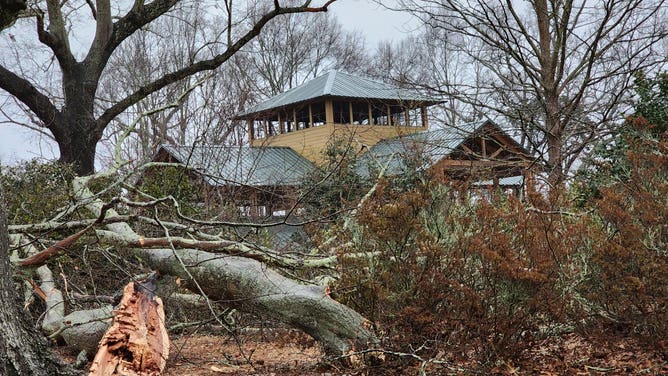 "We understand, in the immediate vicinity of where we are tonight, that there is an apartment complex where they are conducting search and rescue, and there may have been entrapments in that building," said Nunley.
The University of Georgia Griffin campus suffered significant damage to many large trees and several buildings. The campus remained closed on Friday because of the destruction.