Flood Watches issued for same cities in Kentucky where catastrophic flooding hit last week
If an area impacted by last week's flood disaster finds itself under a slow-moving storm, additional flash flooding will be likely
A cold front moving through the Ohio Valley and into the Appalachians has the potential to produce heavy rain and severe thunderstorms Monday for areas that simply do not need any more wet weather.
On Monday, the National Weather Service issued Flood Alerts for the same cities that experienced catastrophic flooding.
Flood Alerts in place for portions of Kentucky
(FOX Weather)
---
Last week, a slow-moving front created multiple rounds of showers and storms that led to deadly flash flooding across Kentucky.
Search-and-recovery efforts are still underway, and the Kentucky governor said the scope of the damage is similar to what Mayfield experienced from an EF-4 tornado in December 2021.
Many areas saw more than a half-foot of rain, leading to a surplus of precipitation for both July and the year as a whole.
July rain totals compared to average for select cities in the Appalachians.
(FOX Weather)
---
On Monday, an area from central and southern Ohio southwestward into Kentucky and southern Indiana could see scattered severe thunderstorms in the afternoon and evening.
In addition to localized heavy rainfall, the greatest threat from the storms will be damaging wind gusts and hail.
Unlike the last cold front that lingered for days, this storm system is expected to push out of the region by late Tuesday, giving way to a blast of early-August heat.
SUMMER'S HOMESTRETCH: AUGUST WEATHER OUTLOOK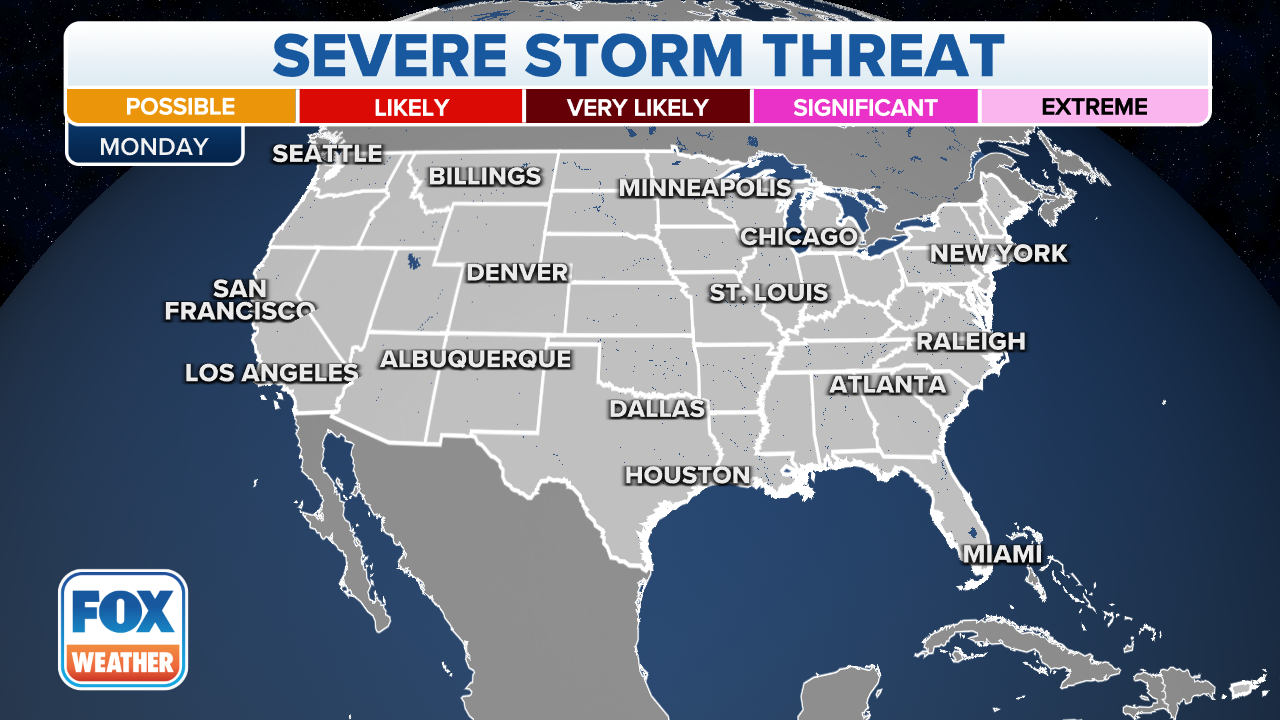 Severe storm threat on Monday, Aug. 1, 2022.
(FOX Weather)
---
Despite the fast-moving nature of this weather system, some storms will move along rather sluggishly and will be capable of producing rainfall rates of 1 to 2 inches per hour.
If an area impacted by last week's flood disaster finds itself under a slow-moving storm, additional flash flooding will be likely, especially along already-swollen creeks and streams.
Computer forecast models show most of the region could pick up an inch or two of additional rainfall over the next couple of days.
HOW TO WATCH FOX WEATHER ON TV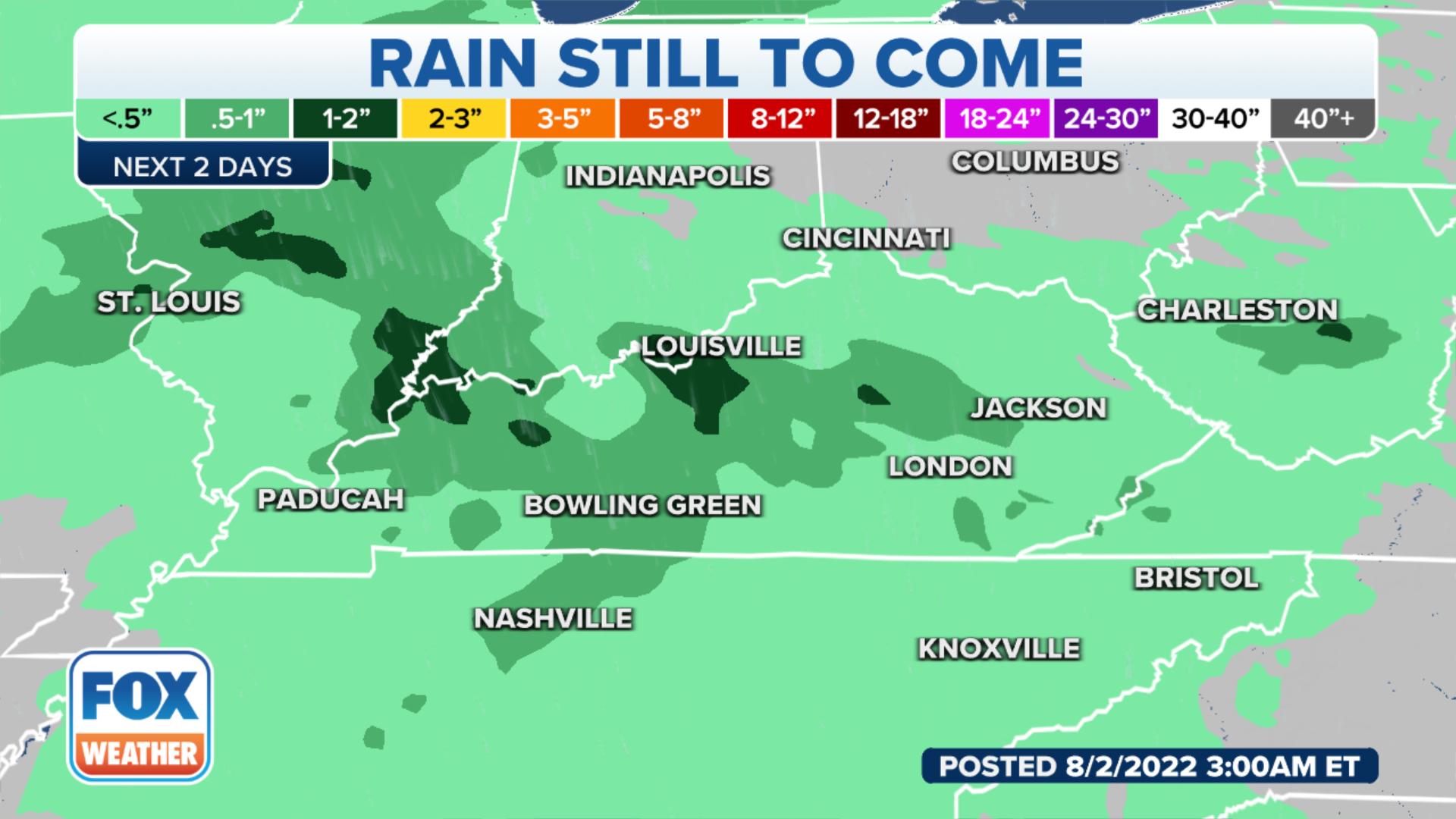 Rainfall forecast for the Ohio Valley and Appalachians.
(FOX Weather)
---
Rain totals are not expected to be anywhere near what the region saw during the historic event last week, but any additional rainfall could lead to further flooding.
Creeks and rivers are still high, and data from the National Weather Service show it would take several more days without any additional rainfall to see waterways drop below flood status.
"Within the last week or so, 8 to about 12 inches of rain has fallen, and that is really an indication of just all of the flooding that we've seen here over the past couple of days," said FOX Weather meteorologist Jason Frazer.
7 FACTS YOU SHOULD KNOW ABOUT FLASH FLOODS
River level status for the Kentucky River near Ravenna, Kentucky.
(FOX Weather)
---
A ridge of high pressure will build into the waterlogged region by midweek, which will help decrease rain chances and allow time to dry out.
The ridge will help build the heat, with temperatures expected to reach the 90s on Wednesday.
COAST-TO-COAST HEAT WAVE SPREADS ACROSS AMERICA AS AUGUST BEGINS
The combination of the humidity and heat will make areas in the disaster zones feel like it's closer to 100 degrees.
CLICK HERE TO GET THE FOX WEATHER UPDATE PODCAST
The FOX Weather app is a great resource that can be used to alert you of any watches or warnings issued for your area. The free FOX Weather livestream is also available 24/7 on the website and app and on your favorite streaming platform. The FOX Weather Update podcast also provides weather information for the entire country.