Over 20 dead after Mississippi tornadoes level towns while carving 100-mile path of destruction across South
The devastation began Friday night with a twister ripping through the town of Rolling Fork in western Mississippi. The storm traveled the width of the state, killing at least 21 people. Another storm-related death was reported in Alabama.
ROLLING FORK, Miss. – Monstrous tornadoes ripped across Mississippi on Friday night, killing more than 20 people and decimating towns along their more than 100-mile-long path. The storms eventually moved into neighboring Alabama, where another person was killed.
One of the hardest-hit places was the western Mississippi town of Rolling Fork, where the terrifying night began. Many of the state's fatalities happened in the town that has a population of just under 2,000 people.
Initially, it was believed 25 deaths were reported in Mississippi, but that has since been lowered.
"During a disaster, numbers are likely to change," the Mississippi Emergency Management Agency (MEMA) said. "Now that search and rescue efforts have been demobilized, MEMA can confirm a total of 21 storm-related fatalities."
SOUTH FACES SEVERE WEATHER THREAT SUNDAY AFTER MISSISSIPPI RAVAGED BY DEADLY TORNADO OUTBREAK

"The west part of Rolling Fork is a residential area, and just a number of houses over there have been completely destroyed," Fred Miller, former mayor of Rolling Fork, told FOX Weather on Friday night. "Highway 61, where most of our businesses are, all of the businesses on 61 have been completely destroyed."
According to the National Weather Service office in Jackson, Mississippi, the Rolling Fork twister has been given a preliminary rating of EF-4 on the Enhanced Fujita Scale. That means it had winds of at least 166 mph. Officials said they are still determining the final rating. According to NOAA data, the last EF-4 tornado in Mississippi happened on April 19, 2020, in the town of St. Paul.
From there, the storm traveled northeast through the countryside and rural towns upending lives and livelihoods along the way. On the opposite side of the state from where the nightmare began, a second tornado appeared to drop out of the same storm and ripped through the town of Amory.
WE'RE ENTERING AMERICA'S MOST ACTIVE TIME OF YEAR FOR TORNADOES
The storms later moved into Alabama and Tennessee, where more tornadoes were reported. The death of at least one person in Alabama was blamed on the storms.
The confirmed tornadoes from March 24-26, 2023.
(FOX Weather)
---
Rolling Fork man says sister never stood a chance against storms
A man said he survived the Rolling Fork tornado by sheltering in a closet, but his sister, who was sleeping in her mobile home across town, didn't survive.
"Now, I didn't even go down there when they told me she had got killed," he said. "I didn't even want to go. She stayed in a mobile home right on the other side of that park right there. I didn't even go. I didn't want to see it. She never, she never got out of bed."
NIGHTTIME TORNADOES FAR MORE LIKELY TO TURN DEADLY THAN DAYTIME ONES
Drone video reveals devastation
Storm chasers were some of the first people on the scene after tornadoes ripped through the towns. Some said they became first responders, rescuing people from the rubble.
Aaron Rigsby, of Live Storms Media, said he found people trapped amid significant damage in Rolling Fork.
"There were multiple cases where I was pulling debris up off of people, unburying them from rubble where their house had collapsed on them," Rigsby told FOX Weather. "One lady tried to take cover, and she was with a walker when I found her, and she had been knocked over in her living room with a leg injury, but we were able to unbury her from that debris and get a medic over there and get her medical attention."
Aerial video from chasers showed block after block of destruction in towns along the path of Friday night's storms – splintered buildings, debarked trees and vehicles that were tossed into piles like toys.
HOW DOES A TORNADO OUTBREAK HAPPEN?
'Worst tornado damage … I've ever seen'
A storm surveyor from the National Weather Service office in Jackson, Mississippi, went to Rolling Fork to assess the damage after Friday night's tornado. He said the damage is at least of EF-3 intensity on the Enhanced Fujita Scale, but it may take a specialized team to make the final determination. Officials later said the tornado had received a preliminary rating of EF-4.
"I've been in the National Weather Service now for 28 years," NWS Jackson Meteorologist Bill Parker told FOX Weather on Saturday. "And this is probably the worst tornado damage assessment that I've ever seen. This is very catastrophic."
He was a part of just one of several survey teams that fanned out across the South on Saturday to make damage assessments.
HOW METEOROLOGISTS DETERMINE IF A TORNADO IS TO BLAME FOR STORM DAMAGE
Biden approves Mississippi disaster declaration
Early Sunday morning, Pres. Joe Biden approved Mississippi's disaster declaration, which will now make federal funding available to the victims of the deadly tornadoes in Carrol, Humphreys, Monroe and Sharkey counties.
That federal funding can include grants for temporary housing and home repairs, low-cost loans to cover uninsured property losses and other programs to help people and business owners recover from the effects of the storms.
Previously, Biden had expressed his condolences to the victims of the tornado outbreak and pledged "full federal support" for the recovery.
"The images from across Mississippi are heartbreaking," Biden said in a statement on Saturday. "While we are still assessing the full extent of the damage, we know that many of our fellow Americans are not only grieving for family and friends, they've lost their homes and businesses."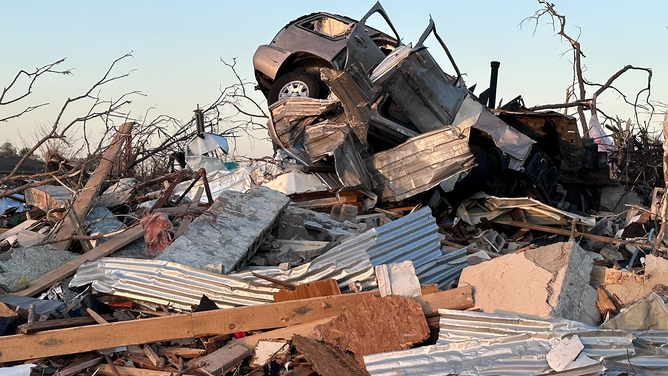 Federal Emergency Management Agency Administrator Deanne Criswell and Department of Homeland Security Secretary Alejandro Mayorkas were on the ground in affected communities on Saturday. They stood with Mississippi Gov. Tate Reeves and local officials to provide updates about the federal and local response to the devastating tornado.
"What we've seen over the last 36 hours in Mississippi, on the one hand, has been heartbreaking to see the loss and devastation of these communities," Reeves said. "But on the other hand, it's been inspiring and gives me great reason for optimism. And quite frankly makes me damn proud to be a Mississippian. Because Mississippians have done with Mississippians do. In times of tragedy, in times of crisis, they stand up, and they show up. And they're here to help themselves and help their neighbors."
WHAT YOU SHOULD DO IF YOUR PROPERTY SUSTAINED TORNADO DAMAGE
'Help is on the way'
After updating the public about the tornado response, FOX Weather correspondent spoke one-on-one with Reeves and Criswell, who assured victims they would not be forgotten.
"The most important thing is for everyone to know that help is on the way," Reeves told Ray. "We are going to provide resources both through public assistance and individual assistance for these individuals."
Reeves said resources that are being provided are for intermediate and long-term recovery.
"What you see is this isn't going to be a quick recovery," Reeves added. This isn't overnight. And so we've got to make sure that we get resources in their pockets soon."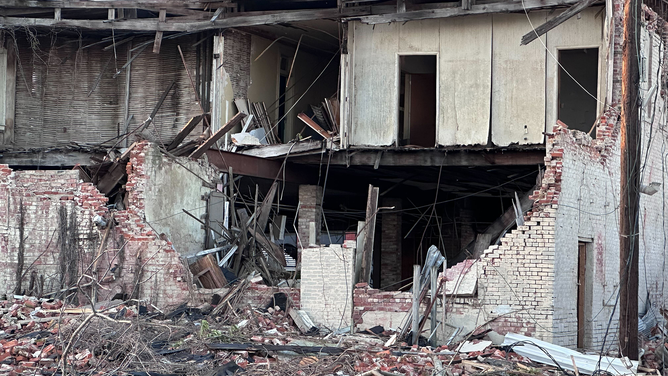 Criswell said members of the American Red Cross are also in the region providing food and shelter for those who lost everything they spent a lifetime building.
"We want to make sure that the people are safe," she told Ray. "That is the number one thing right now. Making sure people are safe. And what I would add to what the governor said is, as they're going through their homes right now, making sure they're very cognizant of the hazards that are in there and that we're keeping ware of the weather that's coming in because they want to start the recovery process, but they need to be cognizant of the things that are going to potentially harm them."
Since the end of 2022, severe weather has swept across the South, including Mississippi, week after week. And Reeves said he was thankful for FEMA mitigation programs to prepare for potential severe weather in the region.
"When you think about the things that FEMA's done, mitigation, long-term mitigation is the key," Reeves said. "I was with someone yesterday in Winona, Mississippi, that had a storm shelter that they had gotten some years ago through one of the FEMA mitigation programs. And those are the kinds of things that we have to do to prepare ourselves long-term for what is seemingly more and more events that are occurring."
Tornado victims urged to contact local officials for help
Criswell said she knows people are in immediate need of help, and the best way to get it is to contact local officials for guidance.
"There are a lot of volunteer agencies that are here on the ground providing a lot of different resources," she said. "And so, the local officials in these communities, they'll know how to connect them with those.
Criswell added that people could also contact the American Red Cross to find a local shelter.
"They have call centers, shelters that are set up, and then they need to start the (recover) process, right," Criswell added. "They need to either register for assistance through FEMA in the counties that are declared, or they need to file a claim with their insurance company to get them the funding moving in their direction."
Tornado tracks possibly reach at least 100 miles across Mississippi
Radar analysis by FOX Weather showed that one twister has been on the ground for at least 53 miles from the first debris detection near Rolling Fork about 8 p.m. CDT to just after 9 p.m. CDT northeast of Tchula.  By 10 p.m. CDT, the tornado had been on the ground for about 80 miles. 
Radar indicated the tornado may have weakened as the storm reached Winona, but a second tornado appeared to form from the same supercell before slamming into Amory and Smithville and moving into Alabama, likely pushing the overall path of tornado damage to more than 100 miles.
Radar scans estimated debris was tossed as high as 20,000 feet into the air over a 1.5-mile-wide swirl that tore across the state at 65 mph.