'She never got out of bed': Mississippi tornado victim says sister never had a chance against storms
The man said he tried to seek shelter when he heard the proverbial roar of a twister. However, in a strong tornado, very few, if any, areas are safe above ground.
ROLLING FORK, Miss. – A town that is reported to have a population of less than 2,000 people is now the center of a disaster after what is believed to be a strong tornado rolled through Friday, killing more than 20 people and leaving lives changed forever.
Initially, the death toll in Mississippi was believed to be 25, but has since been lowered.
"During a disaster, numbers are likely to change," the Mississippi Emergency Management Agency (MEMA) said. "Now that search and rescue efforts have been demobilized, MEMA can confirm a total of 21 storm-related fatalities."
Residents in Rolling Fork, Mississippi, spent Saturday surveying damage. Among them was a man who lived near his sister.
The man said he tried to seek shelter when he heard the proverbial roar of a twister. However, in a strong tornado, very few, if any, areas are safe above ground.
"When I went in the closet, and it snatched the door back open and pulled me out," the man said. "I heard the roof coming off, and then, all of a sudden, a big boom, and it was gone."
During the interview, the man pointed to a nearby home where he said his sister was sleeping as the nocturnal tornado roared through the town.
"Now, I didn't even go down there when they told me she had got killed," he said. "I didn't even want to go. She stayed in a mobile home right on the other side of that park right there. I didn't even go. I didn't want to see it. She never, she never got out of bed."
DRONE VIDEO SHOWS DEVASTATION MILE-WIDE TORNADO LEFT BEHIND IN MISSISSIPPI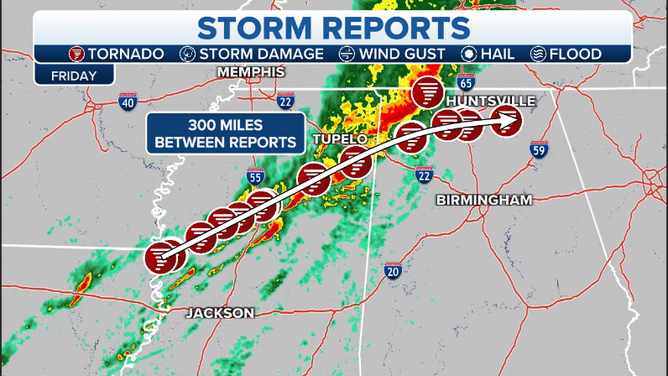 According to experts at Northern Illinois University, nighttime tornadoes are among some of the deadliest and more than twice as likely to cause deaths versus daytime events.
Even though the severe weather outbreak was well forecasted, tornadoes at night can catch many people off-guard because they may be sleeping or can't see signs of the impending disaster.
WATCH: DEADLY MISSISSIPPI TORNADO TELLS OMINOUS STORY AS IT WAS TRACKED ON DOPPLER RADAR
How to help the tornado victim across the South
Relief efforts are underway, with organizations already planning for a long recovery.
Both state and local officials are urging people not to self-deploy to the disaster zone until there is a specific request for assistance.
Storm-related volunteer opportunities will be posted to volunteermississippi.org.
Organizations such as The Salvation Army and the United Way are always looking for volunteers and financial contributions when disasters strike. Visit the website for The Salvation Army of Jackson, Mississippi, for more donation information at salvationarmyalm.org/jackson. The United Way also has volunteer information at unitedway.org.
The American Red Cross has set up a special support section for monetary donations to be used for victims of the tornadoes across the South. To help the storm victims visit: https://www.redcross.org/donate/donation.html.