Watch: Deadly Mississippi tornado tells ominous story as it was tracked on Doppler Radar
"I haven't seen radar imagery (since) Mayfield, Kentucky... is when I had seen a tornado signature this intense," says FOX Weather Meteorologist Jane Minar.
Doppler Radar painted an ominous story Friday night as a deadly tornado left a path of destruction while it tore across the entire state of Mississippi.
FOX Weather Meteorologist Jane Minar illustrated how meteorologists tracked the storm for several hours, with the National Weather Service issuing dire and urgent warnings ahead of the twister, including four Tornado Emergencies -- the most threatening warning in the NWS's arsenal.
"As meteorologists, when we're dissecting storms here at FOX Weather, we take a look at a feature like this, and we can see all angles of this storm and of this tornado," Minar said.
The radar imagery shown in these videos tracks the winds in the lower atmosphere, showing green where wind is heading toward the radar and red where wind is blowing away. Where the colors mix together in a swirl indicates rotation and a potential tornado in progress.
CATASTROPHIC MISSISSIPPI TORNADOES LEAVE SEVERAL DEAD AMID 100+ MILE PATH OF DESTRUCTION
"It's the twisting and change of speed with height as we go up into the atmosphere… just an indication of how we have that motion within that storm," Minar said.
This storm began to form right around 8 p.m. -- after dark.
TORNADO EMERGENCY RARELY ISSUED: WHAT IS IT?
"Right along the Mississippi River, this tornado started to form quickly," Minar said. "As this storm crossed over the Mississippi River, that tornadic activity did begin (with a) confirmed tornado right away as it rolled into Rolling Fork."
Radar indeed showed a classic tornadic signature as the tornado entered Rolling Fork.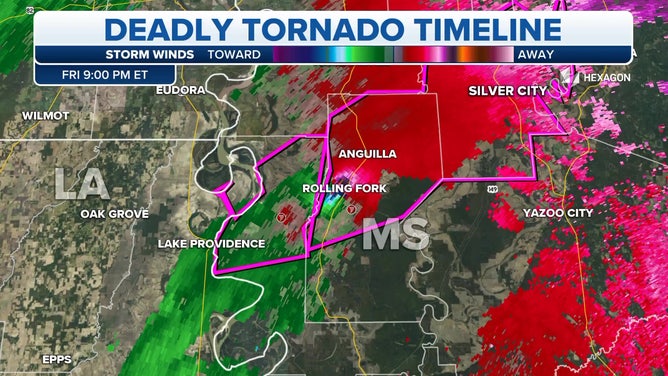 "These are some very bright colors over Rolling Fork -- when we start to pick up on those brighter shades of blue and pink, that's a very tight rotation," Minar said.
Radar showed the tornado continued to track to the northeast, and likely stayed continuously on the ground through Silver City.
"NWS survey teams will be going to these communities and will follow the path of this storm to determine with certainty whether or not this tornado was on the ground the entire time as it tracked from Rolling Fork to Silver City," Minar said. "But radar indications show that this damage and this threat… it was very possible."
Bright color indicators continued through Silver City.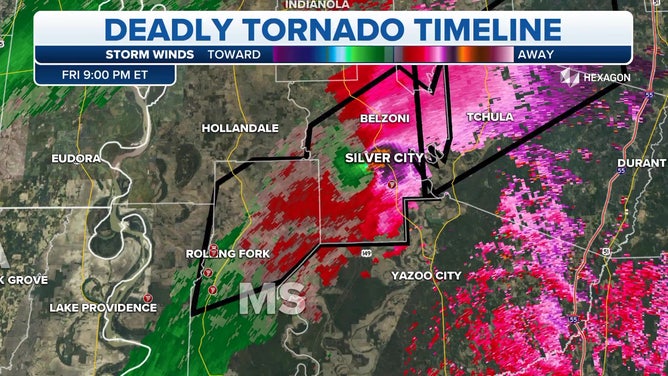 "We already know the damage coming out of Silver City was intense," Minar said.
Tornado undergoes new life cycle
The tornado went through Chula, but radar indicated more muted colors as the storm approached Winona -- about two hours later and 80 miles from where the tornado was first tracked.
That perhaps shows the supercell undergoing a new life cycle.
THIS IS THE LIFE CYCLE OF A TORNADO
"This is very common with supercells -- they're strong enough to tap into that environment, they can then weaken some," Minar said. "But as this storm continued to push off to the north and (east) it cycled once again; tightened up very quickly."
In Amory, now nearly four hours after the storms began, the tornado showed perhaps its most intense radar signature with bright colors swirled over town and scans indicating debris tossed 20,000 feet into the air over a 1.5 mile-wide path.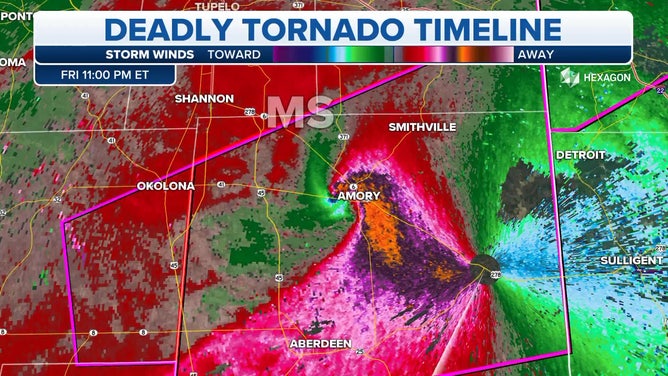 "Most airplanes nearly fly at about 35,000 feet -- you know what that looks like when you look out your window," Minar said. "This was an extremely large and dangerous tornado."
Minar said it reminded her of another devastating tornado from 2021.
"I haven't seen radar imagery… Mayfield, Kentucky is when I had seen a tornado signature this intense," she said. The EF-4 tornado carved a 165-mile path across Kentucky on Dec. 10, 2021, leaving 80 dead and over 1,000 homes destroyed.
From Amory the tornado went through Smithville.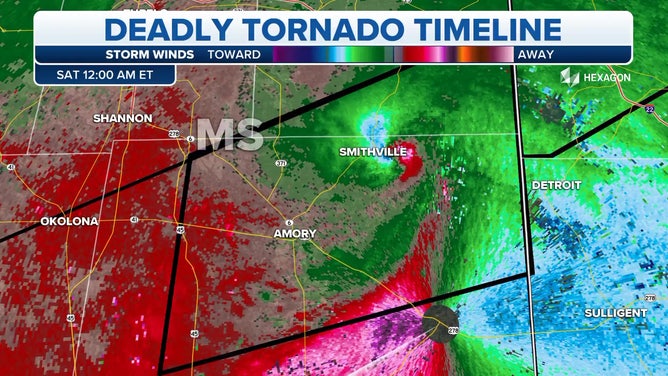 And then across the Alabama border where more damage was reported. The National Weather Service issued several more Tornado Warnings across northern Alabama well into Saturday morning.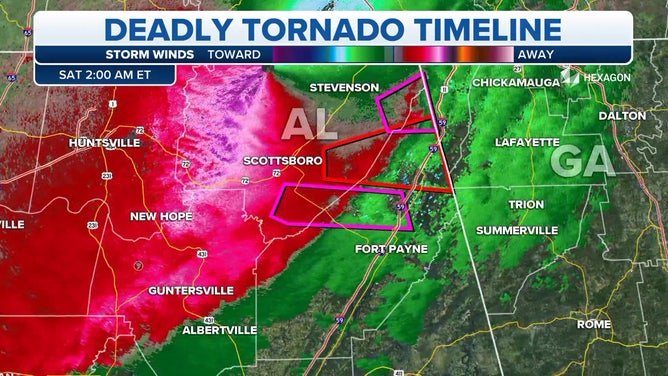 Overall, the National Weather Service issued 38 Tornado Warnings and took 24 reports of tornado damage. 

 "The loss will be felt in these towns forever," Mississippi Gov. Tate Reeves tweeted early Saturday morning. "Please pray for God's hand to be over all who lost family and friends."