The Daily Weather Update from FOX Weather: 'Dangerous' Hurricane Lee becomes Category 5 storm in the Atlantic
Start your day with the latest weather news – Hurricane Lee underwent rapid intensification and strengthened to a "dangerous" Category 5 storm late Thursday.
Welcome to the Daily Weather Update from FOX Weather. It's Friday, Sept. 8, 2023. Start your day with everything you need to know about today's weather. You can also get a quick briefing of national, regional and local weather whenever you like with the FOX Weather Update podcast.
Hurricane HQ: Category 5 Hurricane Lee is only expected to get stronger
Hurricane Lee underwent rapid intensification and strengthened to a "dangerous" Category 5 storm late Thursday. 
"Lee has become a dangerous category 5 hurricane, and further strengthening is forecast," the National Hurricane Center said
While Lee is expected to track north of the Lesser Antilles and Puerto Rico, the cyclone will bring gusty winds and rough seas to the islands. 
"Dangerous surf and life-threatening rip currents are likely in the northern Leeward Islands beginning Friday. These conditions will spread westward and northward, affecting Puerto Rico, Hispaniola, the Turks and Caicos, the Bahamas, and Bermuda through the weekend." 
Forecasters say it is way too soon to know what level of impacts, if any, Lee might have as the hurricane is expected to slow over the weekend. 
Lee isn't the only cyclone forecasters are tracking in the Atlantic; a new tropical storm was named Thursday. 
The forecast track for Hurricane Lee.
(FOX Weather)
---
Severe storms could provide heat relief to East
After days of heat baking the Northeast, Mid-Atlantic and South, thunderstorms could provide some relief. 
A front will push through the region on Friday, triggering storm development during the afternoon hours. It'll be the second day in a row of a severe weather threat for the region. Powerful thunderstorms lead to one death and triggered over 200 storm reports across the Eastern Seaboard Thursday night with numerous reports of tree falls and power lines down, leaving over 120,000 without power.
Damaging wind again looks to be the biggest threat with any storms that may develop Friday.  
Severe outlook for Friday.
(FOX Weather)
---
Heat continues to bake the South
Texas residents continue to be urged to conserve power through Saturday as record heat just won't leave. 
The FOX Forecast Center says widespread triple-digit heat has returned to the Southern Plains, and dozens of daily record highs are expected to fall in the days ahead.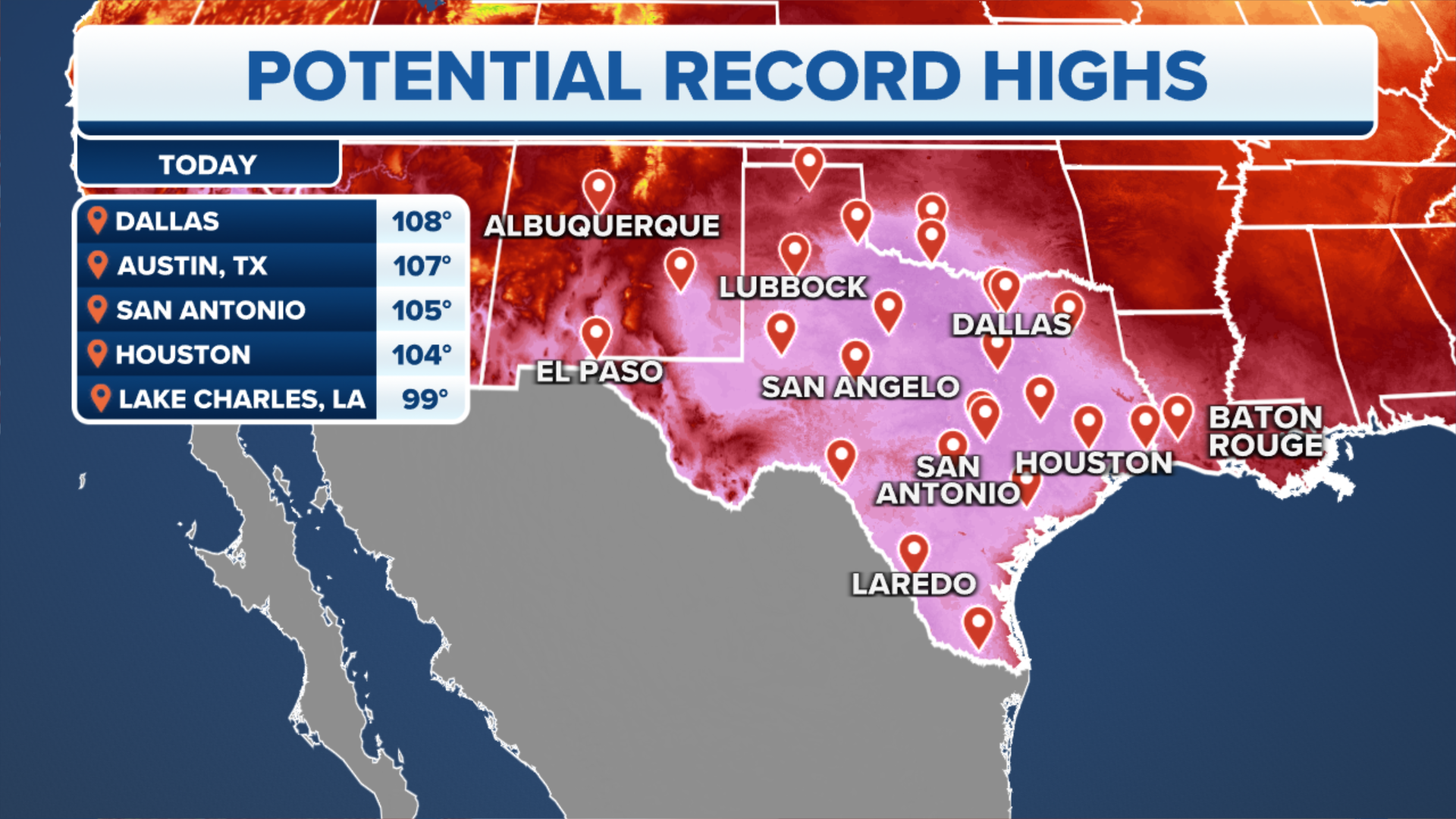 Potential record highs in the South on Friday.
(FOX Weather)
---
Before you go
Here are a few other stories making weather news:
Need more weather? Check your local forecast plus 3D radar in the FOX Weather app. You can also watch FOX Weather wherever you go using the FOX Weather app, at foxweather.com/live or on your favorite streaming service.
It's easy to share your weather photos and videos with us. Email them to weather@fox.com or add the hashtag #FOXWeather to your post on your favorite social media platform.