Idalia devastates Georgia pecan orchards, crop loss expected heading into fall
Tropical Storm Idalia tore through Georgia dropping heavy rain which saturated the ground. Strong winds then blew thousands of pecan trees over because the roots wouldn't hold.
Hurricane Idalia may be long gone, but the damage left behind will take years to build back. The storm had weakened into a tropical storm by the time it tore into Georgia, but the force was enough to wipe out a third of the pecan crop, according to early estimates.
"I would say probably a third of the crop in that area has been lost or at least affected because not only are we seeing damage from trees down, some of the crop (was) blown out of the tree, and there's probably some hidden damage in those trees that we don't see yet," University of Georgia pecan expert, Lenny Wells told FOX Weather. 
"That's what we've seen in the past with storms. When those trees get beaten around by the wind as severely as they were, we see that sometimes those pecans don't continue to mature properly as they normally would," he continued.
TROPICAL STORM HILLARY'S MARCH THROUGH CALIFORNIA COULD LEAD TO GRAPE SHORTAGE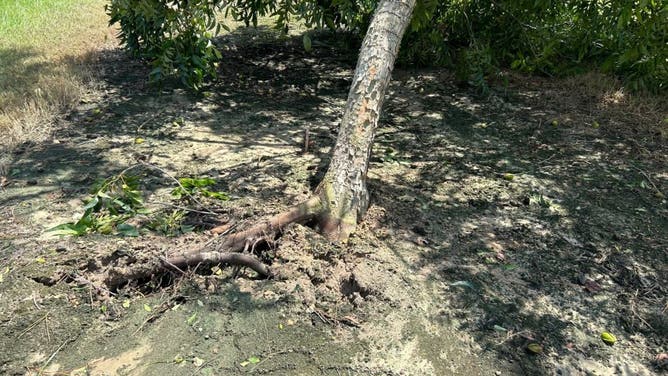 He visited four farms and talked to dozens of farmers who were in shock at the devasation and in the process of cleaning up, he said. Thirty to 80% of the pecan trees across the primary growing region in the southwest portion of the state were downed.
Several growers reported up to 15,000 trees down in orchards. State officials estimate that one out of every nine pecan trees in the state was lost.
Younger trees hit hardest
Idalia dropped inches of rain on the orchards saturating the ground. The fast moving storm traveled deep into Georgia with tropical storm force winds. The gales blew against a full canopy of leaves like a sail. The roots couldn't hold the trees in the soft soil. Row after row blew over, most were younger trees under 20-years old, he said.
LOSSES FROM HURRICANE IDALIA COULD REACH $20 BILLION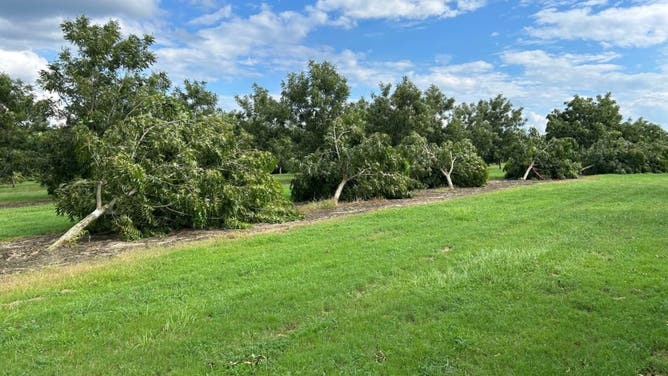 "One thing is obvious to me, we have got to stop pushing these trees so hard for the first four to five years," Wells said. "We have been growing these young trees too fast and are producing trees with tops too large to be supported by their root systems. Even trees that were planted at the appropriate depth and had good lateral roots near the surface were blown over in this storm."
Hedge pruned trees suffered less damage he said. Those are trees pruned on the top and sides to make in more compact. Research shows that pruned trees see 60% less damage.
Winds broke limbs and blew nuts off older trees
"There is also much limb breakage of older trees as the limbs were heavy at this time of year. In addition, there is crop loss from nuts blowing out of the trees. The estimates on that range from 80% to 10% of the crop blown out along the storm's path moving north from the state line." 
PRESCRIPTION DRUG DISRUPTIONS MAY ARISE IN PUERTO RICO AMID FIONA'S DAMAGE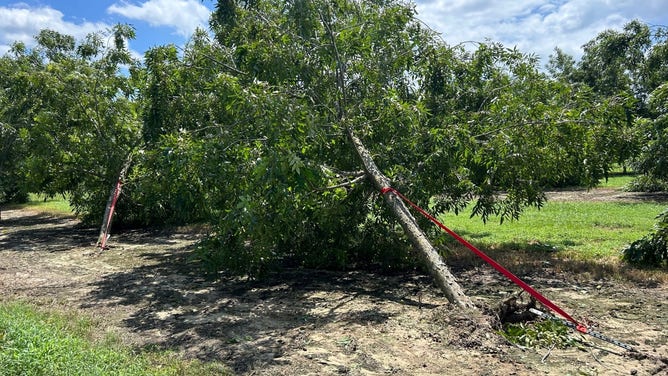 Wells said that the state wouldn't know the full extent of the damage until harvest, which is still two to three weeks away for the earliest varieties of the only commercially produced tree nut native to the U.S. The rest of the crop is a month away from harvest.
Georgia is the top pecan producer in the nation. The state supplies about a third of the U.S. crop. The average harvest is about 88 million pounds, enough for 176 million pecan pies, according to the University of Georgia Cooperative Extension. That adds between $200 to $300 million every year to the state's gross domestic product.
Damage not seen since Hurricane Michael
Wells said that he hasn't seen damage like this since Hurricane Michael in 2018. The October hurricane caused more than $2.5 billion in losses to the state's agricultural industry. Pecans alone accounted for $100 million in direct crop loss, $260 million to tree loss and damage, $200 million in future income and $24.7 million in agriculture sector losses.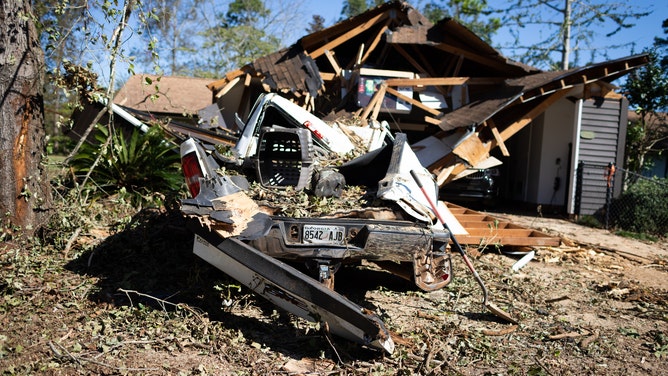 "Idalia, in the areas that it hit, it produced similar devastation, but it was not as large of a storm and did not cover quite as large of an area," Wells said. "So for those that were hit, they were hit badly. And some of the problems that they had were similar to what we saw with many areas with Michael. 
How long will it take to recover?
Depending on the damage, it generally takes seven to eight years to get a pecan tree back to producing a significant amount of pecans. Newly planted trees take three to four years to produce fruit. Production steps up in years six to eight. But, farmers must wait nine to ten years for good production, according to the University of Arizona Cooperative Extension. Trees can be productive for a century or longer.
"It will be a long road ahead for these farmers and the cleanup process is also expensive," Wells said.
Wells was unsure of how this loss would impact the price of pecans in the store ahead of Thanksgiving.