The Daily Weather Update from FOX Weather: Severe weather outbreak could span 20 states
Start your day with the latest weather news – A powerful storm system is expected to produce a widespread severe weather outbreak in the central U.S. today and dump snow on millions of Americans across the country's northern tier.
Welcome to the Daily Weather Update from FOX Weather. It's Friday, March 31, 2023. Start your day the right way with everything you need to know about today's weather. You can also get a quick briefing of national, regional and local weather whenever you like with the FOX Weather Update podcast.
Widespread severe weather outbreak likely in central US
Strong tornadoes, large hail and destructive winds are possible Friday during a severe weather outbreak that could rip through as many as 20 states. The risk of severe storms stretches from southern Minnesota and Wisconsin southward into Texas, Louisiana, Mississippi and Alabama. The highest risk covers eastern Iowa and western Illinois, as well as northeastern Arkansas, western Tennessee and the Missouri Bootheel.
People in these areas should review their severe weather safety plans now and have several reliable ways to get weather alerts. The FOX Weather app is a great way to get alerts based on your location.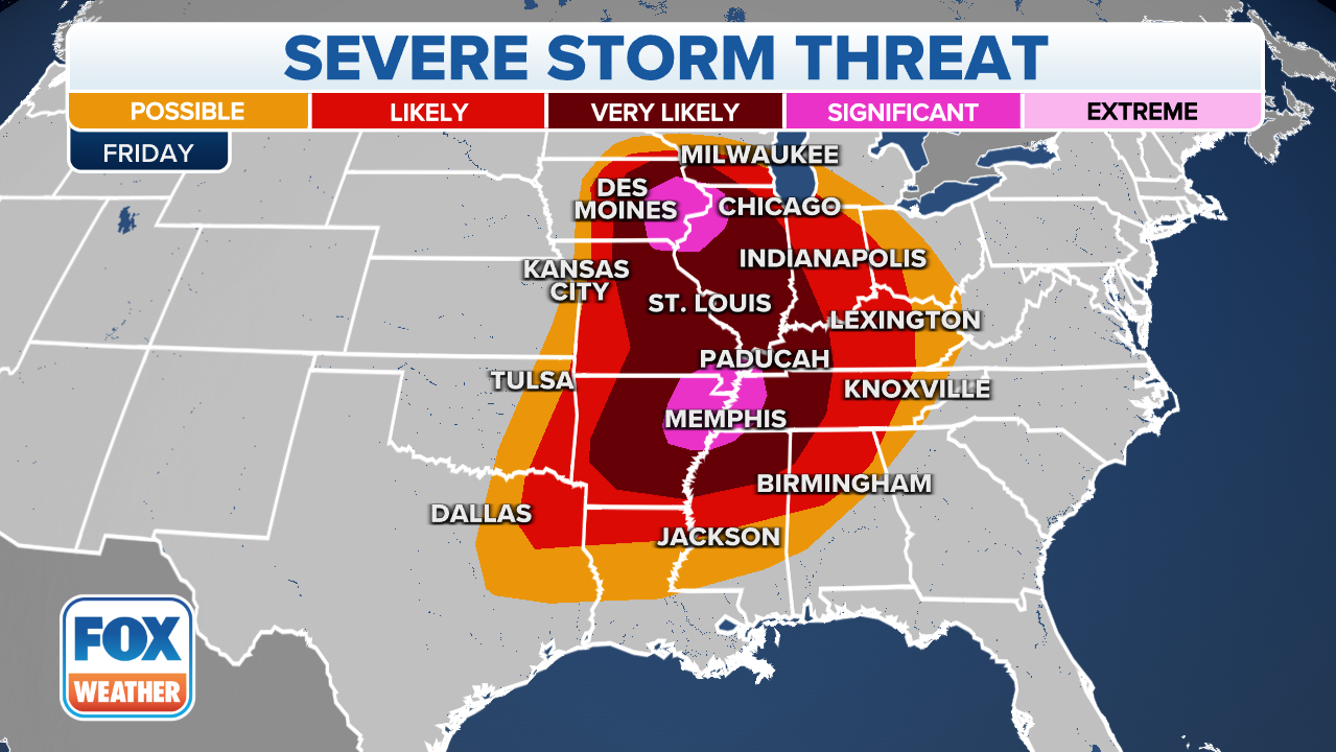 The severe weather outlook for March 31, 2023.
(FOX Weather)
---
Things to know
Millions in northern US face threat of snow, ice
On the cold side of this powerful storm system, wintry weather will be the primary concern. Winter weather alerts, including Blizzard and Winter Storm warnings, are in effect from the northern Plains to the Great Lakes. Upwards of a foot of snow is possible in parts of South Dakota and the Upper Peninsula of Michigan. Ice is possible near the freezing line.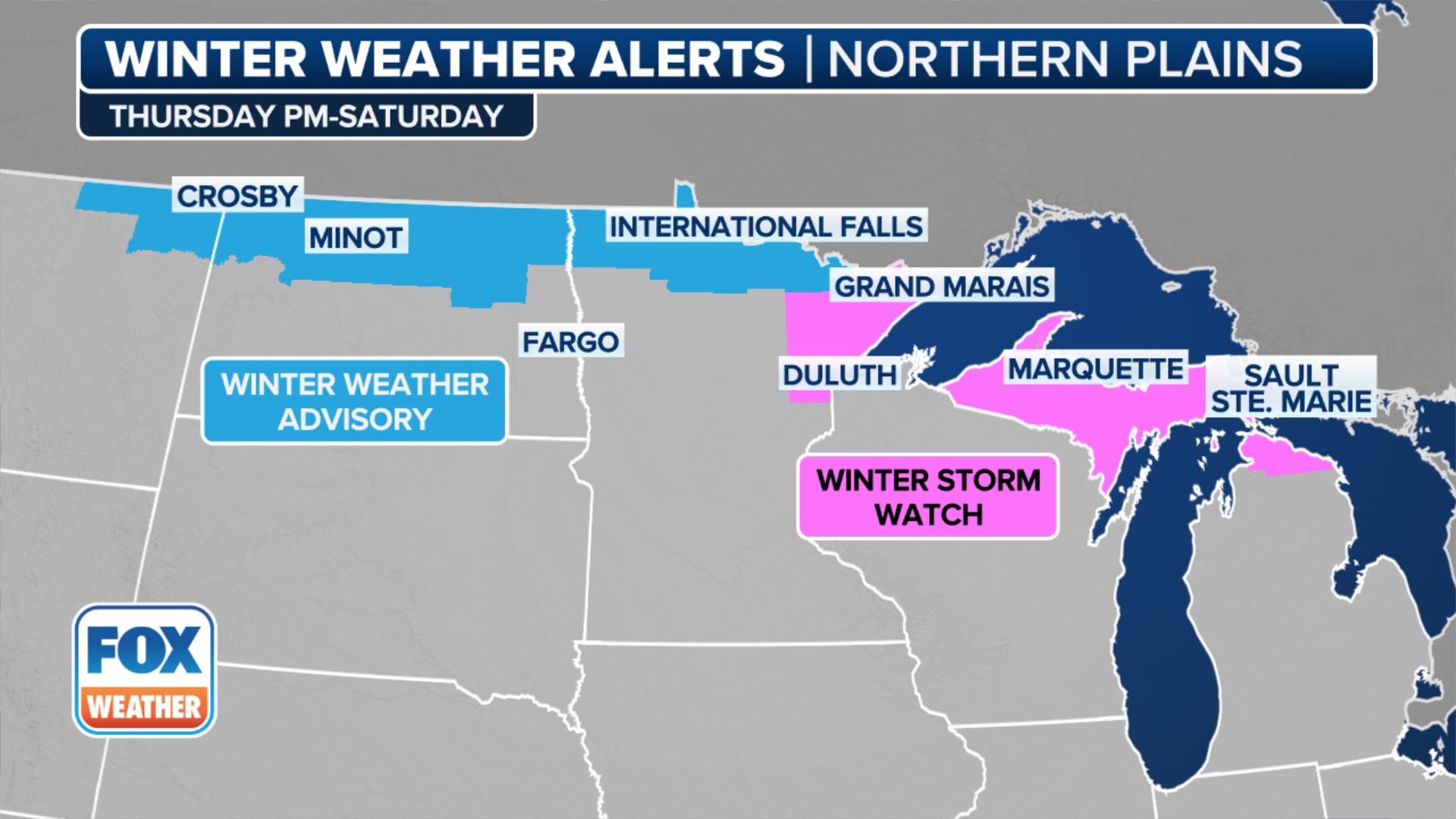 Winter weather alerts in effect March 31, 2023.
(FOX Weather)
---
We're already tracking another powerful storm
Spring is a busy time of year in the weather world, so it's no surprise that FOX Weather is already tracking another storm system that could bring impactful weather from coast-to-coast next week. The storm is expected to move ashore in the Northwest on Sunday and then march across the country, dumping snow and producing severe weather along the way.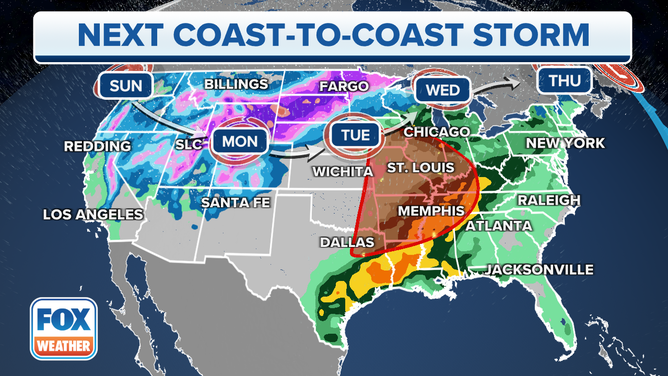 Bonus reads
Need more weather? Check your local forecast plus 3D radar in the FOX Weather app. You can also watch FOX Weather wherever you go using the FOX Weather app at foxweather.com/live or on your favorite streaming service. 
You can share your weather pictures and videos with us anytime, anywhere, in our America's Weather Watchers community on Facebook, email them to weather@fox.com or add the hashtag #FOXWeather to your post on your favorite social media platform.