Snow isn't over yet: Storm system to dump upwards of a foot in northern tier of country
Minneapolis could see 1-3 inches of snow, with ice possible in parts of Minnesota and Wisconsin. If gusty winds combine with heavy snow, blizzard conditions will be possible in parts of the Dakotas.
A storm system moving through the country that is helping deliver severe weather across the Mississippi Valley also has the potential to produce snowfall across the northern tier of the nation, with heavy precipitation chances from South Dakota to the Great Lakes.
The FOX Forecast Center expects snowfall to begin Friday and last into the early weekend, with the potential for a narrow stretch of communities possibly seeing a mixture of snow and ice from central Minnesota through northern Wisconsin.
"We could be dealing with potential blizzard conditions due to winds gusting upwards of 50 miles per hour, maybe even a little bit stronger," said FOX Weather meteorologist Kendall Smith. "So that is definitely going to lead to some very treacherous travel conditions, especially in places like Duluth, Minnesota."
There's a snowy pattern to end March.
(FOX Weather)
---
Snowfall in late March and early April isn't unusual in the region, but as the calendar advances, widespread events will become rarer.
The Upper Midwest is one of the few regions across the country where snowfall has been more abundant than during the average winter.
Minneapolis has seen more than 30 inches above normal, and the winter ranks as the seventh snowiest in the city's history. Bismarck, North Dakota, is in a similar status and is closing in on the snowiest winter ever.
WHEN CAN YOU EXPECT THE LAST SNOWFALL OF THE SEASON?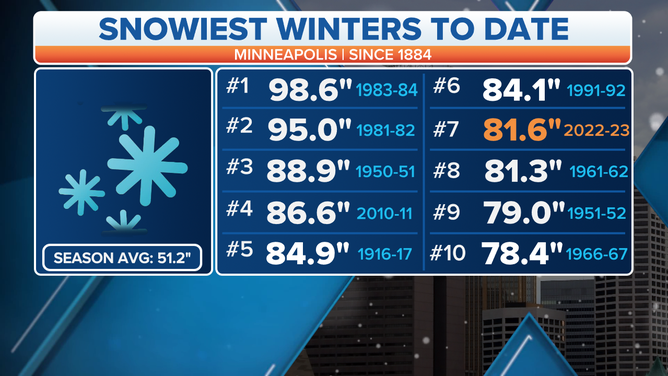 Tracking winter weather
More than 12 million people from the Dakotas to the Great Lakes are under winter weather alerts.
Occasional snow showers are popping up on the radar Thursday over the Plains, but the brunt of the action is expected to begin Friday.
Blizzard Warnings have been issued for a larger part of South Dakota, mostly north of Interstate 90, where winds gusts could reach 50 mph and heavy snowfall is expected.
COAST-TO-COAST STORM THREATENS MORE SEVERE WEATHER, HEAVY SNOW NEXT WEEK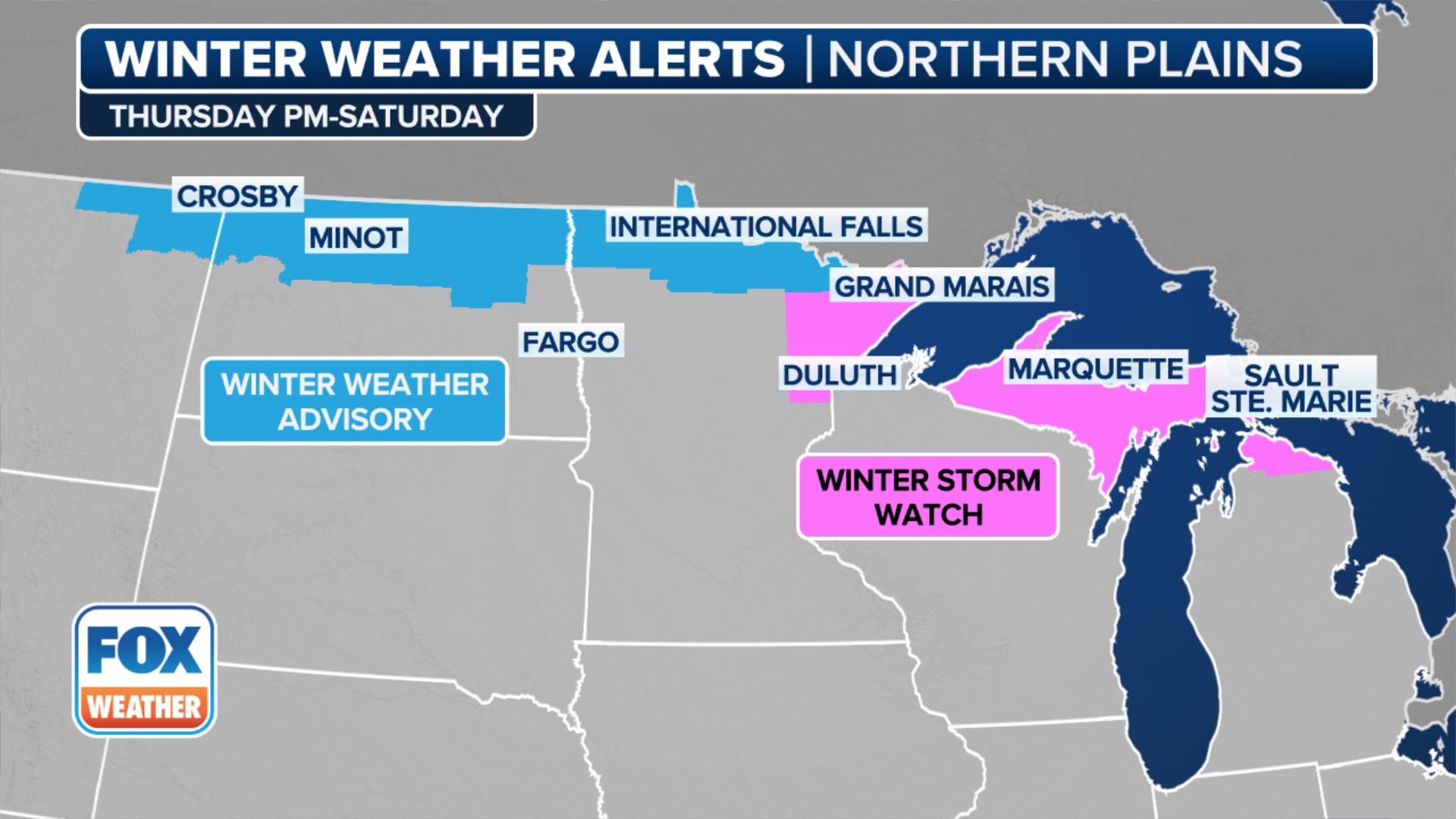 A spring snowstorm is brewing for parts of the northern tier late this weekend.
(FOX Weather)
---
Expected snowfall amounts
Many communities are expected to see a band of 3–5 inches, with areas of central South Dakota, northern Wisconsin and the Upper Peninsula of Michigan seeing higher amounts.
Both Minneapolis and Bismarck, North Dakota, are in the 1-3-inch zone, with Rapid City, South Dakota, and Duluth, Minnesota, expected to see 5-8 inches of snow.
The FOX Weather Center will be paying close attention to temperatures. Where the air will be the warmest, ice could cut down on some snow totals.
Here's a look at the expected snowfall amounts.
(FOX Weather)
---
"Where that freezing line is going to be setting up shop, that's where you see that area of pink that's indicating our freezing rain and sleet potential," Smith said. "So, the kind of that wintry mix that is going to lead to some very slick and slippery roads, especially for our rush hour evening commute and even rush hour morning commute for some spots."
A combination of blustery conditions and heavy snowfall could be disruptive to travel in South Dakota and in western Minnesota.