Deadly tornado outbreak marches eastward Saturday after rocking heartland
During the peak of the severe weather, more than 30 million residents where under a Tornado Watch. Severe storms impacted Chicago, Little Rock and many other communities along the Mississippi Valley and points eastward.
A severe weather outbreak rocked America's heartland Friday with supercells producing violent, long-track tornadoes, and the threat is expected to continue overnight.
Dozens of people have been injured as tornadoes rolled through half a dozen states, killing at least four people, with search and rescue efforts underway to find more victims.
Friday's overall severe weather threat zone covered 87 million people across 23 states but has been reduced in size as the atmosphere becomes more stable during the overnight hours.
LISTEN AS TORNADO ROARS THROUGH LITTLE ROCK
Weather radarbr>(FOX Weather)
---
The Storm Prediction Center warned of a rare high risk zone- a level 5 of 5 risk for severe weather during the afternoon and evening. Major cities such as Chicago, Nashville and St. Louis were under a heightened risk for severe storms.
During the height of the activity, Tornado Watches extended from the Great Lakes to near the Gulf Coast.
WHAT IS A 'PARTICULARLY DANGEROUS SITUATION' TORNADO WATCH?
Tracking storms as they march eastward into Saturday
Active severe weather watches are shown below and will either appear in red, indicating a Tornado Watch, or yellow, which represents a Severe Thunderstorm Watch.
A watch indicates storms could be capable of producing severe weather in and close to the alerted area.
Tornado Watches
(FOX Weather)
---
The SPC has highlighted two areas of concern along the East Coast for the potential for storms to become severe on Saturday with large hail, damaging winds and even an isolated tornado.
The northern area of concern stretches from Ohio eastward to the I-95 corridor and includes major cities such as New York and Philadelphia.
The southern region includes the Carolinas and Georgia, where enough daytime heating could destabilize the atmosphere and allow for severe storms.
Saturday severe weather threat zone
(FOX Weather)
---
ADVICE FOR DEALING WITH STORM ANXIETY WHEN SEVERE WEATHER THREATENS
Tornado Emergency issued for Little Rock, Arkansas
Shortly before 2:30 p.m. local time, a Tornado Emergency was issued for communities around Little Rock and damage was spotted west of town.
The twister was the first spotted tornado on Friday during what would become a large springtime outbreak in the heartland.
Due to the damaging storm, the National Weather Service office in Little Rock temporarily transferred its duties to the Memphis office while meteorologists took shelter.
Video from storm chasers showed several damaged homes and roadways blocked by debris. Even an Amazon delivery vehicle appeared to be flipped by the storm and storm chasers did report seeing injured victims.
Emergency crews were in search and rescue mode after the storm and said at least two dozen people have been treated at local medical centers.
"There's well-built homes that are damaged," said Brian Emfinger, a storm chaser with Live Storms Media. "There's also numerous shopping centers that have been damaged and have roof damage."
HOW METEOROLOGISTS DETERMINE IF A TORNADO IS TO BLAME FOR STORM DAMAGE
DRONE VIDEO OVER LITTLE ROCK AREA SHOWS EXTENSIVE TORNADO DAMAGE TO HOMES
Officials in Pulaski County reported several injuries and not enough ambulances available to take the injured to the hospital.
Arkansas Governor Sarah Huckabee Sanders said significant damage occurred the central part of the state and that she is in communication with first responders. "Praying for all those who were and remain in the path of this storm," Governor Sanders tweeted.
Little Rock's mayor has requested the assistance of the National Guard to help efforts in the hardest hit neighborhoods. A State of Emergency was declared, and residents were urged to stay home and off of roadways. The National Guard said 100 members were deployed to assist with traffic details and other duties.
A temporary shelter was set up at a local high school for storm victims.
Officials said at least one fire station was damaged during the storm, which hindered the immediate response. 

Violent tornado reported in northeast Arkansas
The central part of the state was not the only hard hit region in Arkansas - communities around Turrell, northwest of Memphis, Tennessee, were also placed under a Tornado Emergency.
The governor said she was aware of at least two deaths in the town of Wynne.
Cross County, Arkansas reported significant power outages with more than 50 percent of customers without electricity. Photos from Wynne, Arkansas, showed trees down on top of homes and damage to the community's high school.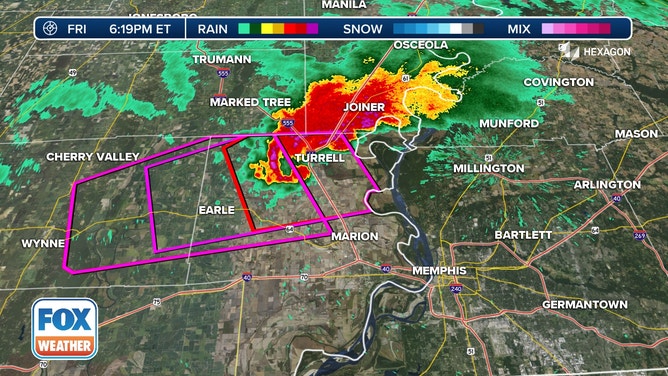 FOX Weather's Will Nunley is in the hard-hit town of Wynne, Arkansas, where he said residents were in disbelief.
"We have over here lots of homes with significant structural damage. We have large trees down on homes. This is the very early moments right now, folks, of search and rescue operations," said Nunley.
A Wynne resident was at work while the tornado struck and came home to find her home destroyed by the twister.
"I'm in shock right now, but I'm praying everybody's okay," she said.
Storm victims described the sound of the twister as similar to a washing machine, and it was only around for a brief time.
Residents told Nunley they had plenty of advance warning, with sirens sounding more than half an hour before the tornado arrived.
Tornadoes spotted in Illinois
A tornado was spotted by storm chasers around Eureka, Illinois, and the National Weather Service issued several Tornado Warnings for the cell.
The community is about a two-hour driver outside of Chicago.
There were no reports of initial damage, but meteorologists warned that flying debris could be dangerous.
Closer to Chicago, a roof of a theater was reported to have collapsed during the storms. Authorities were treating the incident as a mass casualty event and at least one person was dead, according to FOX 32 Chicago.
The band known as the Morbid Angel said the show at the Apollo Theater in Belvidere, Illinois was canceled after the severe weather impacted the area.
The governor's office has been made aware of the incident and has pledged its full support for the injured.
A witness said hundreds of people were in the venue when the roof collapsed during the severe storms.
The community was under a Tornado Warning at the time of the collapse, but it is unclear if a tornado, damaging winds, or heavy rain was to blame for the building's failure.
More than a dozen ambulances were spotted outside the venue transporting injured to local medical centers.
ROOF OF ILLINOIS THEATER COLLAPSES DURING CONCERT AS STORMS RIPS THROUGH BELVIDERE
FOX Weather tracks tornadoes through eastern Iowa
Iowa was the third state to see the tornado form on Friday afternoon. The southeastern part of the state was under a high risk for seeing severe weather and a rare PDS Tornado Watch was issued for the region.
Several counties were placed under a Tornado Warning, but many of the communities were rural and power outages were limited.
Johnson County, home to the University of Iowa, was also placed under a Tornado Warning and students received alerts to seek shelter.
The FOX Forecast Center said doppler radar detected debris that was lofted high up into the sky which is usually and indication that there is a powerful twister on the ground.
NWS Meteorologists believe a tornado that impacted communities around Ottumwa was an EF-2 or EF-3 based on radar signatures.
The same cell likely produced a large tornado in Martinsburg, Iowa, where a storm chaser captured a photo of a twister moving through the rural community.
Several barns were damaged in the eastern part of the state, but there were no reports of injuries associated with the severe weather in the Hawkeye State.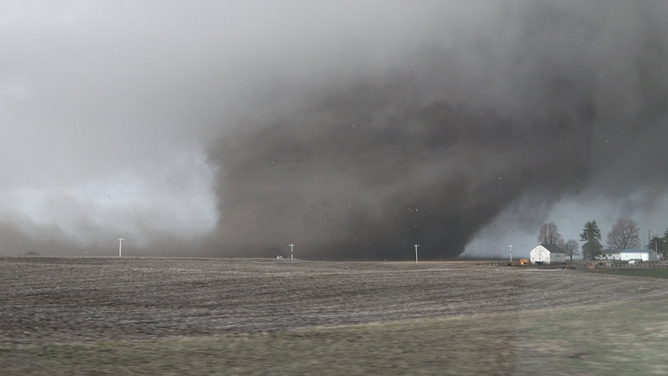 Further north and east, extensive damage was reported outside of Iowa City. Photos from the community of Coralville showed damaged cars and debris spread about.
An apartment building appeared to take a direct hit from the storm, with extensive damage to the building's roof and third story.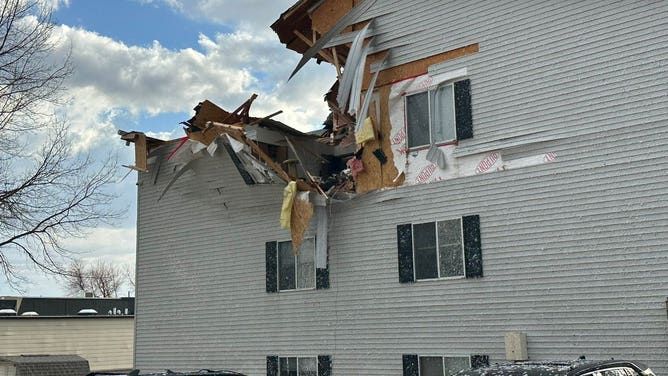 Supercell moves through northern Mississippi after sunset
Storm chasers tracked a supercell with a confirmed tornado through the northern part of the state after sunset.
Governor Tate Reeves said the twister was heading towards Tunica and DeSoto counties and urged residents to take action.
Photos from Tunica County, Mississippi, showed extensive damage to mobile homes, but a storm chaser was not aware of any injuries.
The impacted region was more than 100 miles to north and west from where storms left a trail of devastation just a week ago.
Hundreds of power outages were reported along the Mississippi-Tennessee line as the storm moved into southern parts of the Volunteer State.