Listen as tornado roars through Little Rock
William Kuang was working from home when he captured footage of a twister behind his apartment building.
LITTLE ROCK, Ark. – Video shows a tornado spinning through an apartment complex in central Arkansas, where tornadoes devastated many communities on Friday.
The footage was shot by William Kuang, who was working from home when the twister struck, according to his wife Fallon Tsui.
The video opens with the tornado appearing behind an apartment building and a line of trees. As it spins up and takes shape, debris can be seen being blown about.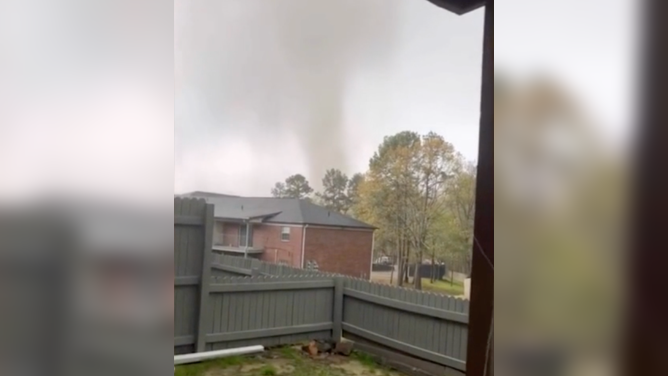 While the tornado moves down its path, the air is filled by the sound of the twister's roar.
DRONE FOOTAGE SHOWS EXTENSIVE DAMAGE IN LITTLE ROCK, AR
According to NOAA's Storm Prediction Center, the actual sound of a tornado will depend on its size, intensity and how close you are to the twister.
"The most common tornado sound is a continuous rumble, like a nearby train. Sometimes a tornado produces a loud whooshing sound, similar to a waterfall, or the noise of open car windows while driving very fast," according to the SPC.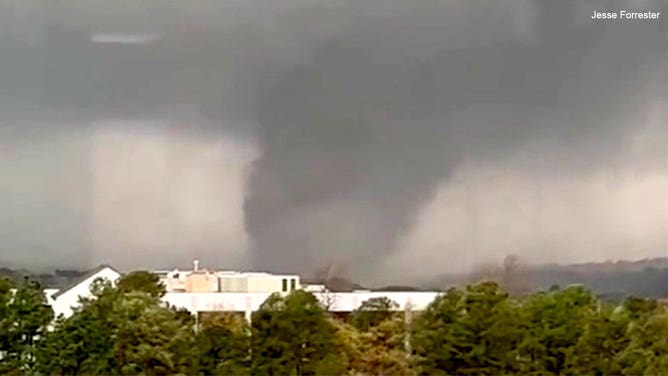 A Tornado Emergency was issued for communities around Little Rock just before 2:30 p.m. CDT Friday.
The storm caused thousands of power outages, flipped vehicles and damaged many homes.
"There's well-built homes that are damaged," said Brian Emfinger, a storm chaser with Live Storms Media. "There's also numerous shopping centers that have been damaged and have roof damage."
Arkansas Gov. Sarah Huckabee Sanders declared a state of emergency for the Natural State due to damage caused by the severe weather.
As of Friday afternoon, no fatalities have been reported. Rescue operations, however, are still underway. 
According to Tsui, she and Huang are safe in Little Rock.