Buffalo blizzard death toll jumps to 37 as crews continue digging out region
Vehicles have been left abandoned across Erie County, New York, in the wake of the historic blizzard that dropped feet of snow in some locations and left dozens dead.
BUFFALO, N.Y. - Officials in Erie County, New York, said the death toll from a historic blizzard on Christmas has jumped to at least 37 as clean-up and search and rescue operations continue across the region.
A state of emergency remains in effect across the county days after the storm dropped more than four feet of snow in some locations, with considerably higher snow drifts effectively burying homes and roads.
But in a sign of progress, the travel ban that had been in effect in the city of Buffalo since the blizzard began Friday ended Thursday morning, according to Erie County Executive Mark Poloncarz. 
However, a travel advisory remains in effect, and officials are still pleading for people to exercise caution when driving on snow-clogged Buffalo roads with crews still working to clear snow. People attempting to drive around crews clearing snow has become such a problem that New York State troopers and 100 military police arrived in the area Tuesday to manage traffic.
Earleir this week, Poloncarz expressed his frustration with people ignoring the driving ban in Buffalo and hindering recovery efforts, adding he was almost hit by a car driving amid the ban with no lights on Wednesday morning.
"If I had taken a couple of steps more I probably would have been a fatality," he said.
After receiving nearly 52 inches of snow since Friday, the Buffalo Niagara International Airport reopened on Wednesday. Crews worked for three days to clear snow from the runways and additional snow plows were sent from Pittsburgh International Airport to help move the huge snow piles. 
Even with the airport open again, travelers should check with their airline before heading to the airport. 
Many roads remain impassable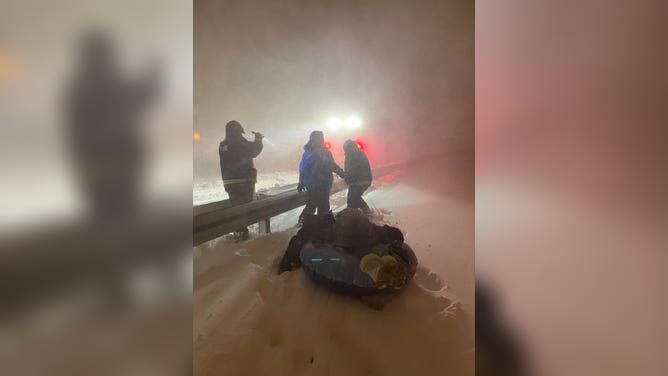 Snow is still covering most streets in Buffalo, and roads remain impassable. Poloncarz said the travel ban would remain in effect through Wednesday and police will continue to ticket drivers for violating the ban.
Crews are working to create at least one open lane on all Erie County streets by 7 p.m. Wednesday for emergency crews as well as clear snow to prevent any potential flooding as the weather begins to warm. Officials said approximately 65% of all streets have at least one lane cleared.
Approximately 72 high-lift vehicles and 119 dump trucks are working in the city of Buffalo to clear the snow. 
Temperatures are forecast to remain above freezing in western New York for at least the next week, with daytime highs reaching well into the 40s, though low 50s are likely on Friday and mid-upper 50s are possible early next week. Instead of snow, rain will likely fall on Friday and over the weekend. 
"There still remains 1-2 feet of snow still locked up on the ground as far as frozen moisture," says FOX Weather Meteorologist Amy Freeze. "Now we're going to add to that a change in temperatures that will start some of the melting, but we also start adding mixing in (some rain) starting on Friday and over the weekend."
However, FOX Winter Weather Specialist Tom Niziol is hopeful the melting is gradual enough to avoid most flooding problems.
"Right now it doesn't look like a major flood event," Niziol said. "(There's) not a lot of ice on the rivers and about 3-4 inches of water in the snowpack." And while rain is coming over the weekend, it is not expected to be a significant amount. 
"With an orderly meltdown there should not be widespread flooding," Niziol said. 
Heartbreaking stories of loss

The Erie County Medical Examiner's Office confirmed additional deaths Wednesday, bringing the blizzard's death toll in western New York to 37.
Poloncarz said 29 victims were in Buffalo, seven in surrounding suburb communities and one victim did not have location information.
"It's a horrible storm with too many deaths, but we know without these first responders more would have died," the county executive said.
Poloncarz said there are multiple victims who have not been identified. 
"We are asking you if you have a loved one that is missing, please contact the local police department," Poloncarz said.
The county executive said learning some of the stories of the victims has been heartbreaking. One of the victims was a man who left home during the blizzard to get food for his pregnant wife and never came home. 
About half of the people who died were found outside, while a few of them died inside vehicles. Some people who died had no heat in their homes and four suffered cardiac events while removing snow. Three people died because of an ambulance delay.
A local task force and National Guard members are going door-to-door throughout the county beginning Wednesday to conduct wellness checks. Teams will be checking on every house that lost power, and anyone who called 911 during the storm but EMS could not get to, as well as people who called the county's emergency 858-SNOW hotline.
"We are fearful that individuals living alone may have perished," Poloncarz said.
Sheriff's deputies have conducted more than 50 rescues throughout the storm using snowmobiles and special operations. 
Blizzard a 'weather catastrophe'
After being hit by the November snow event, Buffalo resident Katherine Bundt told FOX Weather her neighbors have once again started digging out their homes following the Christmas week blizzard.
Bundt said she is thankful that her family "came out much luckier than a lot of people in the city did."
Niziol said the western New York blizzard is a "weather catastrophe" because of a combination of factors.
"Every catastrophe is a result of several components coming together at the wrong place and wrong time," he said.
Niziol says what stands out in catastrophes is their total impact is much more than the sum of the parts: "Heavy snow is tough to deal with; a wind storm causes its own problems (in power outages); arctic temperatures cause hypothermia (and) dead car batteries."  
The mix of heavy snow, with strong winds and arctic temperatures over an extended length of time affecting a major metro area, makes it a "catastrophe," according to Niziol.
Major highways begin to reopen
After 48 hours of snowfall with rates up to 3 inches per hour, New York officials have called the snowstorm comparable to the blizzard of 1977 and worse than the historic blizzard in November. Orchard Park, New York, picked up more than 6.5 feet throughout the weather event, and Hamburg has received nearly 6 feet. 
"We have surpassed the scale of that storm," Hochul said Sunday evening about the blizzard of 1977. "We now have what'll be talked about for generations as the 'Blizzard of '22.'"
County officials said whiteout conditions were so bad ambulances had to be abandoned during an hours-long period when emergency personnel could not respond to calls because conditions were too dangerous. 
Poloncarz said in a tweet that this is the first time the Buffalo Fire Department could not respond to calls.
Signs of recovery were evident Tuesday. Major highways across western New York were set to reopen, including Interstate 290, Interstate 990 and Routes 400 and 219.  Some grocery stores were reopening, though officials urged residents to continue to stay off roads. 
DEADLY CHRISTMAS WEEK BLIZZARD BECOMES BOMB CYCLONE
"This is a sign that we are finally turning the corner on this once-in-a-generation storm," Hochul tweeted about the highway openings. 
Across the country, the Christmas week winter storm is being blamed for more than 60 deaths due to weather-related crashes and exposure.