Thanksgiving travel forecast: Where holiday travelers can expect flight delays into next week
An estimated 53.4 million people will hit the road or catch a flight this Thanksgiving
As millions of Americans flock to the roads and the skies ahead of Thanksgiving, FOX Weather is tracking a couple of storm systems that could create holiday travel disruptions across the United States.
According to AAA, an estimated 53.4 million people will hit the road or catch a flight this Thanksgiving, which is up 13% from 2020 and brings the volume to within 5% of pre-pandemic levels in 2019.
Let's take a closer look at the forecast for each day leading up to one of the busiest travel days of the year on Wednesday.
TRAVELING THIS THANKSGIVING? PACK YOUR PATIENCE
FLYING THIS THANKSGIVING? PREPARE FOR PACKED FLIGHTS, BUSY AIRPORTS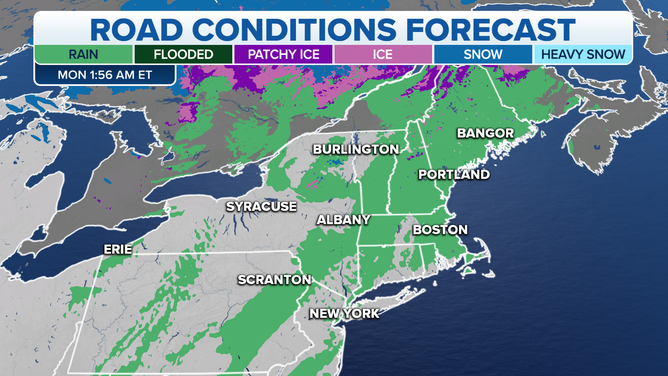 Monday
A storm system will arrive in the Northeast Monday, spreading rain showers from New England to the mid-Atlantic. Rain could change to snow in parts of the interior Northeast, while lake-effect snow develops in the Great Lakes snowbelts from Michigan to western and central New York.
As a result, airport delays are more likely in some of the busier hubs such as Boston and New York.
Pre-Thanksgiving storm bringing rain, some snow to Northeast, mid-Atlantic
Strong winds will develop on the backside of this storm, which could trigger some wind-related delays across the Great Lakes, Northeast and Southeast. The busy hubs of Chicago and Atlanta might face such issues on Monday.
The Pacific Northwest, including Seattle, may also have to contend with weather-related delays on Monday as the threat of rain and mountain snow returns to the region.
More rains for South Florida mean slippery roads.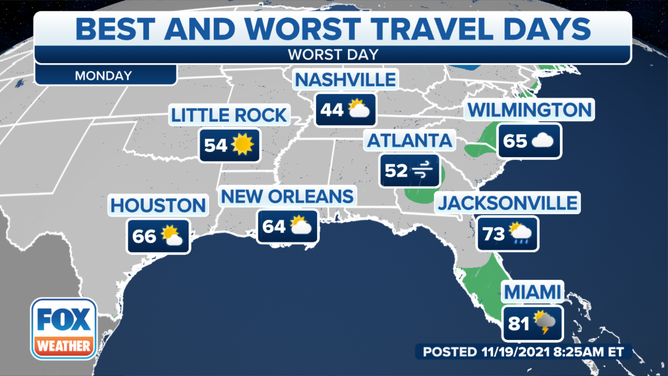 Much of California, the Rockies and the Plains should have mainly quiet conditions for holiday travelers.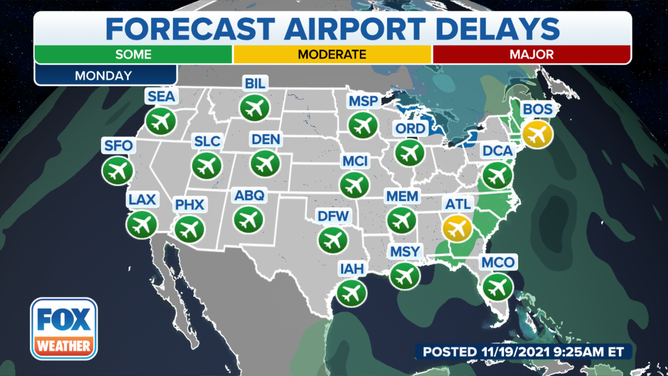 Tuesday
The storm system should depart the Northeast on Tuesday, but lingering snow showers will remain a threat in parts of the interior Northeast and northern New England.
However, strong wind gusts will continue to impact the region, so additional flight delays are possible at some major East Coast hubs such as Boston, New York, Philadelphia and Washington.
WARM, BEACH LOCATIONS TOP LISTS OF EXPECTED THANKSGIVING DESTINATIONS
The Pacific Northwest and Northern California will continue to contend with rain and mountain snow on Tuesday, and snow showers are forecast to develop in the central Rockies. However, widespread airport delays are not currently expected from these nuisance systems in the West.
Travelers in the Plains and Midwest should not face any significant weather issues.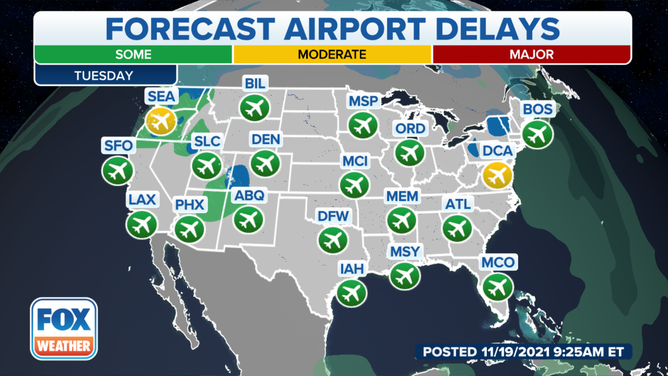 Wednesday
The day before Thanksgiving is typically one of the busiest travel days of the year. Fortunately, most travelers won't run into any significant weather issues on Wednesday.
However, if your flight isn't until later in the day or Wednesday night, it could be a bit more tricky. A new storm system is predicted to develop in the central U.S. by Wednesday night, which could bring an increased threat of rain from the Ohio Valley to portions of Texas.
WHY YOUR THANKSGIVING DINNER WILL COST YOU MORE THIS YEAR
The Pacific Northwest will have a continued risk of rain and mountain snow on Wednesday, so keep that in mind if your travels bring you to the Seattle area.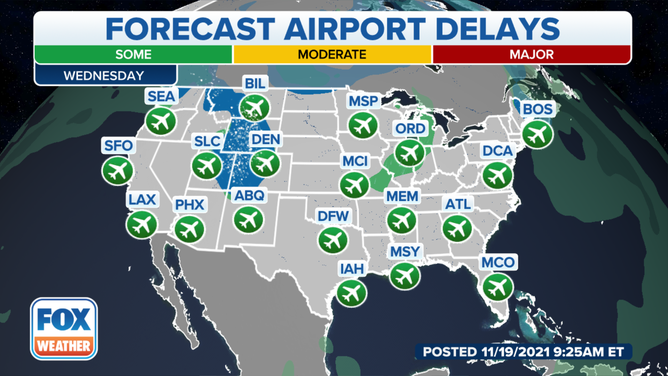 Thanksgiving Day
The central U.S. storm system might lead to some weather-related flight delays on Thanksgiving Day as rain targets areas from the Ohio Valley to the Tennessee Valley, lower Mississippi Valley and parts of central and eastern Texas. There's even a risk for thunderstorms and locally heavy rainfall, especially in Texas.
THANKSGIVING WEATHER: FORECASTS FOR 11 TOWNS ACROSS AMERICA WITH A TURKEY-DAY THEME
Meanwhile, the Pacific Northwest could see more rain and mountain snow, which may cause some airport delays in Seattle and Portland, Oregon.