Traveling this Thanksgiving? Pack your patience
An estimated 53.4 million people will hit the road or catch a flight this Thanksgiving
The holiday season is upon us, and now is the time to be proactive about travel plans as the American Automobile Association is predicting Thanksgiving travel will rebound to almost pre-pandemic levels.
According to AAA, an estimated 53.4 million people will hit the road or catch a flight this Thanksgiving, which is up 13 percent from 2020 and brings the volume to within 5 percent of pre-pandemic levels in 2019.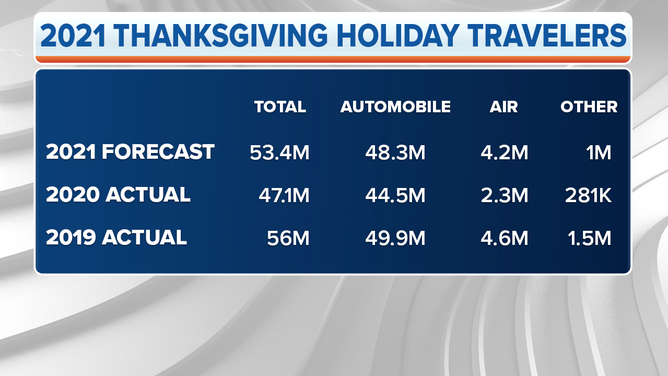 And with more restrictions being lifted, the airline industry continues to rebound from its dramatic fall during the pandemic, up more than 80 percent over last year.
Roads and airports will be noticeably more crowded, so now is the time to be proactive and prepare for delays as you're likely to be greeted with more traffic on the highway and longer lines at the airport.
AAA reports the travel forecast this year is the highest single-year Thanksgiving travel increase since 2005, and even though gas prices are more than a dollar more than they were at this time last year, most people will opt to drive to their final destinations.
Here are some tips that could help you when making those travel plans:
Air:
Even as more people are starting to fly this year, ticket prices seem to be less than last year. Monday is the least expensive day to travel and is likely going to be less busy. Tuesday and Wednesday are the most costly and will probably see the highest number of travelers. Try to book early, though. Ticket prices will likely climb, and availability may be limited closer to Thanksgiving.
Car rentals:
Daily rates have increased 4 percent compared with last Thanksgiving, according to AAA. And over the summer, those looking to rent a vehicle saw higher prices and limited availability due to a chip shortage that affected automakers. 
Hotels:
Many mid-range hotel rates have increased by as much as 39 percent. It's best to plan ahead and check rates sooner rather than later.
With so many more people expected to travel this year, roads and airports will likely be busier than usual, so don't forget to be patient. Make sure you get to the airport as early as possible to allow plenty of time to get through TSA. Also, consider booking a flight on less busy days to cut down on those wait times.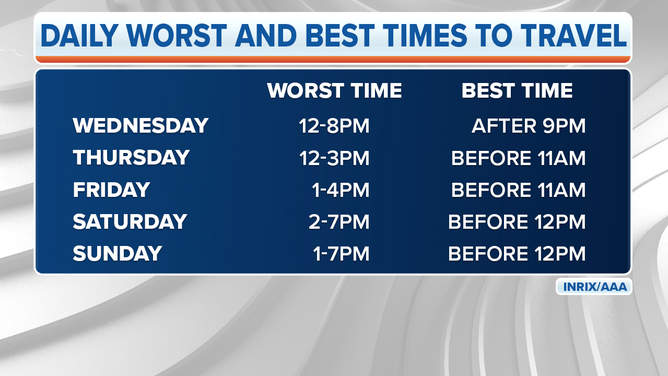 And if you're driving, try and leave before the peak travel times, or you may be sitting in traffic for quite a while. If you can't leave early, you may want to wait until later in the evening to start that drive.
Here are the worst travel corridors and times to travel, according to INRIX:
Atlanta: I-85 S, Clairmont Rd to MLK Dr; Peak Congestion: Wed, 1:30-3:30 p.m.
Boston: I-93 N, Quincy Market to MA-28; Peak Congestion: Wed, 1-3 p.m.
Chicago: I-290 W, Morgan St to Wolfe Rd; Peak Congestion: Wed, 2:45-4:45 p.m.
Detroit: I-96 W, 6 Mile Rd to Walled Lake; Peak Congestion: Wed, 2-4 p.m.
Houston: I-10 W, Sjolander Rd to TX-330; Peak Congestion: Wed, 3:15-5:15 p.m.
Los Angeles: I-5 S, Colorado St to Florence Ave; Peak Congestion: Wed, 3:45-5:45 p.m.
New York: I-495 E, Borden Ave to Little Neck Pkwy; Peak Congestion: Wed, 2:30-4:30 p.m.
San Francisco: I-80 E, I-580 to San Pablo Dam Rd; Peak Congestion: Wed, 4-6 p.m.
Seattle: I-5 S, WA-18 to WA-7; Peak Congestion: Wed, 4-6 p.m.
Washington, D.C.: I-95 S, I-395 to VA-123; Peak Congestion: Wed, 2-4 p.m.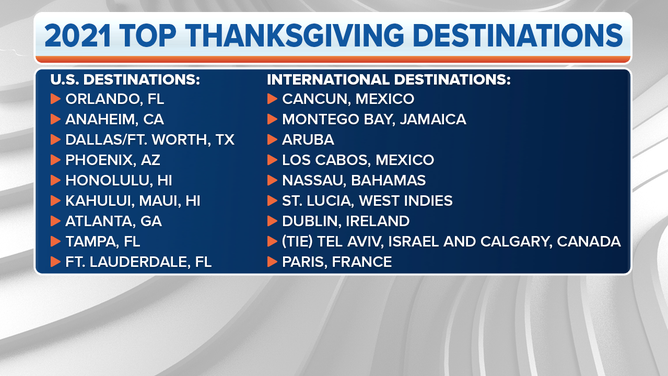 AAA says travel continues to see a strong recovery that started over the summer and will continue into the holiday season. Data shows big cities and tropical destinations are on top of most traveler's lists this year.