'This is how we serve': Communities rally to support victims of devastating flooding in Kentucky
More heavy rain, scorching temperatures expected across the region
HAZARD, Ky. - The death toll from historic and catastrophic flooding in eastern Kentucky has continued to rise, with Gov. Andy Beshear announcing Monday that at least 30 people are now confirmed dead and an unknown number of people still unaccounted for.
And making the situation even worse is a threat of more rain, severe weather and scorching temperatures in areas that were hit hard by the flooding last week.
HOW TO WATCH FOX WEATHER ON TV
"I'm worried about how many more people we'll find and how long it's going to take to find some people who are out there," Beshear said. "I'm really worried about the heat that is coming. We're still trying to get power and water to places, and the heat is going to be oppressive."
This is the second major disaster to strike Kentucky in less than a year. In December, a powerful EF-4 tornado tore through the community of Mayfield, destroying everything in its path.
'HOUSES ARE FLOATING AWAY': FAMILIES TRAPPED AS FLOODWATERS TEAR THROUGH EASTERN KENTUCKY
And much like in the aftermath of the devastating tornado outbreak in December, Kentuckians are stepping up and coming out in droves to support their neighbors who have been knocked to their knees.
"Not only the governor, but so many Kentuckians that we've met have really tried to focus on keeping people positive as they continue searching for those who are unaccounted for," FOX Weather correspondent Nicole Valdez said. "Of course, it's hard when you see the scenes we've shown you over the past several days. But they are clinging to the little bit of hope that they have and the strength that they've formed with each other."
KENTUCKY UNDER RENEWED FLOOD THREAT AS SEVERE STORMS TARGET RAIN-SOAKED OHIO VALLEY, APPALACHIANS

Beshear spent the weekend touring devastated communities and meeting with victims in eastern Kentucky.
He visited community centers and churches that have been gathering donations for people whose lives have been uprooted by the flooding across the region.
People have been driving by with cars filled with food, clothes and baby formula – anything that can be given to survivors that have been left with nothing.
HOW TO HELP VICTIMS OF THE DEVASTATING FLASH FLOODS
"These families are going to need help, much like our families in western Kentucky. They are also going through one of the worst disasters of this type that we have seen," Beshear said.
Some charitable organizations are opening hands to supplies and volunteers, while others need monetary donations.
Hindman First Baptist Church pastor Kevin Davis said he's so thankful for the feeling of community and knows it's a feeling being felt by Kentuckians across the state.
"We try to teach people our younger people in our church, this is what we do," he said. "This is how we serve. It's not just coming to church. It's not only four walls. This is church. This is what we need to have in our hearts."
Cleanup efforts will continue, but it's a process that Beshear warns will take a long time.
ST. LOUIS AND KENTUCKY FLOODING: 2 DIFFERENT 1-IN-1,000-YEAR FLOOD EVENTS IN SAME WEEK
Renewed flood threat for Kentucky
A cold front moving through the Ohio Valley and into the Appalachians has the potential to produce heavy rain and severe thunderstorms Monday for areas that simply do not need any more wet weather.
"There is severe storm potential today for all the impacted areas," Beshear said. "And that's just not right."
Some of the wettest spots could see another 1-2 inches of rain.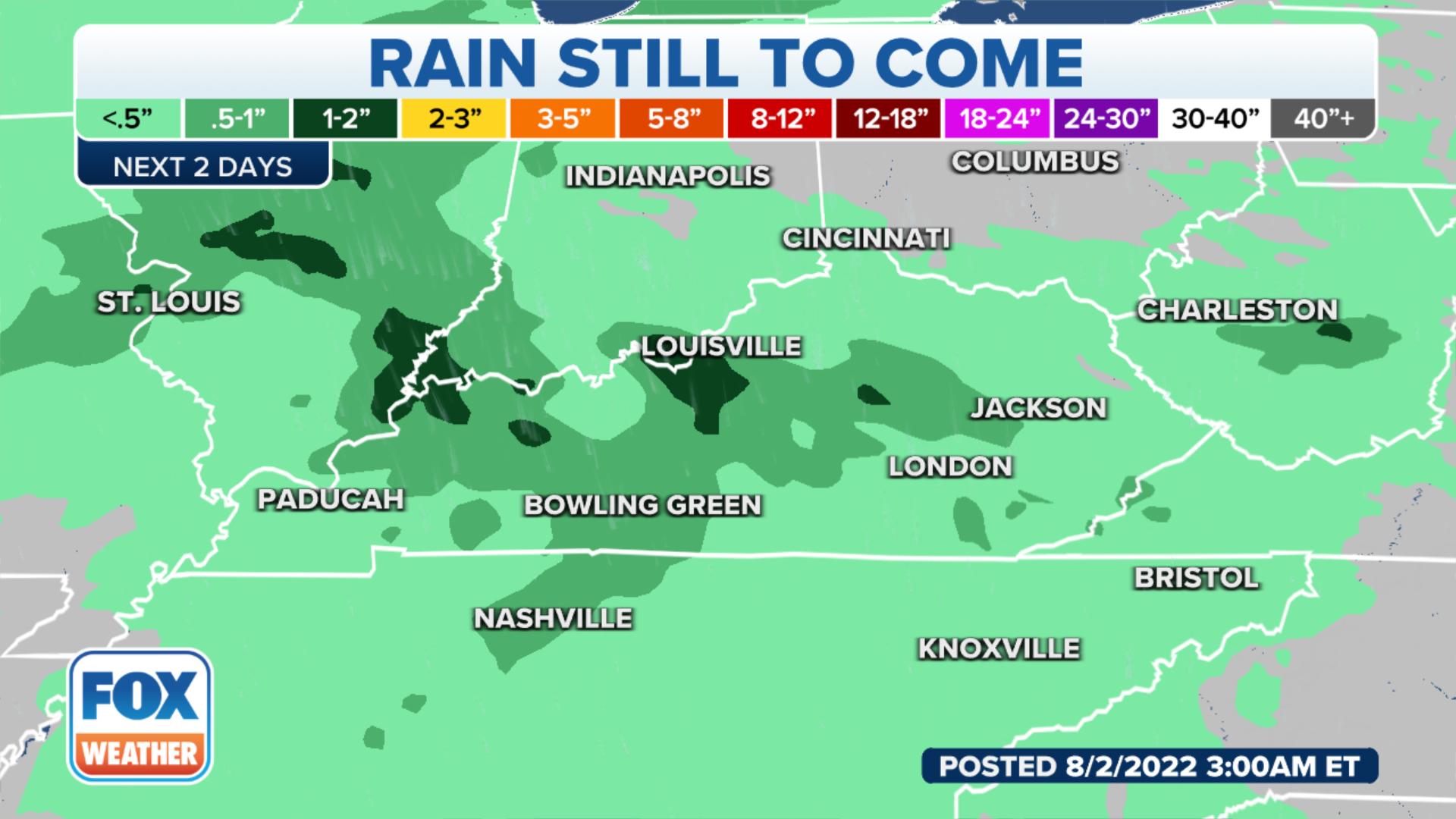 Rainfall forecast for the Ohio Valley and Appalachians.
(FOX Weather)
---
In addition to localized heavy rainfall, the greatest threat from the storms will be damaging wind gusts and hail.
Unlike the last cold front that lingered for days, this storm system is expected to push out of the region by late Tuesday, giving way to a blast of early-August heat.
CLICK HERE TO GET THE FOX WEATHER UPDATE PODCAST
The FOX Weather app is a great resource that can be used to alert you of any watches or warnings issued for your area. The free FOX Weather livestream is also available 24/7 on the website and app and on your favorite streaming platform. The FOX Weather Update podcast also provides weather information for the entire country.