Catastrophic earthquakes in Turkey, Syria kill more than 17,000; deadliest quake series in 12 years
The death toll topped 17,000, making it the deadliest quake series since a 2011 earthquake in Japan triggered a tsunami and killed nearly 20,000 people.
GAZIANTEP, Turkey – Search and rescue teams continue pulling victims from beneath the rubble of collapsed buildings in Turkey and Syria days after a series of catastrophic earthquakes jolted the region claiming more than 17,000 lives.
The Associated Press reported that search teams from more than two dozen countries have arrived in the devastated region and joined tens of thousands of local emergency workers who are desperately trying to reach those who need help.
Millions of people were jolted awake when the first earthquake, a magnitude 7.8, struck the region at 4:17 a.m. local time Monday (8:17 p.m. EST Sunday) and was almost immediately followed by a strong 6.7 magnitude aftershock, according to the U.S. Geological Survey (USGS).
Nine hours later, a powerful 7.5 magnitude aftershock rocked the region around 1:25 p.m. local time (5:24 a.m. EST) Monday.
Dozens of aftershocks have continued to shake the region, and the USGS expects those to continue for the foreseeable future.
This series of earthquakes is now the deadliest quake event since a 2011 earthquake in Japan triggered a tsunami and killed nearly 20,000 people.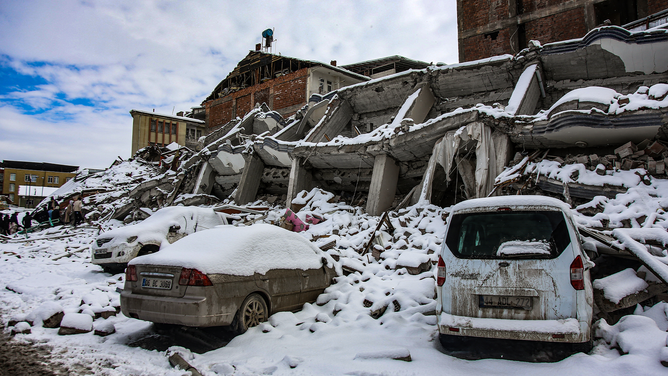 The search for survivors and the beginning of the recovery process after the massive quakes have been impeded by freezing temperatures and snow.
This left survivors still trapped within the rubble susceptible to things like hypothermia and frostbite, putting them at risk of death while exposed to the elements.
Thousands of buildings reduced to piles of rubble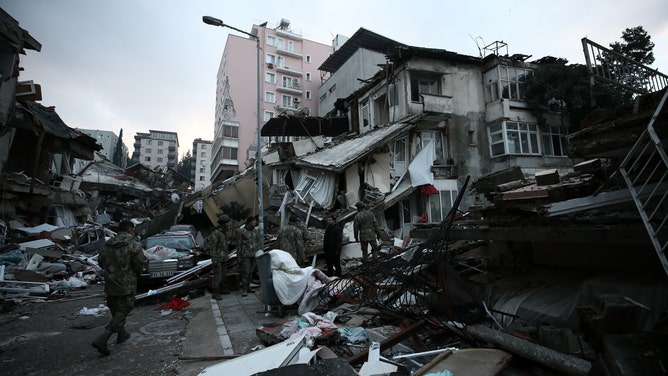 The series of powerful earthquakes shook the ground so violently that thousands of buildings were reduced to piles of rubble, with people trapped beneath the concrete and metal.
In Turkey alone, the AP reported that more than 6,000 buildings were destroyed. That number includes damaged hospitals and at least one that completely collapsed in Iskenderun.
Teams have been looking through the collapsed buildings since the earthquakes struck and have pulled thousands of people from the rubble.
Unfortunately, thousands more are still waiting for help, and hope is fading that they will survive.
'LEGITIMATELY TERRIFYING': FUTURE QUAKE, TSUNAMI COULD BURY SEATTLE'S SHORES UNDER 20 FEET OF WATER
Videos and photos capture terrifying moments during the earthquake's aftermath
Videos and photos from the region show the devastation of the deadly earthquakes.
Cameras were rolling when an apartment building collapsed in Turkey, forcing people near the falling structure to run for their lives and not become trapped among the falling debris.

Other images showed rescue workers pulling victims from the rubble and working on getting them to safety.
More heartbreaking images show distraught family members sitting near piles of debris as lifeless loved ones remain trapped under the rubble. Other photos show rescue dogs combing the area looking for anyone who may still be alive under the piles of destroyed buildings.
International support pours in after deadly earthquakes in Turkey, Syria
Support for Turkey and Syria has been swift and is coming from around the globe, with dozens of countries offering to help.
President Joe Biden issued a statement Monday morning, saying he was deeply saddened by the loss of life and devastation caused by the earthquakes.
"At my direction, senior American officials reached out immediately to their Turkish counterparts to coordinate any and all needed assistance," Biden said in the statement. "Our teams are deploying quickly to begin to support Turkish search and rescue efforts and address the needs of those injured and displaced by the earthquake."
Help has also been pledged from countries like South Korea, India and Pakistan.
Other organizations worldwide have also started mobilizing teams and supplies to send off to areas hit hard in Turkey and Syria.
With such catastrophic damage, however, more help is welcome. Here's an article on how you can help earthquake victims.
EAST VS. WEST: WHY EARTHQUAKES ARE FELT DIFFERENTLY ON EITHER SIDE OF THE U.S.
Monday's initial 7.8 magnitude quake had a depth of 11 miles and was likely felt as far away as Beirut in Lebanon and Cairo in Egypt, according to USGS data.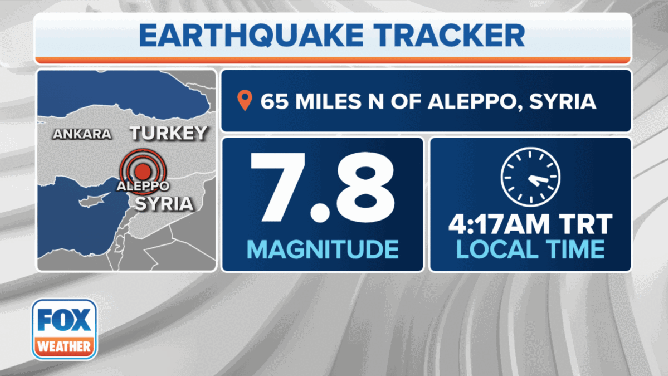 The area where the earthquake struck is considered seismically active. However, the USGS said there had previously only been three quakes of magnitude 6 or larger within about 150 miles of the epicenter since 1970. 
The AP noted that some 18,000 people were killed during powerful earthquakes that shook northwestern Turkey in 1999.