Freezing temperatures, wintry weather threatens Turkey quake victims trapped in rubble
Rain and snow not only slow rescue and clean up efforts after the massive quake in Turkey but threaten trapped survivors and those now homeless with hypothermia and frostbite.
GAZIANTEP, Turkey – A region devastated by three major earthquakes this week now has to fight snow and freezing temperatures in some heavily damaged regions amid the race to find survivors left in rubble and sheltering thousands now left homeless.
The massive 7.8 magnitude earthquake that shook much of central Turkey and northwestern Syria was followed by 6.7 and 7.5 aftershocks within hours, and the area continues to be jolted by dozens of strong aftershocks.
THOUSANDS DEAD, HUNDREDS AWAIT RESCUE FROM RUBBLE AFTER POWERFUL EARTHQUAKES JOLT TURKEY, SYRIA
Countless buildings collapsed, killing thousands, and trapping others, according to the Associated Press. Even more, those trapped inside and survivors left homeless are in danger of freezing while battling winter temperatures, potentially making this disaster even more deadly.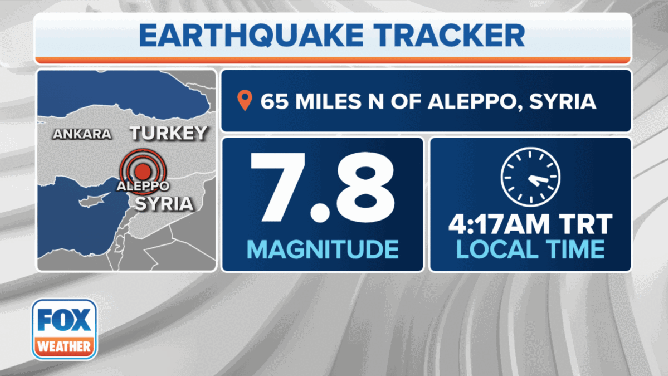 Survivors face nighttime temperatures in the 20s
Rescuers digged through the debris in temperatures that sat just over freezing for highs on Monday, while emergency managers worried about low temperatures bottoming out around 20 degrees, leaving survivors that are still trapped susceptible to hypothermia and frostbite, or freezing to death.
Even victims transferred to hospitals face cold as the temblor severed power and heat to so many buildings that remain standing.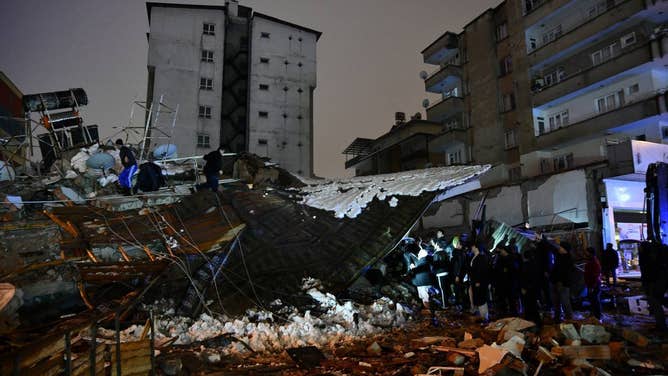 The epicenters for the large earthquake and aftershocks were located north of Aleppo, Syria near Gaziantep, Turkey. 
The city was jolted awake at 4:17 a.m. to a temperature of 21 degrees. Families in pajamas rushed out to the icy streets. Many quake victims didn't have time to grab jackets or shoes before they fled their crumbling homes.  Some areas even had snow falling as the quake struck.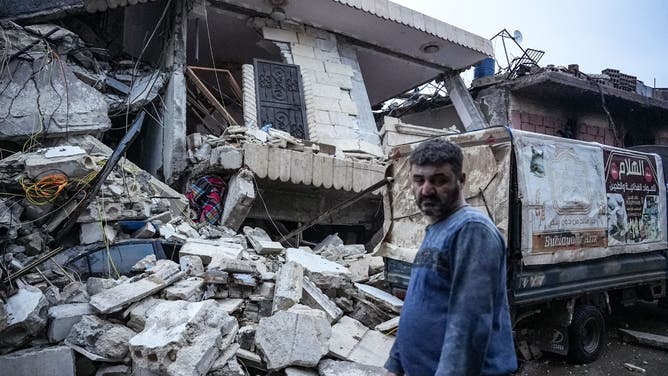 The FOX Forecast Center expects patches of freezing rain and sleet stretching west to east along the hardest hit areas on Tuesday, while areas to the north like Malatya, Turkey are seeing moderate snow after several days of it already.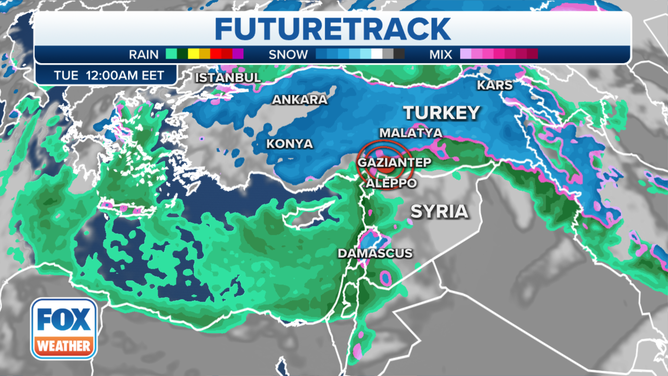 WHAT DOES FROSTBITE DO TO YOUR BODY?
Compare the forecasted precipitation type map above to the shake intensity map below, depicting hundreds of miles that experienced "severe," "violent" and "extreme" shaking, according to the U.S. Geological Survey.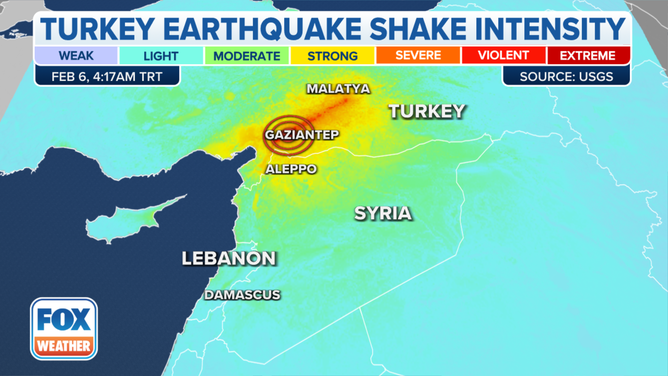 The city of Gaziantep, which is near the epicenter, is expecting snow showers on Tuesday with high temperatures only reaching the 30s by afternoon. Drier weather is in store the rest of the week, but overnight temperatures are still set to drop well below freezing each night.
HOW TO WATCH FOX WEATHER ON TV
Gaziantep, Turkey Forecast
(FOX Weather)
---
Cities to the south of the epicenter will see a chilly rain through Tuesday as rescue efforts continue.
Aleppo, Syria which is south of the epicenter will see rain not snow while cleaning up on Tuesday. Unfortunately the cold drops fall on compromised roofs and will lead to even more damaged personal belongings as everything left behind in homes is drenched.
Aleppo, Syria Forecast
(FOX Weather)
---
SNOW, SLEET, FREEZING RAIN AND HAIL: WHAT'S THE DIFFERENCE?
Freezing temperatures overnight will turn the water in leaky homes into ice.
The weather clears by Wednesday into Saturday to aid recovery efforts. But temperatures do not warm up, and nights will remain below freezing. Experts believe the region will be rocked by numerous aftershocks in the coming hours and days. 
At last check, the USGS reported more than 50 aftershocks in the region so far.