7 extreme weather events are simultaneously impacting US on Wednesday
Here's all the wild weather we've already seen on Wednesday or are expected to see by Wednesday night
Extreme weather is impacting much of the central United States on Wednesday, as a weather pattern more typical of spring has set up in the middle of December.
Here's all the wild weather we've already seen on Wednesday or are expected to see by Wednesday night.
LIVE UPDATES: HISTORIC WIND, SEVERE WEATHER EVENT TRACKING ACROSS NATION'S MIDSECTION
1. 'Historic' high wind event in the central U.S.
A potentially "historic" high wind event, the National Weather Service says, is unfolding across the central U.S. on Wednesday.
Approximately 85 million Americans are under either a High Wind Warning or Wind Advisory across areas that stretch from the Desert Southwest into the Great Lakes, as forecasters expect gusts to potentially exceed hurricane force. For reference, a Category 1 hurricane has winds greater than 74 mph.
A 107-mph wind gust was clocked in the High Plains of eastern Colorado on Wednesday morning. A 100-mph gust was later measured at the Air Force Acedemy on the north side of Colorado Springs.
POTENTIALLY 'HISTORIC' HIGH WIND EVENT HAS MORE THAN 85 MILLION PEOPLE ON ALERT
2. First December 'Moderate Risk' area for severe weather in the upper Midwest
An outbreak of severe thunderstorms will produce destructive wind gusts and a few nighttime tornadoes, some of which may be strong, in parts of the upper Midwest on Wednesday evening. Forecasters say this threat appears unprecedented for this region in December.
NOAA's Storm Prediction Center has hoisted a "Moderate Risk" area – the second-highest threat level that can be issued – for severe weather in southeastern Minnesota, northern, central and western Iowa and far west-central Wisconsin. This includes Rochester, Minnesota; Ames, Cedar Falls and Waterloo, Iowa; and La Crosse, Wisconsin.
This is by far the farthest north the SPC has ever posted a Moderate Risk in December, according to a tweet from the NWS. In fact, some areas in the severe weather risk zone have nearly a half-foot of snow on the ground from last weekend's winter storm.
'MODERATE RISK' OF SEVERE WEATHER ISSUED IN MINNESOTA, IOWA, WISCONSIN: DESTRUCTIVE WINDS, TORNADOES LIKELY
3. First December 'Extremely Critical Risk' area for fire weather
The unprecedented high wind event and dry conditions have caused the SPC to issue its first "Extremely Critical Risk" of fire weather in December for parts of the Plains.
The "Extremely Critical Risk" fire weather category has never been issued in December before, according to a tweet from the NWS. It's the highest risk level that the SPC issues on its scale of fire weather outlooks.
Dangerous to extreme fire weather conditions are expected through Wednesday in parts of eastern Colorado, New Mexico, the Oklahoma and Texas panhandles, much of Kansas and southern Nebraska. 
'EXTREMELY CRITICAL' FIRE WEATHER RISK HAS NEVER BEEN ISSUED IN DECEMBER, UNTIL NOW
4. Dust storms in the High Plains
The high winds have triggered several Dust Storm Warnings in the High Plains on Wednesday.
"Wall of dust headed through Pueblo County right now. We can see it from here," the NWS office in Pueblo, Colorado, tweeted Wednesday morning. "Be prepared for rapid decreases in visibility. Stay safe out there."
The NWS offices in Pueblo, Colorado; Cheyenne, Wyoming; and Goodland, Kansas, have all issued Dust Storm Warnings.
5. Snow squalls in the High Plains
Snow squalls also formed in the High Plains on Wednesday morning, creating near-zero visibility as the high winds created significant blowing and drifting snow.
Several Snow Squall Warnings were issued by the NWS offices in Boulder, Grand Junction and Pueblo, Colorado; Cheyenne, Wyoming; and Albuquerque, New Mexico.
WHAT ARE SNOW SQUALLS AND WHY ARE THEY SO DANGEROUS?
6. Severe thunderstorms in the High Plains
A Severe Thunderstorm Warning was also issued in the High Plains of eastern Colorado and western Kansas on Wednesday morning.
In fact, this warning was issued just east of a Dust Storm Warning that was in effect at the same time near Pueblo, Colorado.
"This destructive storm will contain wind gusts to 80 mph," the NWS office in Pueblo said in a tweet.
'DESTRUCTIVE' THUNDERSTORM ALERTS: WHAT THEY ARE AND WHY THE NWS ISSUES THEM
7. Dozens of record-high temperatures are in jeopardy
We may just be one week away from the official start of winter, but with temperatures soaring into the 60s and 70s across the middle part of the country, it's feeling a bit more like spring.
Dozens of record-high temperatures have already been tied or broken this week, and that trend has continued on Wednesday, with several record highs already shattered as temperatures climb to levels that are 20 to 30 degrees warmer than average for mid-December.
ANOTHER DAY OF RECORD WARMTH EXPECTED ACROSS PLAINS. MIDWEST, GREAT LAKES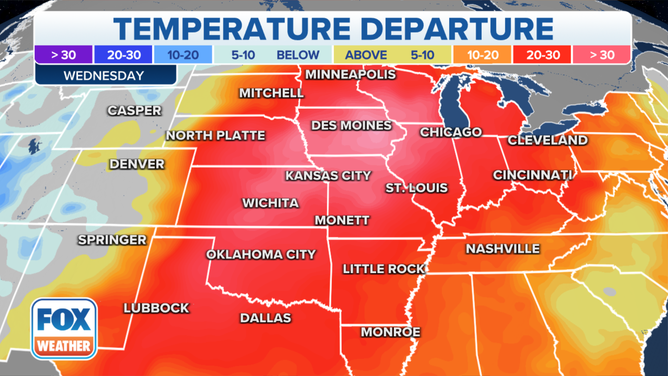 Des Moines, Iowa, set a new record for the entire month of December when it reached the lower 70s on Wednesday. December's previous record high was 69 degrees. The record-high temperature for December in the entire state of Iowa could also be in jeopardy. The current record was set in Thurman, Iowa, on Dec. 6, 1939, when the temperature hit 74 degrees.
To their south, the daily record high for Kirksville, Missouri, had already been topped by 6 a.m. Central time Wednesday morning. The daily record was also broken in Columbia, Missouri, by 10 a.m. Central.
All-time December record highs will also be challenged in some parts of Missouri on Wednesday.