Another day of record warmth expected across Plains, Midwest, Great Lakes
Most of the central US could be 20 to 30 degrees above average on Wednesday
We may just be one week away from the official start of winter, but with temperatures soaring into the 60s and 70s across the middle part of the country, it's feeling a bit more like spring.
Dozens of records have already been tied or broken this week, and that trend will likely continue for the remainder of this week.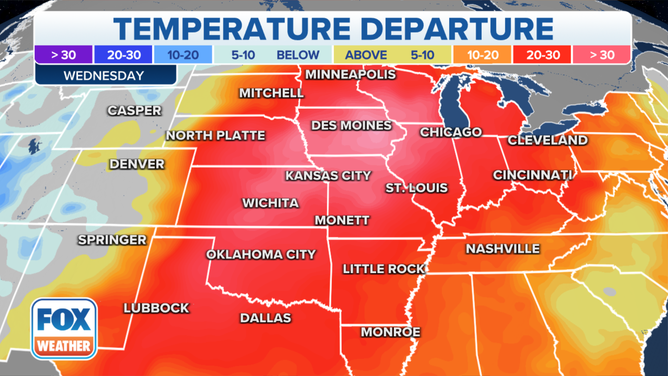 Temperatures could reach 20 to 30 degrees above average from the Gulf Coast to the Great Lakes and Canadian border on Wednesday, with some areas of the Midwest experiencing temperatures higher than 30 degrees above average for this time of year.
Let's take a look at some of the records that are in jeopardy of being tied or broken on Wednesday.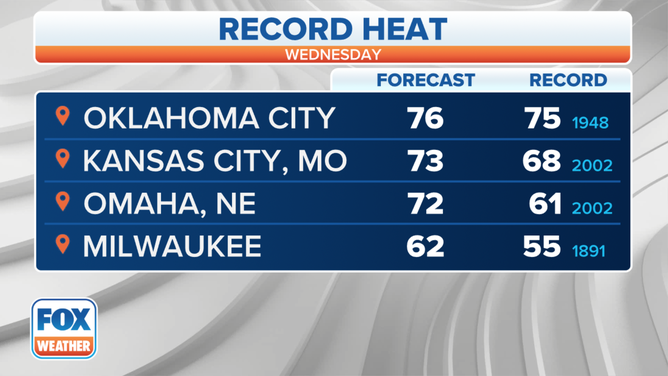 Oklahoma City has been enjoying warmer temperatures all week, and that will continue at least on Wednesday. Temperatures there are expected to break the old record of 75 degrees set in 1948.
To the northwest in Kansas City, Missouri, a record of 68 degrees was set in 2002, and that is expected to be broken when temperatures reach into the lower to mid-70s Wednesday afternoon.
Omaha, Nebraska, will likely break its old record of 61 by more than 10 degrees. Temperatures on Wednesday could top off at 72 degrees.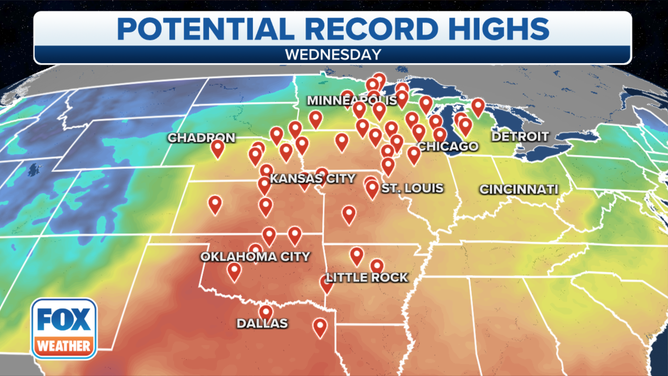 While many records could fall on Wednesday, many more could be broken farther north into the Central Plains and upper Midwest.
Wichita, Kansas, will also be basking in the warmer temperatures Wednesday. The old record-high temperature of 66 degrees will likely be broken later Wednesday. The forecast high temperature in that city is 71 degrees.
People living in Wisconsin should enjoy the warmer temperatures while it lasts. La Crosse and Madison will likely shatter their old records.
La Crosse, Wisconsin, could get into the mid-60s on Wednesday, breaking its old record of 52 set back in 1923. The same is expected in Madison, Wisconsin, breaking its old record set in 2011.
It will also be a warm day across Iowa, where severe weather is expected later in the afternoon into the evening hours.
The record-high temperature for December in Iowa occurred in the community of Thurman. On Dec. 6, 1939, the temperature hit 74 degrees. It will be a warm day there again Wednesday, with a forecast high of 72 degrees, putting that record in jeopardy of being tied or broken.