'Moderate Risk' of severe weather issued in Minnesota, Iowa, Wisconsin: Destructive winds, tornadoes likely
'Today's volatile day of weather has not been seen before in mid-December,' the NWS says
An outbreak of severe thunderstorms will produce destructive wind gusts and a few nighttime tornadoes, some of which may be strong, in parts of the upper Midwest on Wednesday evening. Forecasters say this threat appears unprecedented for this region in December.
NOAA's Storm Prediction Center has hoisted a "Moderate Risk" area – the second-highest threat level that can be issued – for severe weather in southeastern Minnesota, northern, central and western Iowa and far west-central Wisconsin. This includes Rochester, Minnesota; Ames, Cedar Falls and Waterloo, Iowa; and La Crosse, Wisconsin.
This is by far the farthest north the SPC has ever posted a Moderate Risk in December, according to data from the Iowa Environmental Mesonet. In fact, some areas in the severe weather risk zone have nearly a half-foot of snow on the ground from last weekend's winter storm.
THE 5-POINT SEVERE THUNDERSTORM RISK CATEGORY SCALE EXPLAINED
FOX Weather meteorologist and senior weather data specialist Shane Brown noted the SPC has issued only 15 Day-1 Moderate Risks in December in records dating to 2002. This includes last Friday's Moderate Risk in the mid-South.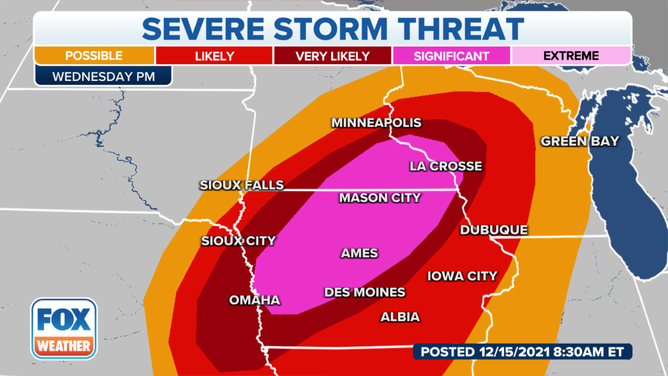 Although last Friday's devastating tornado outbreak was also associated with a Moderate Risk, the greatest threat with the severe storms Wednesday evening will be destructive winds, so we do not expect a repeat of last Friday. The SPC said the thunderstorms will be capable of producing widespread, intense wind gusts between 60 and 75 mph, with isolated gusts potentially reaching 80 to 100 mph in some spots.
The National Weather Service office in the Twin Cities referred to this event as a derecho in its forecast discussion Wednesday morning. A storm is classified as a derecho if the swath of wind damage extends for more than 250 miles and has wind gusts of at least 58 mph along most of the length of the storm's path.
In addition to this damaging wind threat, a few tornadoes might also be embedded within the line of thunderstorms after sunset, particularly from western and northern Iowa into southeastern Minnesota. One or two of these twisters may be strong, according to the SPC.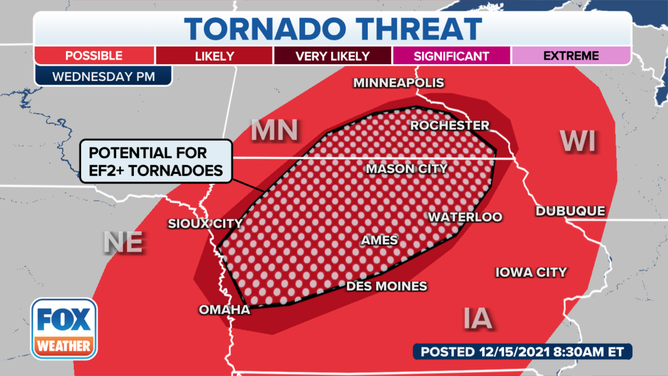 Storms won't fire up until late Wednesday afternoon through about midnight local time, making this threat even more dangerous with the severe weather threat occurring mainly in the dark. What's more, storms will be moving between 60 and 70 mph, so there will be very little time to seek shelter when you see storms beginning to approach.
NIGHTTIME TORNADOES FAR MORE LIKELY TO TURN DEADLY THAN THOSE DURING THE DAY
Additional thunderstorm development is also expected farther south along a cold front extending across eastern Kansas and northeastern Oklahoma before moving eastward across Missouri and northwestern Arkansas. This region is south of the greatest wind threat, but computer forecast models still suggest the potential for a few organized storms capable of damaging wind gusts in excess of 60 mph.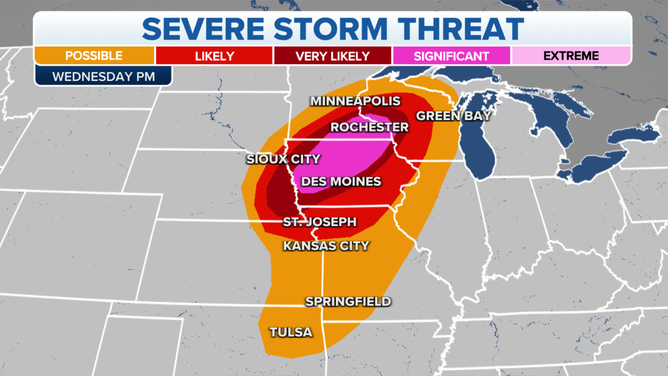 Make sure you have severe weather alerts turned on in your FOX Weather app so you can receive potentially life-saving warnings issued by the NWS. Additionally, be sure to turn on government alerts in your smartphone settings and charge your battery before severe weather threatens.
WHAT YOU SHOULD DO TO PREPARE FOR TORNADOES
If you have a NOAA weather radio, you'll want to ensure it has fresh batteries and keep it turned on Wednesday evening.
December tornado history in upper Midwest
"Today's volatile day of weather has not been seen before in mid-December," the NWS office in the Twin Cities wrote in a Special Weather Statement issued Wednesday morning.
Minnesota has never documented a December tornado since consistent recordkeeping began in 1950. However, Iowa has recorded four tornadoes in the month of December.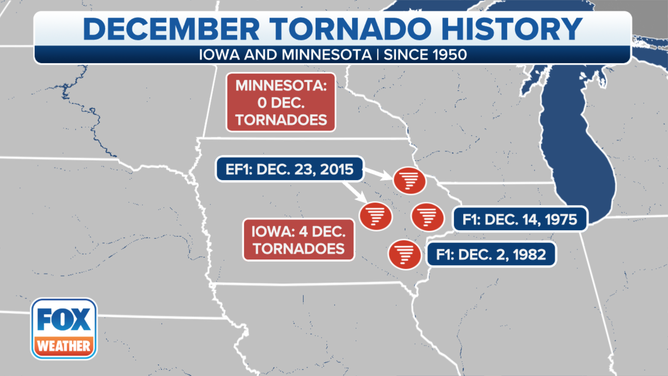 "Conditions will deteriorate very quickly," the NWS office in the Twin Cities said. "Unless preparations are made ahead of time, it may be hard to take adequate shelter when one notices storms beginning to approach."
To the east, in Wisconsin, five tornadoes have been recorded in December, all in 1970, including an F-3 twister on Dec. 1 of that year.