NWS surveys find supercell spawned 2 deadly EF-4 tornadoes
Many more surveys are still ongoing over the coming days.
National Weather Service surveys continued nearly a week after a historic storm system struck the heartland killing more than 70 people and causing destruction for hundreds of miles.

NWS offices confirmed at least 52 tornadoes struck during the outbreak and field surveys could continue to find more evidence of twisters.

A tornado blamed for at least five deaths in Arkansas and Tennessee was upgraded to an EF-4 and with winds of at least 170 mph.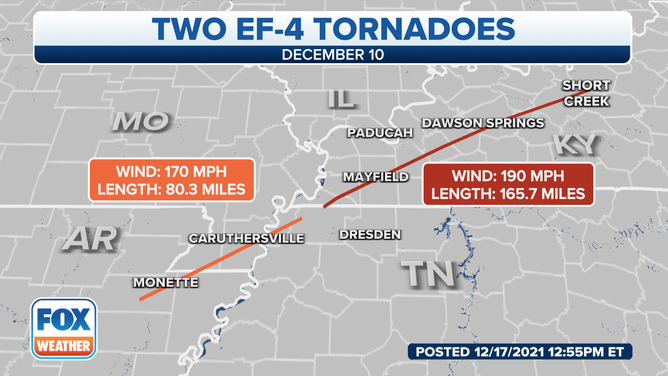 The twister was one of two EF-4s that struck the heartland during the outbreak.
Meteorologists say it was the same supercell that produced both of the significant tornadoes.
HOW ARE TORNADOES RATED? THE ENHANCED FUJITA SCALE EXPLAINED
The other EF-4 tornado the supercell produced devastated the town of Mayfield, Kentucky.

NWS meteorologists believe winds reached at least 190 mph in the Bluegrass State.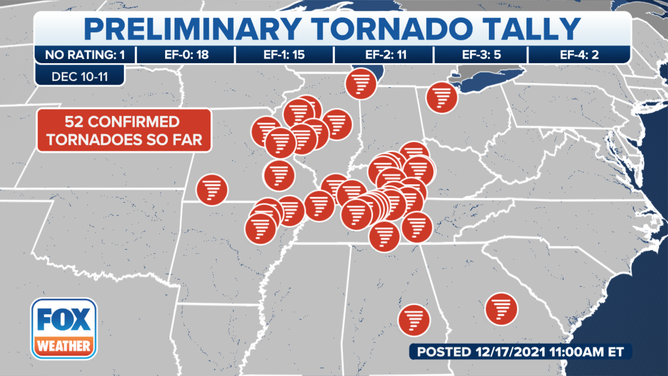 Seven tornadoes have each been given an EF-3 rating on the Enhanced Fujita Scale, including the twisters that struck Bowling Green, Kentucky; Chandler's Chapel, Kentucky; Saloma, Kentucky; Edwardsville, Illinois; Defiance, Missouri; a long-track tornado that was on the ground for more than 71 miles from Newbern to Paris Landing, Tennessee; and another long-track tornado that tracked from Weiner, Arkansas, to Hornersville, Missouri.
IT'S BEEN MORE THAN 8 YEARS SINCE AN EF-5 TORNADO LAST STRUCK THE U.S. AND THAT'S THE LONGEST SPAN ON RECORD
"A team of experts that specialize in high-end tornado ratings are arriving over the next day or so to help with our survey. They will provide added assistance," the NWS Paducah office wrote. "It will take several days. This is history, so please be patient with us."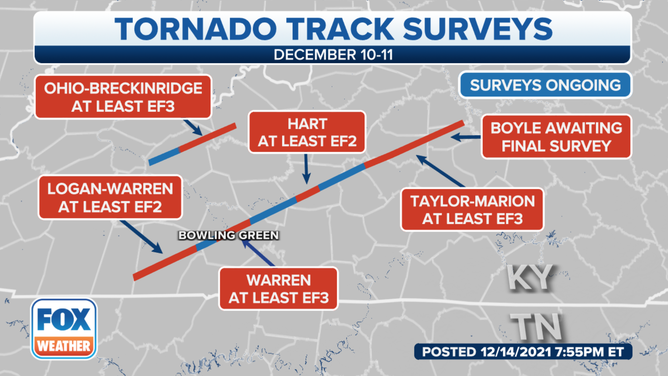 The NWS in St. Louis said it has a survey planned for Reynolds County, Missouri, but showed the track of the tornadoes that hit its area, including the Edwardsville, Illinois, tornado that hit an Amazon facility. That tornado was rated with EF-3 damage.