Catastrophic tornado damage reported in Mayfield, Kentucky
A Tornado Emergency was issued for Mayfield, Kentucky, as a large tornado was spotted moving through the city. Search and rescue operations are underway as catastrophic damage was reported. 

The National Weather Service urged residents to take shelter as the tornado was confirmed.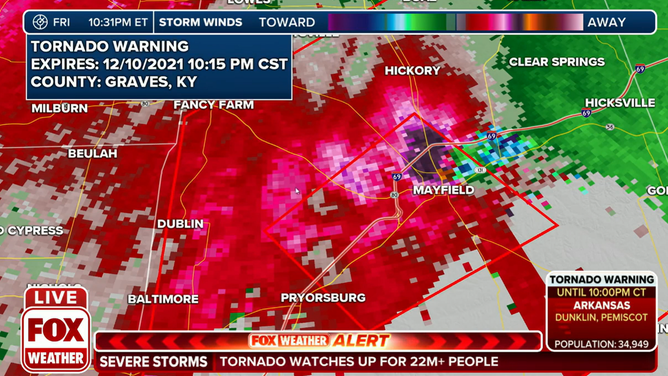 A tornado emergency is an enhanced warning to catch the attention of residents. The National Weather Service created the warning for the rare situation when a severe threat to human life is imminent or ongoing.
There were multiple reports of catastrophic damage within the city as a confirmed large tornado moved through the city. 
Storm chaser Brett Adair was there right after the tornado hit. 

"The scope is just so massive in terms of the damage that you know this was a higher-end destructive and possibly deadly tornado that moved through here," Adair said. 
Adair and his colleagues were helping deputies to help clear the roads, as they were impassable, along with searching for residents within the town. 
"There's a ton of debris all over the roadway that we've had to cut through with a chainsaw, drag trees out of the way with chains."

Up to 200 people were reportedly trapped inside a candle factory.
The National Weather Service said they took a power hit and handed over their duties to another weather service office.

Kentucky's Governor issued a state of emergency overnight because of the significant damage.


Continue to stay with FOX Weather as these storms continue.