Potentially 'historic' high wind event has more than 85 million people on alert
Wind gust of 107 mph reported in Colorado Wednesday morning
A potentially "historic" high wind event is unfolding across the central United States Wednesday before a round of severe weather is forecast to impact parts of the upper Midwest Wednesday evening.
Approximately 85 million Americans are under a High Wind Warning or Wind Advisory across areas that stretch from the Desert Southwest into the Great Lakes, as forecasters say gusts of 70 and 80 mph have been reported.
Colorado is a state already seeing dangerous winds gusts from this event.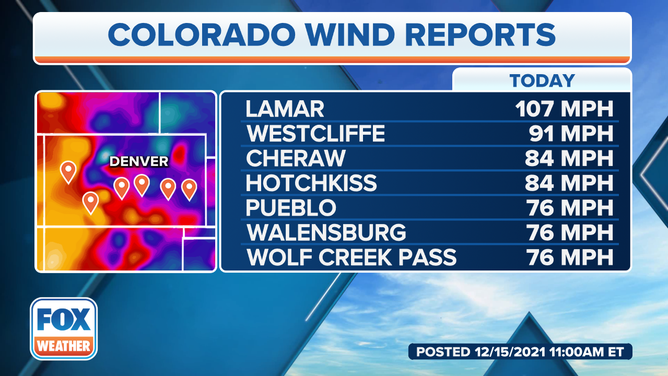 The NWS in Boulder, Colorado, said wind gusts of 55 to 70 mph were occurring across most of the region, but some locations have reported gusts between 70 and 80 mph, with localized gusts of more than 100 mph.
Lamar, Colorado, has already seen a gust of 107 mph, and the strong winds will continue throughout the day. Westcliffe isn't far behind, with a reported gust of 91 mph.
There's also a ground delay at Denver International Airport, which has led to the cancellation of nearly 100 flights and about 300 have been delayed. Travelers are urged to check their flight's status before heading to the airport.
The National Weather Service in Amarillo, Texas, said wind gusts out of the southwest could be as high as 70 mph, with some locally higher gusts possible. Forecasters say the peak wind gusts are expected into early Wednesday afternoon.
Batten down the hatches: What you should know about High Wind Warnings
Goodland, Kansas, was also experiencing windy conditions Wednesday.
Winds there are expected to be in the 40- to 50-mph range during the morning and afternoon hours, with gusts up to 65 mph possible in northern portions of the state. Southern areas could see gusts up to 80 mph during the afternoon.
The five highest wind gusts on record in Goodland range from 78 to 96 mph, so some of those records could be in jeopardy of being broken Wednesday.
Several Dust Storm Warnings have also been issued for parts of Colorado and Kansas as the powerful winds move through.
The blowing dust is a major concern for anyone traveling on the roads as visibility could drop to near zero, creating dangerous conditions.
In eastern Nebraska and southwestern Iowa, sustained winds of 25 to 35 mph, with gusts as high as 55 to 75 mph, are also expected, potentially bringing down trees and power lines across the region. 
The NWS in Des Moines, Iowa, said this wind threat has the potential to be the strongest wind event in Iowa not associated with thunderstorms in several years.
"Many recall Nov. 10, 1998, which was a long-duration high wind event over Iowa but did not have the max wind this storm may have," the NWS said in its forecast discussion.
Some Iowa school districts and universities have announced early dismissal or closures due to the forecasted winds.
Iowa State University will partially shut down at noon Wednesday due to severe weather. Meanwhile, the Sioux City Community School District will dismiss two hours early due to the high wind warning.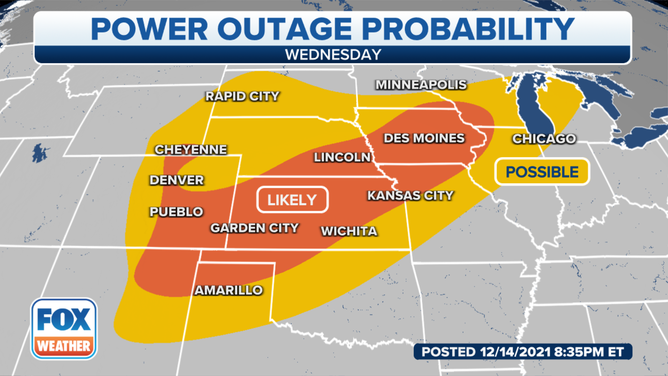 Power outages are also a concern from this widespread high wind event, as stronger gusts will likely bring down trees and power lines across the central U.S.
By mid-morning New Mexico was reporting more than 12,000 customers without power. A majority of the outages were from Jemez Mountains Electric Coop across multiple northeast counties in New Mexico.
Power outages are likely in an area that extends from eastern Colorado and northeastern New Mexico across the Central Plains and into the upper Midwest. Outages are possible across a wider area from the High Plains to the Great Lakes but aren't expected to be as widespread.