'Extremely Critical' fire weather risk has never been issued in December, until now
Parts of Texas, Colorado, New Mexico, Oklahoma, Kansas and Nebraska are under Fire Weather Warnings
An unprecedented wind event and dry conditions have caused NOAA's Storm Prediction Center to issue its first "Extremely Critical Risk" of fire weather in December for parts of the Plains.
The "Extremely Critical Risk" fire weather category has never been issued in December before, according to the National Weather Service. It's the highest risk level that the SPC issues on its scale of fire weather outlooks.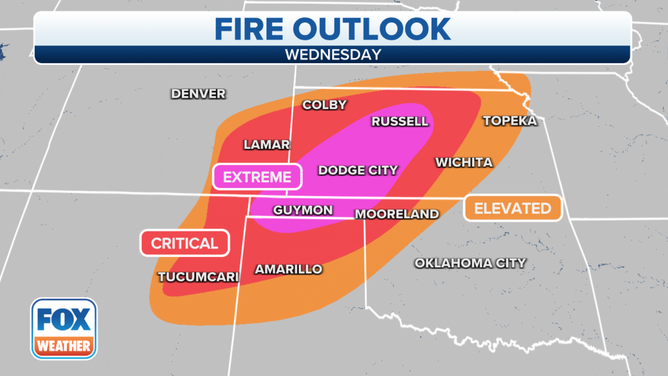 Dangerous to extreme fire weather conditions are expected through Wednesday in parts of eastern Colorado, New Mexico, the Oklahoma and Texas panhandles, much of Kansas and southern Nebraska. 
Fire Weather Warnings have been issued across the Southern and Central Plains, meaning a combination of strong winds, low relative humidity and warm temperatures can fuel a fast-growing fire.
RELATED: Potentially 'historic' wind event has more than 86 million people on alert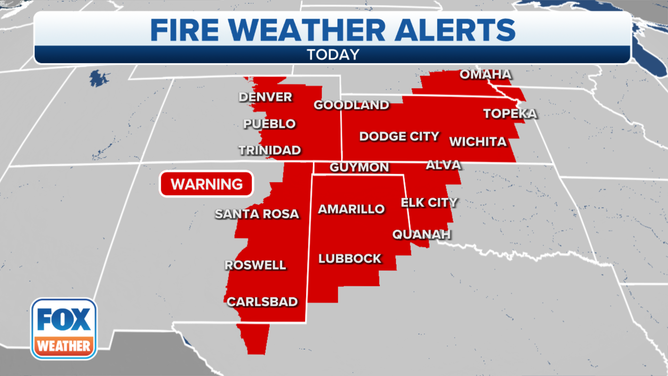 The threat begins Wednesday morning into the early-evening hours. Hazards include southwesterly winds between 30 and 40 mph with higher gusts. These windy conditions will cause rapid fire spread if a blaze starts.
High Wind Warnings have been issued across the central U.S. Colorado could see gusts up to 70 mph, causing power outages. 
According to the SPC, extremely critical fire weather will take place in places with windy and dry conditions for over three hours. 
In Kansas, Garden City, Dodge City, Hays and Concordia are at extreme risk, as well as Guymon, Oklahoma, and Dalhart, Texas.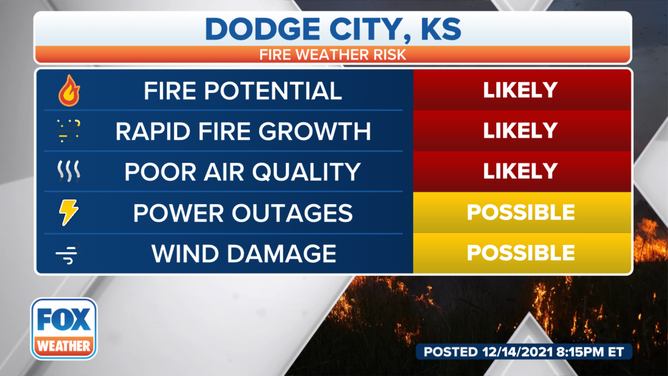 The fire danger comes as record-high temperatures are expected across the Plains and the Great Lakes. Areas under the Fire Weather Warning could break record highs Wednesday, including Omaha, Nebrasa, and Wichita, Kansas.
Warm temperatures combined with less water vapor in the air could lead to a dangerous wildfire. 
Relative humidity is the measurement of water vapor in the air. On Wednesday, relative humidity in parts of Texas and Kansas is between 5 and 10%, which is very low.
With this fire threat ongoing, people should avoid anything that might spark a fire and avoid burning altogether.