What makes this week's winter storm different from last weekend's nor'easter?
Not all winter storms are created equal
Following on the heels of last weekend's blockbuster snowstorm in the Northeast, a sprawling winter storm will now track across the central and eastern United States this week, bringing heavy snow and significant icing across a nearly 3,000-mile swath stretching from Texas to New England.
However, not all winter storms are created equal. This week's storm system is a lot different from our recent nor'easter.
For starters, our current storm is being fueled by the clash of two air masses across the central U.S. This is a much different setup than the nor'easter, which was a storm that developed and intensified very quickly off the East Coast.
WHAT MAKES A STORM A NOR'EASTER?
Frigid arctic air will move into the nation's heartland by Groundhog Day as a cold front sweeps down across the Plains. Moisture from the Gulf of Mexico will surge northward ahead of the front.
That moisture will overlap with the fresh supply of cold air, setting the stage for an expansive area of snow and ice impacting millions of Americans from the nation's southern border to its northern border.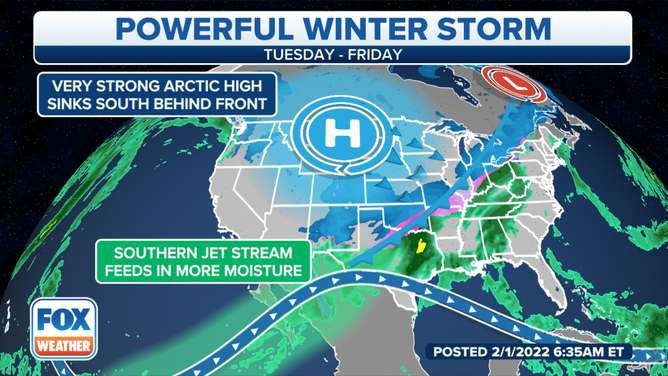 Because of the nor'easter's rapid offshore development, there were not many weather observations to ingest into computer forecast models before the storm, creating a forecast headache for many meteorologists in the Northeast.
HOW ONE POINT ON A MAP CAN MAKE OR BREAK A NORTHEAST SNOWSTORM FORECAST
Since our current winter storm is over land and developing far more slowly, we have weather balloons across the entire U.S. sampling the conditions in the atmosphere, and that data goes right into our computer models, giving forecasters a much clearer picture of this storm's potential impacts.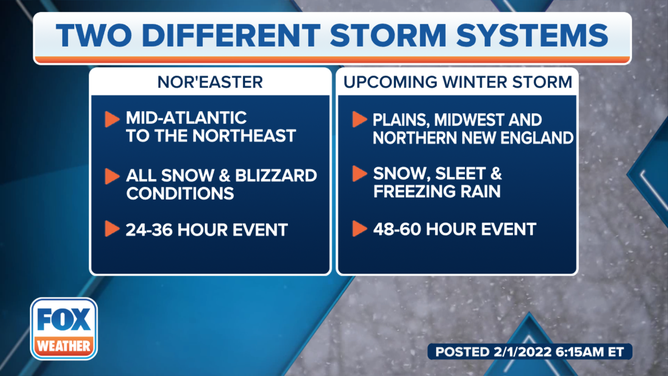 Speaking of impacts, the impending winter storm will bring everything but the kitchen sink: snow, sleet, freezing rain, even plain rain and possible flooding. But snow was the only precipitation type with the nor'easter, which also produced blizzard conditions. There won't be a blizzard with this week's storm.
7 THINGS TO KNOW ABOUT FREEZING RAIN
Additionally, the nor'easter developed so rapidly that it only affected the mid-Atlantic and Northeast and lasted just 24 to 36 hours.
But a much larger and longer-duration winter storm is ahead this week. Many cities from the Plains to the Midwest and parts of the Northeast will be dealing with snow, sleet and/or freezing rain for as long as 48 to 60 hours.
Be sure to download the FOX Weather app for the latest forecast and weather alerts for your exact location, plus the 24/7 livestream.