Winter storm ushers in arctic chill for eastern half of nation
Freeze Watches and Warnings are in effect for parts of Texas, where temperatures will dip into the single digits and teens Friday night.
A blast of arctic air is invading the central and eastern U.S. behind a powerful winter storm that produced heavy snow and ice from New Mexico to New England over the last few days.
Dangerously cold wind chills are expected to continue from the upper Midwest through New England into the weekend.

Parts of northern Minnesota could see wind chill values reach -30 degrees on Saturday, with similar values forecast for parts of the Northeast through Sunday.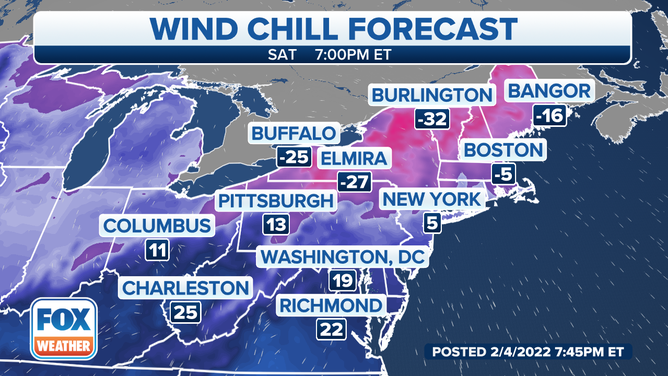 High temperatures will be stuck in the teens for large chunks of the Midwest and New England.

The cold temperatures will lead to the threat of icy roadways, for areas recently impacted by snow and ice.
'ICEBOX OF THE NATION' LIVES UP TO NAME WITH RECORD LOW OF MINUS 42 DEGREES

The arctic chill will make it all the way into the South, including the Lone Star State.
 Temperatures on Saturday could feel like the single digits for parts of western Texas.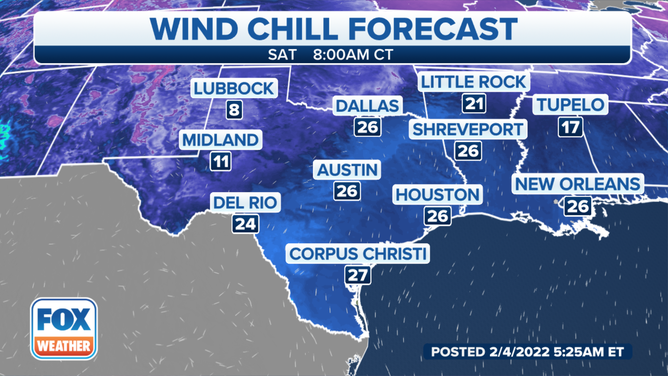 Even though temperatures will drop far below freezing the next couple of mornings in a large portion of the Southern Plains, the bitter cold won't be as bad as the arctic blast the region experienced about one year ago.
BITTER COLD COMING TO TEXAS THIS WEEK BUT IT WON'T BE 2021 ALL OVER AGAIN
It will likely be the coldest air seen in most of the Southern Plains since last February, but this cold snap will be much shorter in duration and smaller in the area it covers.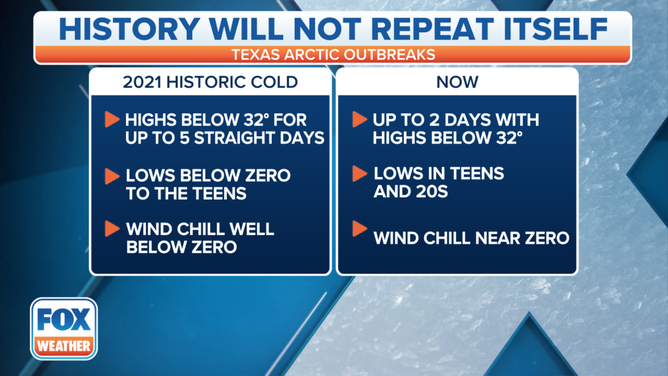 BITTER COLD COMING TO TEXAS THIS WEEK BUT IT WON'T BE 2021 ALL OVER AGAIN
The NWS has issued Freeze Watches and Warnings for parts of Texas to alert residents of temperatures that will be dangerous to crops and other sensitive vegetation, as well as the risk of damage to unprotected outdoor plumbing.