Hilary causes chaos in California and Nevada as flash flooding destroys roads, strands residents
The once-Category 4 hurricane made landfall along the Baja California peninsula in Mexico on Sunday morning as a tropical storm and the deadly storm continued to weaken and it made its way into the southwestern U.S. by late afternoon.
Torrential rain from Tropical Storm Hilary led to flooding reports across Southern California and Nevada on Sunday and Monday, and while Hilary is now post-tropical, the catastrophic effects remain with numerous reports of washed-out roads, water rescues from flooded homes and cars, and governors declaring states of emergency.
Though Hilary is now a post-tropical cyclone as of the final advisory from the National Hurricane Center (NHC), the storm's impacts of heavy rain and strong wind gusts have continued through Monday as the storm races north.
The powerful storm is forecast to move all the way into Idaho by Monday afternoon, dissipating quickly into the evening.
WATCH: TROPICAL STORM HILARY'S DRAMATIC SCENES AS IT BATTERS SOUTHERN CALIFORNIA

The once-Category 4 hurricane made landfall along the Baja California peninsula in Mexico on Sunday morning as a tropical storm, and the deadly storm continued to weaken as it made its way into the southwestern U.S. by late afternoon.
Hilary has already claimed at least one life in Mexico after a family of five was swept into the sea while crossing a stream in the Baja California Sur state, according to local officials.
States of emergency were declared in both California and Nevada due to the storm's effects, and FEMA administrator Deanne Criswell spoke with both California Gov. Gavin Newsom and Nevada Gov. Joseph Lombardo ahead of the storm to offer the federal agency's assistance to offer support.
Even though Hilary continues to weaken as of Monday, the impacts from the storm's torrential rain and damaging wind gusts have been far-reaching.
FLOODING OVERTAKES PALM SPRINGS, CALIFORNIA, DURING HILARY AS LOCAL EMERGENCY DECLARED
Top Hilary rain totals so far.
(FOX Weather)
---
Los Angeles picked up more than 2 inches of rain during Hilary, and Monday was the first time measurable rainfall has ever been recorded on Aug. 21 in downtown Los Angeles with records dating back to 1877.
San Diego also reported about 2 inches of rain from Hilary.
Several inches of rain have been reported elsewhere across Southern California. Raywood Flats, California has picked up more than 10.5 inches of rain, with Mount Saint Jacinto picking up just under 10 inches.
TORRENTIAL RAIN FROM HILARY CAUSES DANGEROUS MUDSLIDES, ROCKSLIDES IN SOUTHERN CALIFORNIA
Hilary impacts continue in Nevada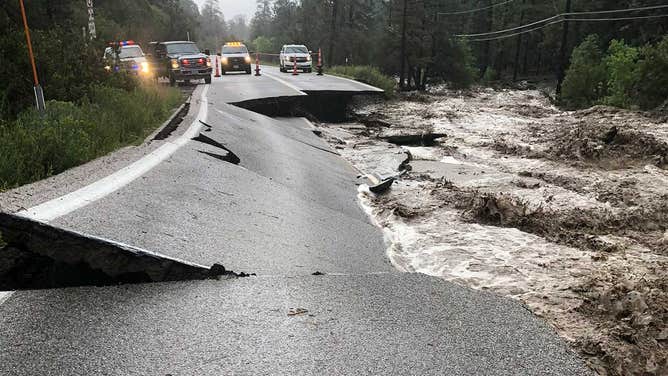 The Nevada National Guard is assisting in southern Nevada where Flood Watches and Warnings are in place. 
Flood waters closed state highways in Clark County after flooding washed away parts of the road. 
SR 157 in both directions was shut down after flooding lifted part of the road near Kyle Canyon Road, according to the Nevada Department of Transportation. SR 156 was also closed at Deer Creek Road for flooding in Clark County. 
The Las Vegas Valley Water District issued a boil water notice for all customers in Kyle Canyon Water District because of flood water causing an emergency water system outage.  
Overnight flooding caused a "severe leak in the Kyle Canyon Water System, resulting in major reservoir tanks losing water pressure," according to the Las Vegas Valley Water District. 
Significant rainfall in rural Clark County prompted the county manager to issue a local state of emergency.
Residents in the old town area of Mt. Charleston are being told to shelter in place due to substantial flooding. 
Palm Spring declares emergency, 911 lines down
Flooding along Interstate 10 and several local roadways in and around Palm Springs, California, triggered city officials to declare a local state of emergency due to the "unprecedented rainfall and flooding of local roadways and at least one swift water rescue."
FLOODING OVERTAKES PALM SPRINGS DURING HILARY
There have been reports of at least two water rescues, and officials had urged everyone to stay off the roads until the water receded.
City officials said that 911 lines were down across the area on Monday morning. Calls were being redirected to the police station during the outage. 
Major flooding easily overwhelms bridge in Rancho Mirage, California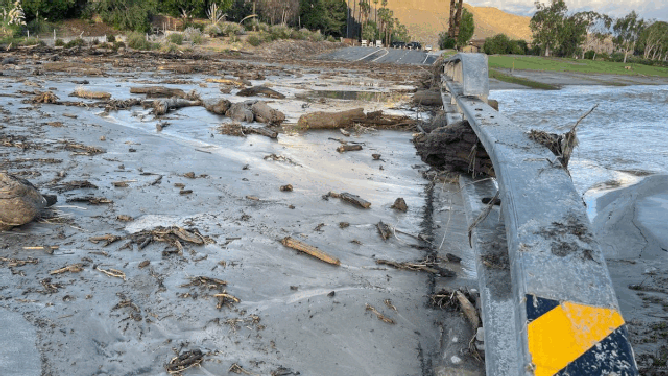 Rivers and streams couldn't handle the onslaught of water rushing down hillsides and mountains while Hilary pelted areas surrounding Rancho Mirage, California, with torrential rain. Flooding was reported there as well as across the Coachella Valley on Sunday as the storm funneled precipitation across Southern California and Nevada.
FOX Weather correspondent Nicole Valdes has been in Rancho Mirage and provided images showing how bad the flooding was in that area. Her photos showed mud and debris left behind when water spilled out of a river bank and easily overtook a bridge along Country Club Drive.
Other major roads connecting Palm Springs and Palm Desert were covered with debris after flooding, preventing travel between the two areas.
Interstate 10 remains closed in Cathedral City because of the flooding impacts.
Schools closed, shelters open in Los Angeles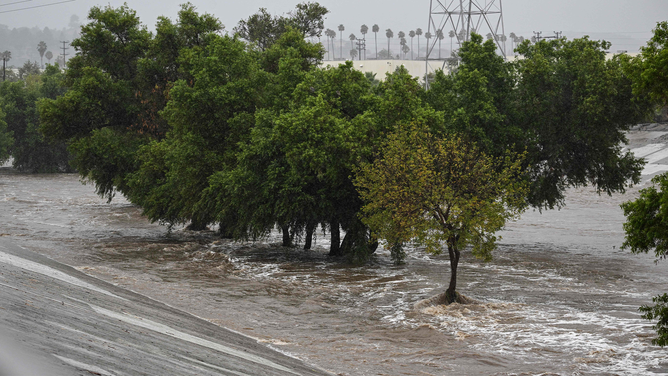 The Los Angeles Unified School District announced Sunday that all schools, campuses and after-school programs would be canceled on Monday due to Hilary's effects.
"Students and families: Please do not come to your school campus," the district said on X, the company formerly known as Twitter. "This was not an easy decision. Los Angeles Unified recognizes the unique, unprecedented nature of Tropical Storm Hilary, which has garnered city, county and state declarations of emergencies."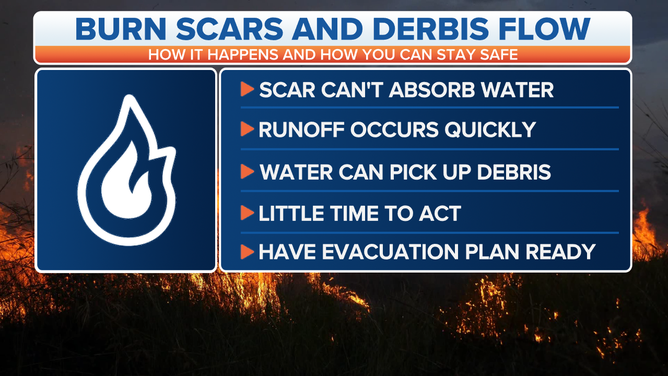 Los Angeles County officials said shelters have been opened across the region for people who have been displaced by Hilary. There are currently no evacuation orders in Los Angeles County, but evacuation warnings have been issued in burn scar areas due to the risk of mud and debris flows.
Medical center flooded in Rancho Mirage, California
A spokesperson for the Eisenhower Health Medical Center in Rancho Mirage, California, said overworked pumps led to water entering the facility's administration offices through the ambulance bay area of the medical center.
However, no patient care areas were impacted inside the medical center and the water has since receded. The spokesperson said the medical center is prepared to switch to generator power if needed, and the hospital has not seen an uptick in patients during Hilary.
Mudslides, rockslides send boulders crashing down California hillsides
Flooding wasn't the only danger that drivers faced on roads across portions of Southern California on Sunday.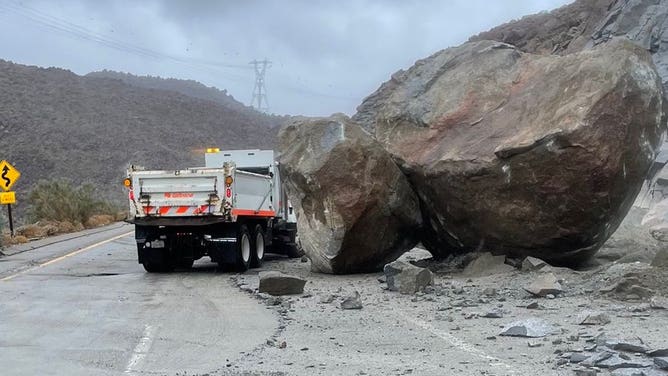 Mud was seen pouring onto roadways near Los Angeles, and in the town of Mountain Spring, a road was closed due to a rockslide. In nearby Calexico, another rockslide sent boulders larger than trucks crashing onto roadways.
TORRENTIAL RAIN FROM HILARY CAUSES DANGEROUS MUDSLIDES, ROCKSLIDES IN SOUTHERN CALIFORNIA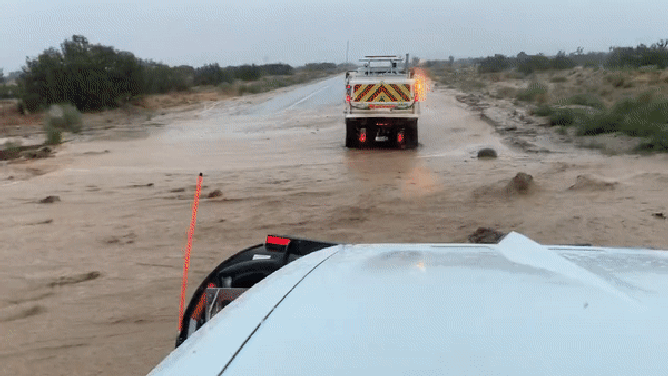 Roads were also flooded in the town of Llano in Southern California, where video showed mud and water rushing over Route 118.
In Wrightwood, California, the California Department of Transportation (CalTrans) urged drivers to stay off the roads due to mud and debris rushing down hillsides.
CalTran shared shocking video of mud and debris flowing down SR-2 and Sheep Creek, covering the landscape and rushing across the roadway.
"Flash floods, high winds and rain are making it a big challenge for all," CalTran said in a Facebook post. "Please be patient while we work."
Water rescues in Cathedral City, California
The Cathedral City Fire Department responded to Canyon Mobile Home Park on Sunday due to flooding that swamped several homes.
According to the city, approximately 50 homes were impacted by flooding and four adults and a dog were helped out by first responders.
What's next for Hilary?
Current advisory for Tropical Storm Hilary.
(FOX Weather)
---
The FOX Forecast Center says heavy rain is expected to end later on Monday morning as Hilary races to the north and enters Idaho by Monday afternoon.
The National Hurricane Center (NHC) downgraded Hilary from a tropical storm to a post-tropical cyclone early Monday morning, which means that it has lost all its tropical characteristics needed to be considered a tropical storm.
Rainfall forecast
(FOX Weather)
---
The heaviest rain in Southern California is ending, but a few inches of rain is still expected farther to the north in the Pacific Northwest.
Areas of northeastern Oregon and western Idaho could see 2-3 inches of rain through Tuesday, with locally higher amounts of 3-5 inches.