Flooding overtakes Palm Springs, California, during Hilary as local emergency declared
A local emergency was declared in Palm Springs, California, after flash flooding from Hilary led to problems across the region.
PALM SPRINGS, Calif. – A local emergency was declared in Palm Springs, California, Sunday afternoon as flash flooding from Hilary overwhelmed the city.
The desert resort city so far received more than a half-year's worth of rain in less than a day. As of early evening, the NWS recorded 2.64 inches since early morning. The city only sees an average of 0.14 inches each August and 4.61 inches a year. No monthly average exceeds 1.15 inches.
"Due to unprecedented rainfall and flooding of local roadways and at least one swift water rescue, City Manager Scott Stiles has declared a local emergency due to the critically dangerous impacts," announced the City of Palm Springs on X, the company formerly known as Twitter.  
The city reported that 911 was down in the overnight hours.
CENTER OF TROPICAL STORM HILARY MOVES INTO CALIFORNIA AS STORM WREAKS HAVOC WITH DANGEROUS FLOODING, MUDSLIDES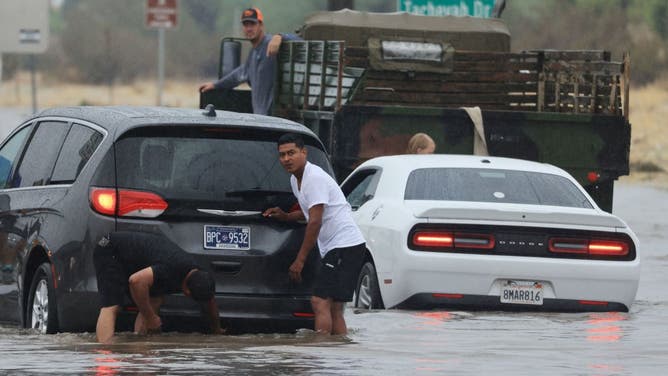 Problematic Sunday as roads turn to rivers
The Palm Springs Fire Department shared a video of the raging wash over major city roads. They closed at least five roads because they were underwater.
TORRENTIAL RAIN FROM TROPICAL STORM HILARY CAUSES DANGEROUS MUDSLIDES, ROCKSLIDES IN SOUTHERN CALIFORNIA
More cars in Palm Springs were trapped as well by floodwaters. Cars stalled, and drivers tossed off shoes and tried to help each other in the calf-deep water. This was the first-ever Tropical Storm Warning for Southern California.
WATCH: FLOODWATER RAGES DOWN MEXICO STREETS AFTER HILARY LASHES THE REGION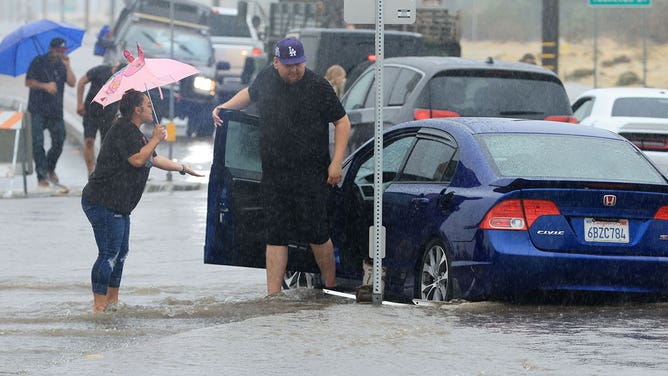 First responders coming to the aid of those stranded by the flooding had some issues themselves. This ambulance looked more like it was on a log flume instead of a city street.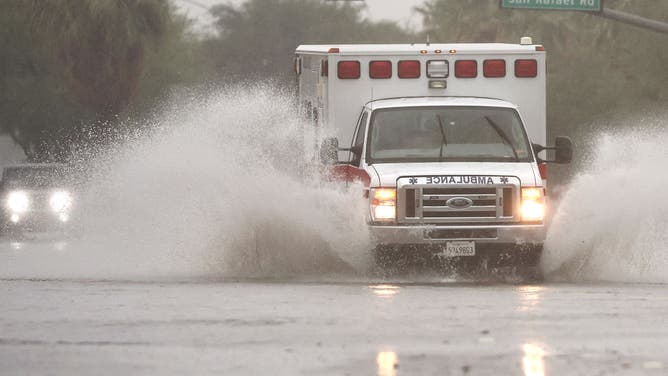 Roads became slick from the rain. A film of oil and the detergents in gasoline accumulates and coats the asphalt during the dry season. Before rain fell heavy enough to wash it away, the streets proved too slippery for this car.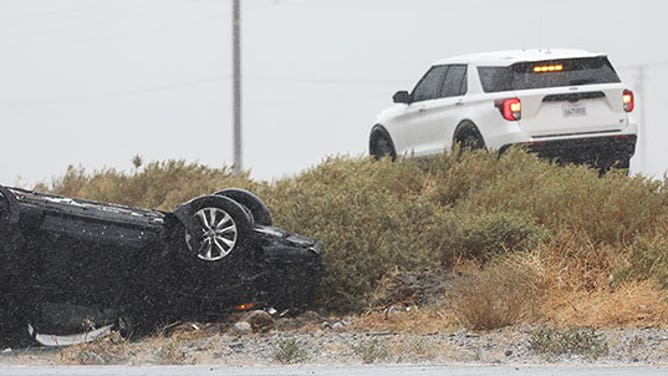 Car parts floated down flooded streets in nearby Coachella.
"Yeah, we've got battle damage," commented @kangspace589 on X. "Pretty hectic."
A year of rain in one day
Sunday already set a record for the wettest August day in history for Palm Springs. The previous record has been held since 1930. And more rain is on the way. The FOX Forecast Center calls for 3 to 5 inches total for the city before Hilary departs. 
The highest rainfall amounts are on the highest elevation of the mountains cradling Palm Springs and the entire Coachella Valley.
California's unique mountainous geography, which tourists and residents flock to enjoy, is working against the helpless desert valley. 
MAGNITUDE 5.1 EARTHQUAKE SHAKES SOUTHERN CALIFORNIA SUNDAY AS TROPICAL STORM HILARY SLAMS REGION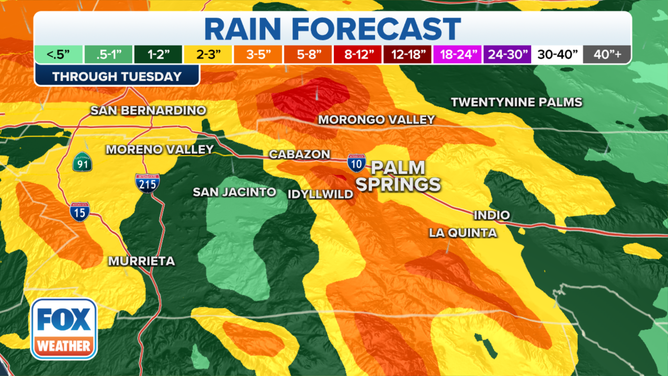 Why are valleys hit so hard?
"That rain is going to be forced up along some of those mountains, especially east of San Diego," explained Meteorologist Michael Estime. "And that's going to create what we call orographic lift. And as moisture is lifted up the mountains, it's it is then going to condense, and it's going to get squeezed out like a wet washcloth over these areas again, east of the mountains."
The extreme wind gusts with Hilary, already up to 84 mph on Big Black Mountain, blow south-southwesterly and lift the moisture and heavy rain on normally dry west slopes, explained the FOX Weather Forecast Center.
Palm Springs sits at the foot of 10,000-foot Mount Jacinto, according to the Bureau of Tourism. Gravity will force the water downhill, where it will overwhelm already taxed spillways, washes and gullies.
Water exploded through a low-lying road so fast that this truck in Thousand Palms, part of the Coachella Valley, couldn't escape. The driver was trapped.
More rain on the way
While Palm Springs braces for a year of rain from this one storm, some arid cities will see several years worth of rain in just a day before Hilary departs.
WHEN WAS THE LAST TIME A HURRICANE OR TROPICAL STORM HIT CALIFORNIA?