Hilary blasts California with catastrophic flooding, mudslides as water rescues reported throughout night
Hilary has already claimed at least one life in Mexico after a family of five was swept into the sea while crossing a stream in the Baja California Sur state, according to local officials.
Hilary's worst impacts were felt across Southern California and the Desert Southwest with flooding rain, mudslides and the occasional spotting of funnel clouds.
The once-Category 4 hurricane made landfall along the southern Baja California peninsula late Sunday morning as a tropical storm and gradually declined in intensity an organization over Mexico and the Southwest U.S.
Due to the wide-ranging impacts, states of emergencies were issued in California and Nevada – two of the states expecting the worst of what Hilary had to offer.
Hilary claimed at least one life in Mexico after a family of five was swept into the sea while crossing a stream in the Baja California Sur state, according to the Governor of Baja California Sur.
TROPICAL STORM HILARY TRACKER: PROJECTED PATH, WATCHES AND WARNINGS, RAINFALL TOTALS AND MORE

Where is Hilary, and what is the forecast?
Hilary's maximum sustained winds have decreased to around 45 mph with higher gusts, according to the latest advisory, but the main story continues to be moisture shield.
During the height of the storm, more than 21 million people were under a Tropical Storm Warning - the first of its kind to be issued for Southern California. The alert covered areas along the coast from Los Angeles to the U.S.-Mexico border, including San Diego.
Current advisory for Tropical Storm Hilary.
(FOX Weather)
---
Heavy rainfall from Hilary is expected to continue across the Southwest through Monday morning. Rainfall amounts of 3 to 6 inches, with isolated amounts of 10 inches, are expected across portions of Southern California and Nevada.
NOAA's Weather Prediction Center issued a rare High Risk for excessive rainfall in Palm Springs, the Coachella Valley and Las Vegas, Nevada. This is the first time such a risk has been given for the low desert regions of Southern California to the east of the mountain ranges.
Rainfall forecast
(FOX Weather)
---
Due to the mountainous impacts of the terrain, the highest wind gusts were reported in California and reached upwards of 84 mph.
Similar wind gusts were reported during Hurricane Kay in 2022, which caused only minimal power outages in the region.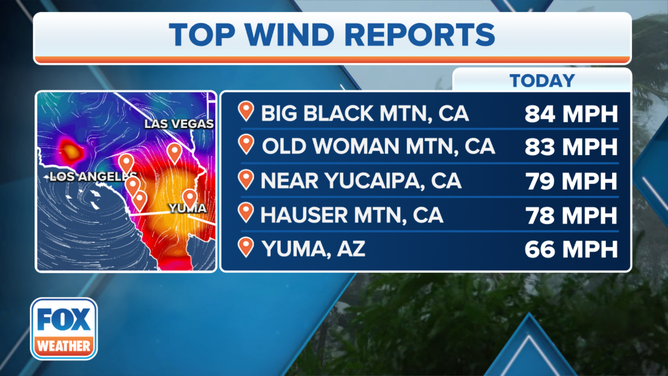 California sees mudslides and rockslides
Rainfall rates of 1-1.25 inches per hour caused flooding along several Southern California roadways and led to sudden mudslides and boulder falls Sunday.
A mudslide on the 14 Freeway caused several lanes to be closed in Palmdale.
Observation sites in Leona Valley and Lewis Ranch reported the most rainfall, with between half a foot and a foot of rainfall.
WHEN WAS LAST TIME CALIFORNIA WAS HIT BY HURRICANE?
Palm Springs, California, declares emergency due to flooding
Flooding along Interstate 10 and several roadways around Palm Springs triggered city officials to declare an emergency Sunday evening. 
The city saw more than an inch of precipitation which caused some roadways to resemble streams and lakes. 
The city reported that the 911 system was currently down.
At least two water rescues took place, and officials encouraged everyone to stay off the roadways until the wet weather ends.
Water rescues in Cathedral City, California
The Cathedral City Fire Department responded to Canyon Mobile Home Park on Sunday due to flooding that swamped several homes.
According to the city, approximately 50 homes were impacted by flooding and four adults and a dog were helped out by first responders.
Videos showed several other roadways with vehicles stalled out due to the high water.
Record rainfall from a tropical cyclone reported in Nevada
Hilary topped the list of cyclones for producing the most rainfall in the Silver State.
According to NOAA records, the Bristlecone area, which is west of Las Vegas, picked up at least 6".
The previous record was 4.14" set by the remnants of Hurricane Doreen back in 1977. 
The state of California came nowhere close to setting its worst tropical cyclone-induced rainfall record. Hurricane Kathleen back in 1976 produced almost a whopping 15". 
Hilary triggers Tornado Warnings across an area that usually doesn't see twisters
Several funnel clouds were reported across the Golden State, but as of Sunday evening, none had been reported as touching the ground.
Reports of funnel clouds came in from Fresno and east of San Diego.
The Storm Prediction Center warned of an increased tornado threat for southeastern California, western Arizona and southern Nevada due to Hilary.