Texas tornado destroys town, 3 dead, dozens injured as search efforts extend into night
Storm chasers reported significant damage to homes and industrial buildings in Perryton, Texas, on Thursday evening. NWS Amarillo told FOX Weather that the tornado was on the ground for approximately 8 miles and a more extensive damage survey will be done on Friday.
PERRYTON, Texas – A Texas town is picking up the pieces tonight after a tornado devastated their city.
According to a report from KVII, the local fire chief said three people were killed and at least 75 were injured during the severe storms.
Tornadoes were seen tearing through the southern Plains on Thursday, leaving a path of destruction in parts of Texas.
OKLAHOMA CITY, DALLAS UNDER TORNADO WATCH AS SEVERE STORMS EXPECTED TO INTENSIFY INTO EVENING
Storm chasers followed the twisters as they moved through the Texas Panhandle. Nick Smego watched as the tornado spun about a mile in front of him.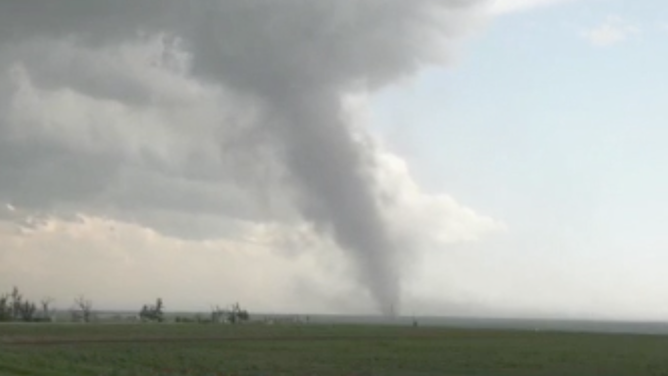 "This dryline has just exploded in a matter of 30 to 45 minutes," Smego told FOX Weather.
Storm chaser Brian Emfinger came across significant damage moments after the cyclone moved through Perryton, Texas.
"There is so much damage and destruction," Emfinger said. 
The drone video showed images of destroyed mobile homes and uprooted trees from the twister. He said one of the mobile homes that was hit by the twister was on fire.
Witnesses reported storm victims being pulled from the rubble, and storm chasers were requesting ambulances respond to the town to help the injured.
Emfinger said the smell of gas was prevalent, and people were using their hands to dig through the debris.
"There were other significant structures along its path all the way through town that are damaged," Emfinger said. "It's a pretty unfortunate and serious situation here in Perryton right now."
Perryton resident Sabrina Devers said that her town is now unrecognizable. 
"It looks like a bomb had gone off," she said. "The residential areas, the mobile homes, are just gone. There's severe devastation." 
The National Weather Service in Amarillo told FOX Weather that the Perryton tornado was on the ground for approximately 8 miles before lifting. The team plans to survey the damage Friday and give the tornado an official rating. 
Thursday's tornadoes come as part of a multiday severe weather threat across the southern U.S. Thursday's severe weather threat was a Level 4 out of 5 on the Storm Prediction Center's scale. 
A Tornado Watch has been issued for major cities like Dallas and Oklahoma City through the evening hours. The severe weather threat doesn't end Thursday, with more severe storms expected Friday in some of the same areas.

More than 21 million people from eastern Colorado and Kansas through the South and into the Florida Panhandle saw Severe Thunderstorm Warnings on Thursday.