Thanksgiving weekend travel 2022: Where can travelers expect flight delays and cancellations?
Travelers in the South, Midwest and East will have the highest chance of encountering weather-related flight delays or cancellations due to rain.
The FOX Forecast Center is tracking several storm systems that could impact millions of Americans starting to head home after the busy Thanksgiving holiday.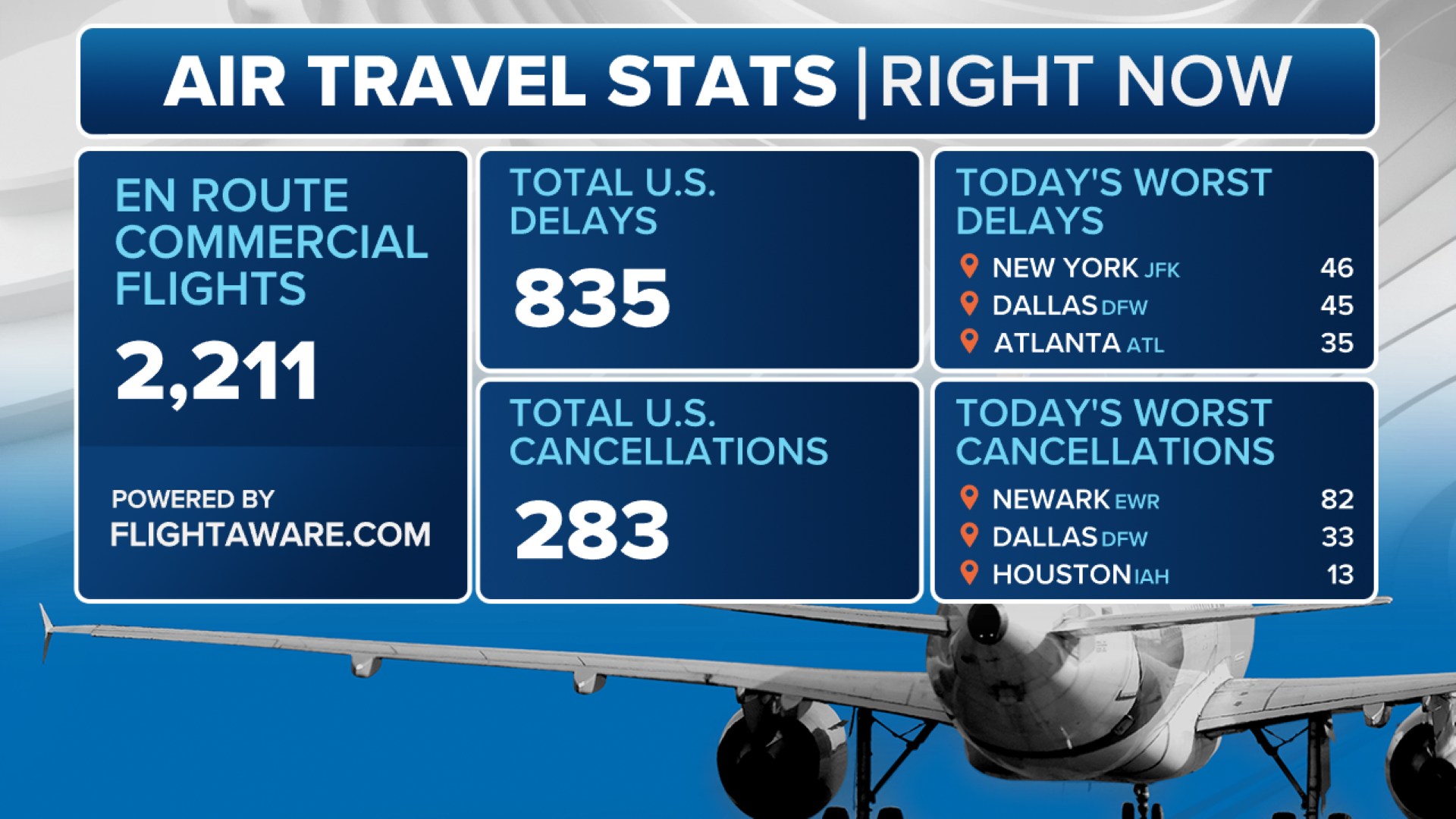 Flight delays and cancellation data from FlightAware.com.
(FOX Weather)
---
Sunday soaker in Midwest, East
A potent storm system is bringing much-needed rain across the eastern half of the country on Sunday, which will likely lead to delays and cancellations at airports across the region.
The heaviest rain occurred in Atlanta and Chicago on Sunday morning and has started to move off to the east as the day continues. That wet weather could affect passengers heading to the airport in other major cities such as Washington, Philadelphia, New York City and Boston.
"Speaking about New York, we're expecting wet weather to move on through by about midday (Sunday)," FOX Weather meteorologist Michael Estime said. "So, if you're going to be heading out to any of the airports in New York, expect rain."
And while rain will mainly fall across the Northeast and New England, some areas in the higher elevations could see snow by the time the system winds down on Monday.
A national look at the radar.
(FOX Weather)
---
FOX Weather correspondent Nicole Valdes was at Nashville International Airport on Sunday as thousands of passengers made their way through security to catch flights home.
"Busy is putting it lightly," Valdes said. "Just the drive into Nashville International Airport today, the line of cars goes on for miles on the freeway."
TRACKING TROUBLE: NOVEMBER TO END WITH UNSETTLED WEATHER FROM COAST TO COAST
The flight misery map from FlightAware.com.
(FOX Weather)
---
Valdes said there was a Wind Advisory in effect, leading to delays at the airport and at least one cancellation.
The TSA expects to screen 2.5 million passengers on Sunday, so if you're heading to the airport, you'll want to call ahead to ensure your flight is still on time and allow yourself plenty of time to get to the airport.
The weather ripple effect on flights
Remember, bad weather doesn't necessarily have to be near the airport to cause delayed or canceled flights. Weather across the U.S. can have a ripple effect on airlines. Even airports hundreds of miles away from the nearest snowfall or storm could be impacted. 
Some airports are notorious for delays and cancellations during holiday travel and winter months, including Newark Liberty, Denver and O'Hare international airports.