South Texas weather whiplash: Temp drops nearly 60 degrees in 36 hours
A 90-degree high temperature is being replaced by freezing rain and wind chills between 20 and 30 degrees
ZAPATA, Texas – A South Texas city claimed the hottest temperature in the United States on Wednesday at the same time it was under alerts for incoming winter weather.
Zapata, Texas, situated on the U.S.-Mexico border, reached a high of 90 degrees Wednesday afternoon. NOAA's Weather Prediction Center said it was the highest temperature anywhere in the nation.
While area residents were enjoying the summerlike warmth, forecasters at the National Weather Service placed Zapata and much of South Texas under a Winter Storm Warning, a Freeze Warning and a Wind Chill Advisory, all going into effect Thursday night.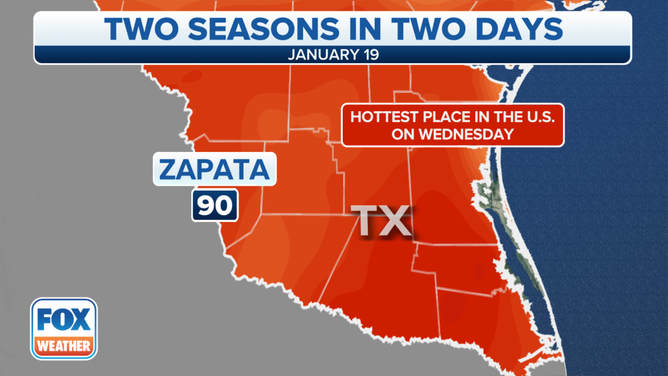 Significant icing from freezing rain is expected across the region overnight into Friday morning, leading to very slippery conditions on sidewalks, roads and bridges.
WINTRY MIX CREATING ICY CONDITIONS FROM TEXAS TO FLORIDA PANHANDLE ON FRIDAY
Temperatures will dip into the lower 30s early Friday, but wind gusts to 20 mph will create wind chills between 20 and 30 degrees.
That's a 60- to 70-degree drop in feels-like temperatures between Wednesday afternoon and Friday morning – a true weather whiplash for South Texas residents.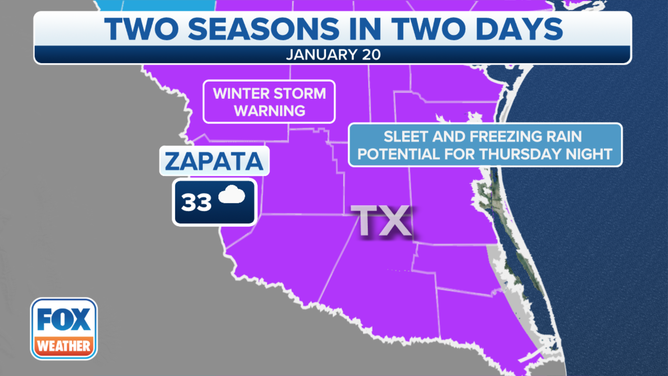 Average-high temperatures in Zapata this time of year are in the upper 60s and average lows are in the mid- to upper 40s.
It's likely that below-average temperatures will persist through the weekend, with highs between 45 and 50 degrees and lows in the mid-30s to lower 40s.