Wintry mix creating icy conditions from Texas to Florida Panhandle on Friday
Winter Weather Advisories are in effect from Deep South Texas to the central Gulf Coast
A wintry mix is creating icy conditions from southern Texas to the central Gulf Coast as freezing rain and sleet continue to fall across the region on Friday.
The National Weather Service has issued a Winter Weather Advisory for portions of Deep South Texas valid until 12 p.m. Central time. This includes the cities of Brownsville, McAllen and Zapata, where significant icing from freezing rain is occurring.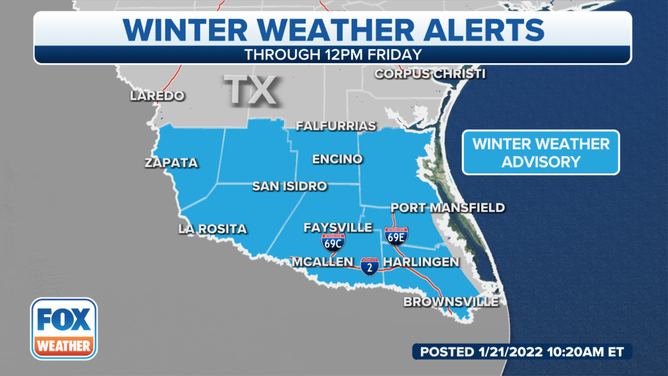 Additional ice accumulations up to one-tenth of an inch are expected through Friday morning.
The ice will result in difficult travel conditions due to slippery roads, including during the morning commute.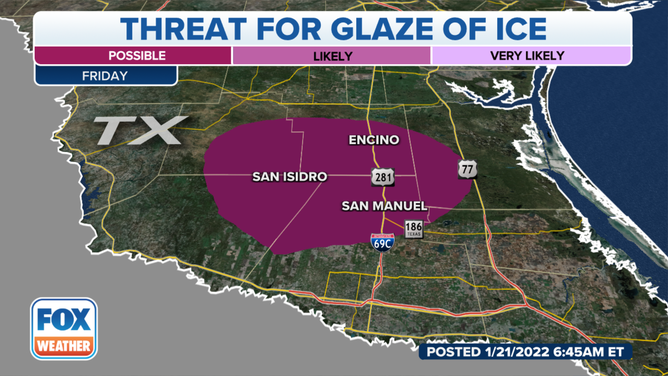 Wind chills will also range from 20 to 25 degrees in this area, which had high temperatures near 90 degrees just two days ago.
SOUTH TEXAS WEATHER WHIPLASH: TEMPS DROP NEARLY 60 DEGREES IN 36 HOURS
Farther east, freezing rain and sleet are also creating slick conditions along the central Gulf Coast on Friday.
The NWS has issued Winter Weather Advisories from southeastern Louisiana into southwestern and coastal Mississippi, southwestern Alabama and the western Florida Panhandle. This includes Baton Rouge, Louisiana; Biloxi, Mississippi; Mobile, Alabama; and Pensacola, Florida.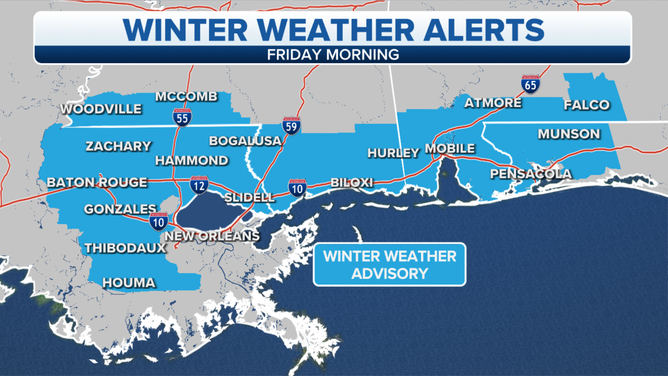 A trace to a few hundredths of an inch of ice accretion is expected in this region, resulting in slick and hazardous roadways, especially bridges and overpasses. The glaze of ice could impact drivers during the morning commute.
7 THINGS TO KNOW ABOUT ICE STORMS
People who live in this region will need to stay updated on the forecast. Download the FOX Weather app to get the latest weather alerts and forecasts for your location.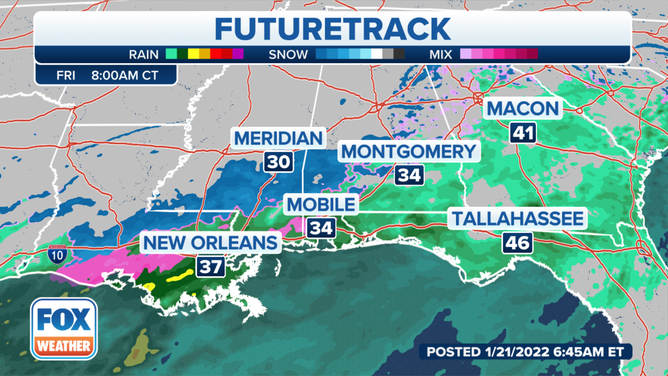 It's been nearly a year since a winter storm moved through south-central Texas. The region was among the places in the Lone Star State that were hit hard by snow, ice and arctic air in February 2021.