Tornadoes possible overnight as severe thunderstorms continue slamming Gulf Coast states
A Tornado Watch was issued for severe states Monday evening as storms slammed the Gulf Coast states with reported tornadoes and large hail.
A strong storm system has the potential for tornadoes and the threat of damaging wind gusts overnight as severe weather continues to push east. 
Severe storms were ongoing throughout portions of the Gulf Coast states.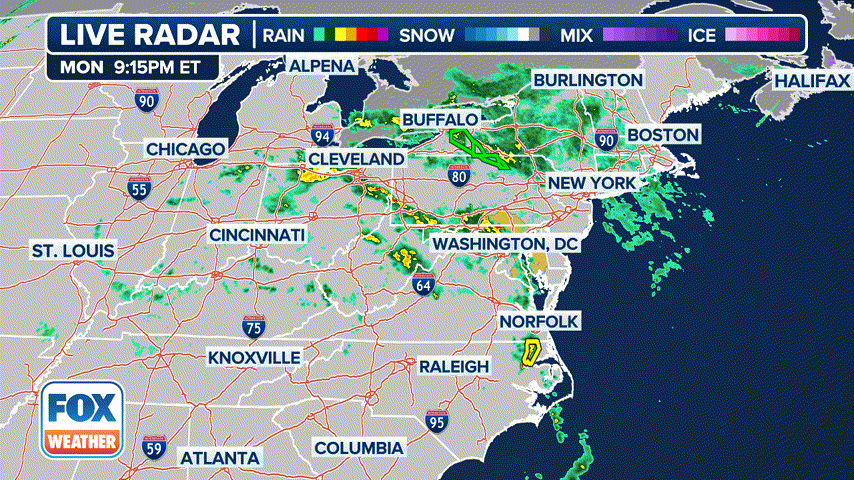 A three-hour radar loop showing where showers and thunderstorms are ongoing. Severe Thunderstorm Warnings are indicated in yellow. Tornado Warnings are indicated in red, while Tornado Warnings with a confirmed tornado are indicated in purple. Flash Flood Warnings are indicated in green, while Flash Flood Emergencies are indicated in pink.
(FOX Weather)
---
Doppler radar confirmed tornadoes in Vernon and Rapides Parishes in Louisiana. A possible tornado damaged structures and downed trees in Colfax, Louisiana.
Parts of Louisiana reported golf ball-sized hail Monday evening. Listen to the cacophony.
Strong overnight storms are possible as system continues pushing east
A dangerous nocturnal threat exists as the storms continue pushing east through Mississippi and Alabama during the overnight hours. In this region, the tornado probabilities are the highest, which warranted the severe weather threat risk rising from a 2 to a 3 on the SPC's scale.
"A big heads up for Louisiana and Mississippi, especially because some of the threat is going to be while we are sleeping," says FOX Weather Meteorologist Britta Merwin. "So if you have already done your Thanksgiving travel plans over the weekend, you're setting up shop for the week (and, say) you're in Mississippi, but you're not from Mississippi, download the FOX Weather app."
"(There) is significant risk to property," she added. "But if you don't protect your body, it can also be a deadly risk. These are going to be large, long-track tornadoes that are possible."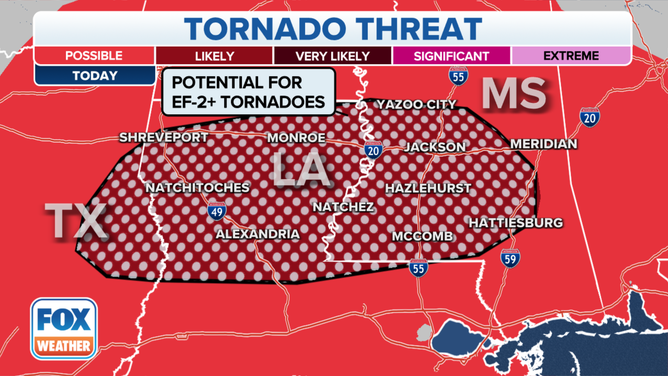 CROSS-COUNTRY STORM COULD BRING THANKSGIVING TRAVEL TROUBLE
Most of the severe weather ingredients are in place for seeing tornadoes. The relatively low amount of available storm energy could be the ingredient limiting the severity of thunderstorms, but it will still be enough with the abundant moisture and wind shear in place to keep things active for most of Monday into early Tuesday around that area. 
FALL IS THE SECOND SEVERE WEATHER SEASON
The storms along the cold front will be moving fast, and damaging wind with gusts of 60 mph or greater will be an additional concern. This line of storms will work its way through all of Louisiana and a majority of Mississippi on Monday night before finally running out of steam. 
Secondary impacts will be heavy rainfall on roadways such as Interstate 55, I-20 and I-10, which may impact anyone traveling on the roads, as well as some major airport hubs.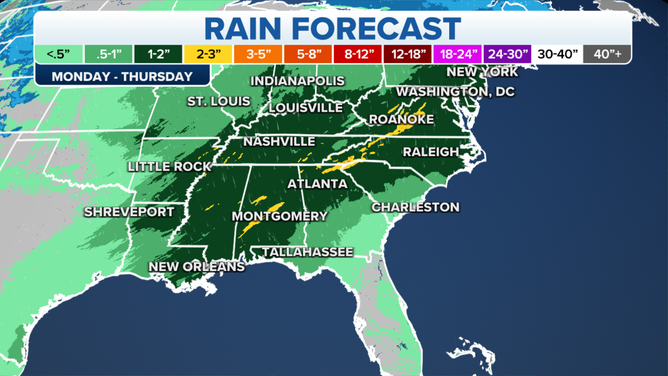 Tuesday: Lingering severe weather threat along Gulf Coast and Southeast
There is a lingering severe threat along the Gulf Coast come Tuesday morning, but the widespread severe threat will likely come to an end shortly after midnight on Monday.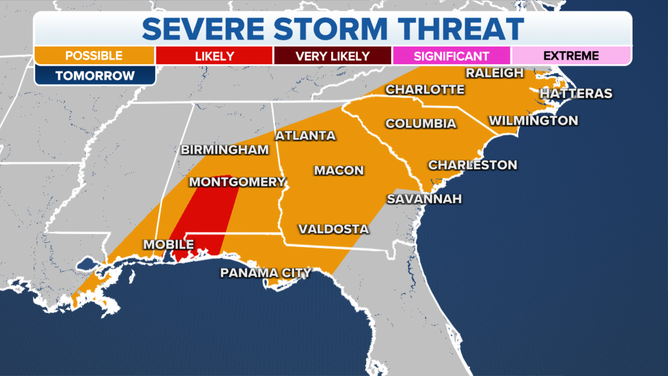 Still, the SPC has highlighted an area in southern Alabama and the western edge of the Florida Panhandle in the Level 2 risk for severe weather for early Tuesday morning and then a marginal (1 out of 5) risk of severe weather on Tuesday across a wide swath of the Southeast.
Thunderstorms capable of producing damaging winds and possibly a tornado will move across the region Tuesday morning. Strong thunderstorms are possible in Mobile, Montgomery and Panama City.