Severe Thunderstorm Watches issued for 26.6 million Americans
Damaging winds, hail and a few tornadoes are possible on Sunday.
The National Weather Service has issued Severe Thunderstorm Watches from the mid-Atlantic to northern New England on Sunday, affecting more than 26.6 million Americans.
A cold front that is moving into the East Coast region is expected to dampen some Sunday plans as storms could fire up from the Gulf Coast into New England.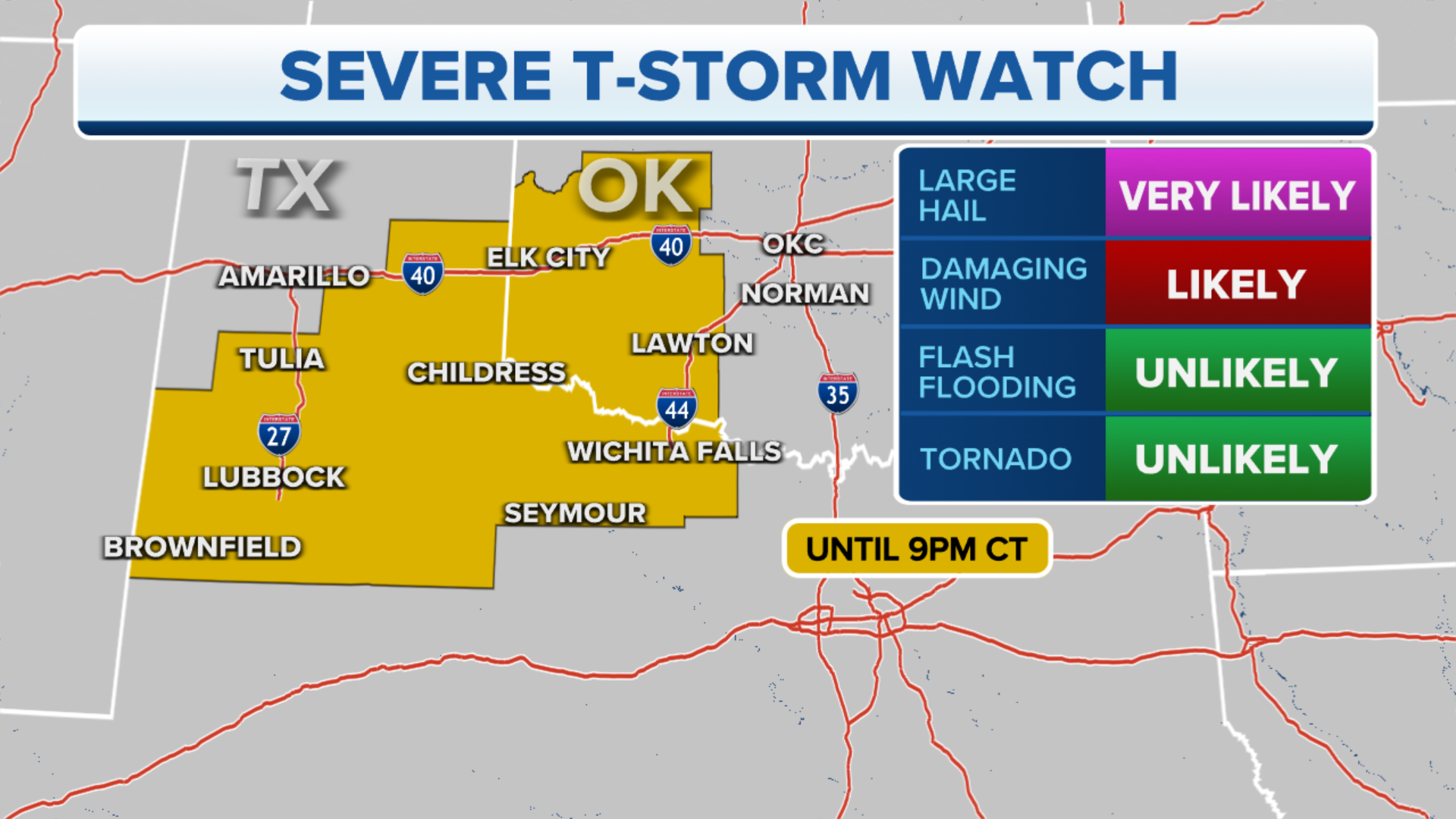 Severe Thunderstorm Watches on Sunday, May 22, 2022.
(FOX Weather)
---
The area with the most significant threat of seeing organized activity stretches from northern Virginia and the mid-Atlantic into the Northeast and across northern New England.
HOW TO WATCH FOX WEATHER ON TV
Severe storm threat on Sunday, May 22, 2022.
(FOX Weather)
---
The same system that's triggering the threat of storms produced a deadly tornado in northern Michigan on Friday that damaged several homes and businesses and left thousands without power.
Meteorologists rated the twister an EF-3 and believed winds reached 150 mph in Gaylord, Michigan.
HAIL-ISH DAY: STORMS DROP MASSIVE HAILSTONES ACROSS MIDWEST
Three-hour radar loop of the United States.
(FOX Weather)
---
May is usually the most active month for tornadoes, so it's not unusual to have a multiday severe weather threat this time of year. On average, 294 twisters form during the final month of meteorological spring.
HOW YOU SHOULD PREPARE FOR A TORNADO
Sunday
The threat of severe weather on Sunday is highest in the Northeast and New England.
(Source: FOX Weather)
---
While the threat of severe weather exists from the Gulf Coast into the Northeast on Sunday, the highest risk is centered in parts of northeastern Pennsylvania into the interior Northeast and New England.
That means people from Scranton, Pennsylvania, through Albany, New York, Burlington, Vermont and Bangor, Maine, should keep an eye on the sky.
THE 5-POINT SEVERE THUNDERSTORM RISK CATEGORY SCALE EXPLAINED
Flash flooding is possible from the Gulf Coast to New England on Sunday.
(Source: FOX Weather)
---
Flash flossing is also possible in areas where thunderstorms pop up on Sunday. But the most significant risk lies along the Gulf Coast and into the Southeast and parts of the Mississippi and Tennessee valleys.
7 FACTS YOU SHOULD KNOW ABOUT FLASH FLOODS
Workweek preview
The chance of strong to severe thunderstorms will return to Texas and the southern Plains to start the workweek.
Depending on where the greatest instability exists on Monday, thunderstorms will be capable of producing large hail and damaging winds.
Cities such as Dallas, Waco, Austin, San Antonio and San Angelo will all be in the threat zone for seeing significant storms.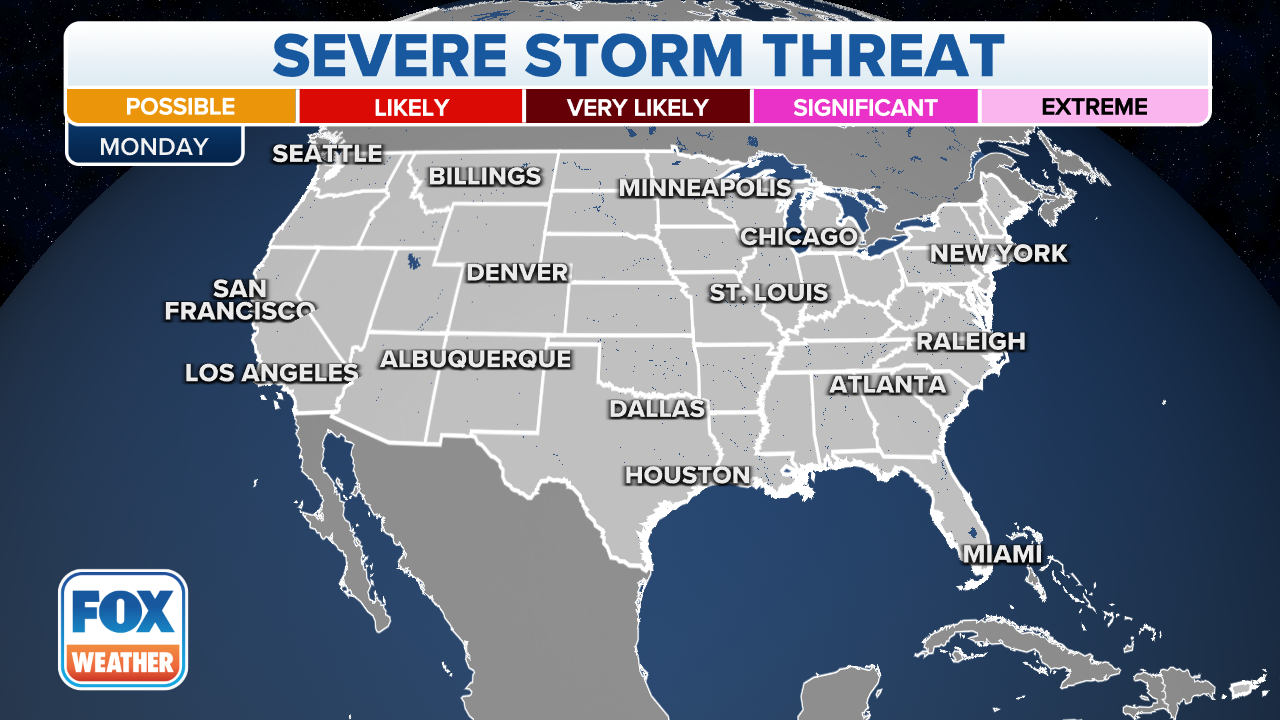 Severe storm threat on Monday.
(FOX Weather)
---
The threat of storms will shift slightly eastward on Tuesday and could impact areas in Arkansas, Oklahoma, Louisiana and Texas. 
CLICK HERE TO GET THE FOX WEATHER UPDATE PODCAST
Be sure to download the FOX Weather app for the latest forecast and weather alerts for your exact location, plus the 24/7 livestream of America's Weather Team.