2 dead, 44 injured after an EF-3 tornado tears through Michigan town
Extensive damage was observed across much of the town of Gaylord after an EF-3 tornado ripped through Friday afternoon.
GAYLORD, Mich. – Two people were killed and at least 44 others were injured after an EF-3 tornado ripped through the northern Michigan town of Gaylord on Friday afternoon.
The tornado left a long path of destruction with winds estimated by meteorologists to be around 150 mph.
The National Weather Service said the tornado was first observed on radar near Elmira and moved northeast toward Gaylord. Just before 3 p.m. Eastern, a storm spotter reported the twister just west of Interstate 75, near the intersection of State Road 32 and Murner Road.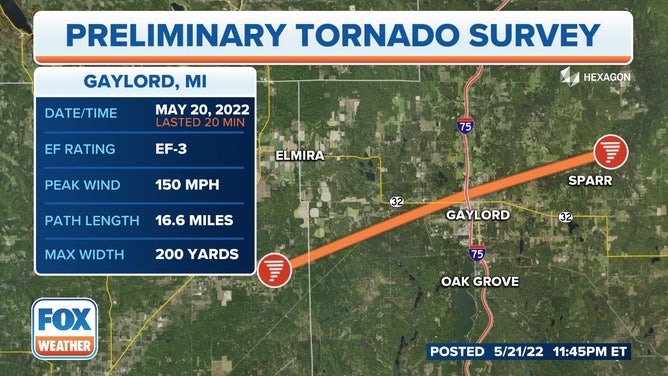 Meteorologists believe the tornado was on the ground for 20 minutes, as it made its 16 mile trek through the northern Lower Peninsula of Michigan.
VIDEOS SHOW DEVASTATION OF FIRST TORNADO EVER TO IMPACT GAYLORD, MICHIGAN
According to poweroutage.us, about 11,000 customers lost power in the Gaylord area. Crews worked to restore most utilities by Saturday evening.
Large hail was also reported in the area. There were reports of golf-ball-sized, egg-sized and baseball-sized stones.
HOW ARE TORNADOES RATED? THE ENHANCED FUJITA SCALE EXPLAINED
Gaylord's first direct hit from a tornado
Jim Keysor, the meteorologist in charge at the National Weather Service office in Gaylord, said records going back to 1950 show that the town has never taken a direct hit from a tornado.
According to Keysor, the last major severe weather event in the town was in 1998 when 100-mph straight-line winds barreled through the area.
HOW TO WATCH FOX WEATHER ON TV
"This is a very, very rare event for us, and most people that have lived here their whole lives – they've never experienced a tornado in Gaylord," Keysor told FOX Weather on Friday. "I'm sure people were scared and didn't know what to do exactly."
Keysor said he has already heard stories of people taking shelter in freezers and schools activating their safety plans because of Friday's twister.
"At a quick-lube place, people working jumped into the pit as the storm came across and damaged the building," Keysor said. "So, just some crazy stories."
Jordan Hall was storm chasing in the region, but even he was surprised a tornado would strike this far north.
"It's a pretty devastating scene in Gaylord," Hall told FOX Weather. "There's debris everywhere. There's a lot of vehicles that had been impaled with debris. A whole lot of everything scattered across the roadways."
Keysor said a survey team from the NWS has already started assessing the damage, but it may take a few days to complete the work. 
"We're having a hard time getting to a lot of the roads," Keysor said. "There's so much debris on so many of the roads, you just can't get into a lot of areas right now."
HOW METEOROLOGISTS DETERMINE IF A TORNADO IS TO BLAME FOR STORM DAMAGE
"This has been a shock to the small town where a lot of us know each other," Keysor said. "Our thoughts and prayers go out to all the people who lost businesses and had people injured – we had that unfortunate one fatality. But the good news is things are quieter weather-wise to enhance our recovery efforts over the next few days."