Hail-ish day: Storms drop massive hailstones across Midwest
Take a look at the photos and videos of severe weather that shocked residents Thursday.
Take cover! Ingredients across the Midwest came together Thursday for hail to cover the ground and even damage trees from communities around Minneapolis into the lower Ohio Valley.

The largest hail reports came out of Minnesota, where the ice fell in clumps larger than baseballs.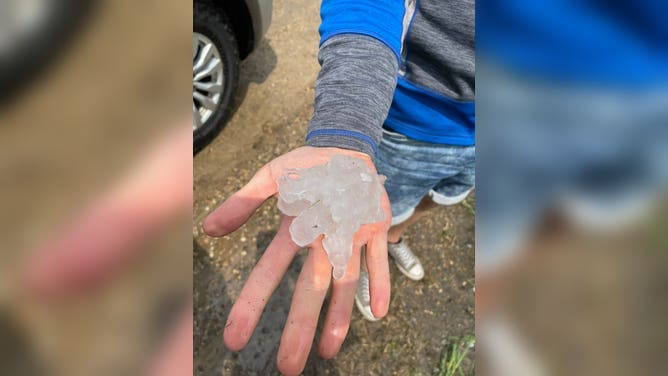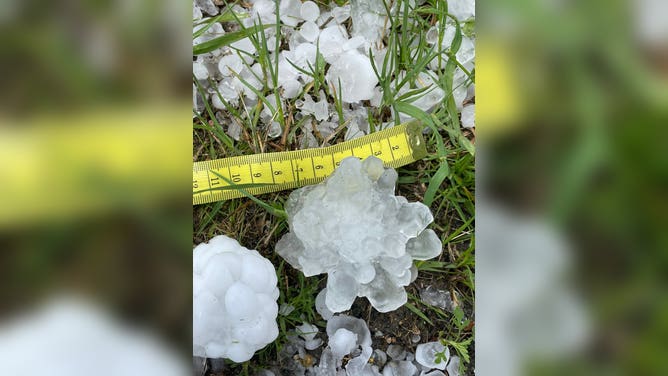 Bigger than a teacup but smaller than a softball, hailstones that looked more like Medieval maces fell over Albert Lea, Minnesota Thursday.
The NWS estimates that these huge chunks of ice fall at around 72 mph. It's no wonder hailstones break windshields and dent cars.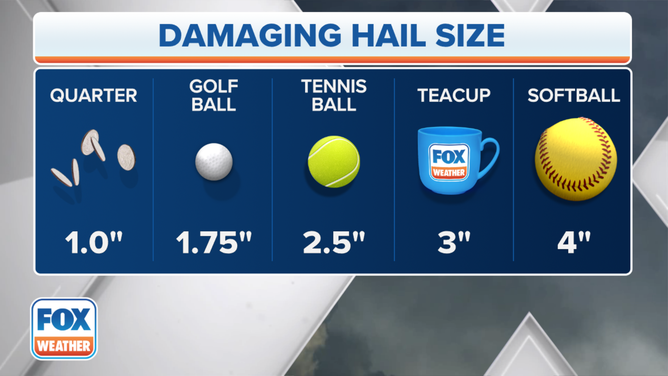 Watch leaves fall like it was autumn in Saint Paul, Minnesota. Quarter-size hail took out hundreds of new leaves in a neighborhood and coated the ground, looking more like snow.
A Ramsey County Emergency Manager ducked inside the car when golf ball-size hail, which falls around 40 mph, rained down. They grabbed a hailstone to prove it when the storm let up.

Enough hail fell in downtown Minneapolis that it flowed down streets like an icy river.
SNOW, SLEET, FREEZING RAIN AND HAIL: WHAT'S THE DIFFERENCE?
THE FIVE-POINT SEVERE THUNDERSTORM RISK CATEGORY EXPLAINED
Severe storms rolled over Missouri Thursday afternoon. You can hear the tornado sirens blare in Oakville. Tornado Warnings threatened downtown St. Louis.
Heavy rain from the severe storms swamped cars. Police received calls to rescue drivers trapped by quickly rising water.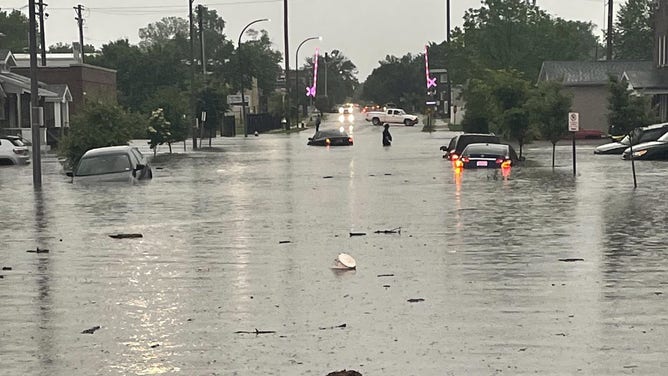 TORRENTIAL THUNDERSTORMS TRIGGER URBAN FLOODING AROUND ST. LOUIS
One driver heading into North Platte, Nebraska had second thoughts. Storm clouds created a creature with a gaping maw that looked ready to devour any motorists that dared approach.
CLICK HERE TO GET THE FOX WEATHER UPDATE PODCAST
More severe storms are likely Friday in Michigan, Oklahoma and part of Texas.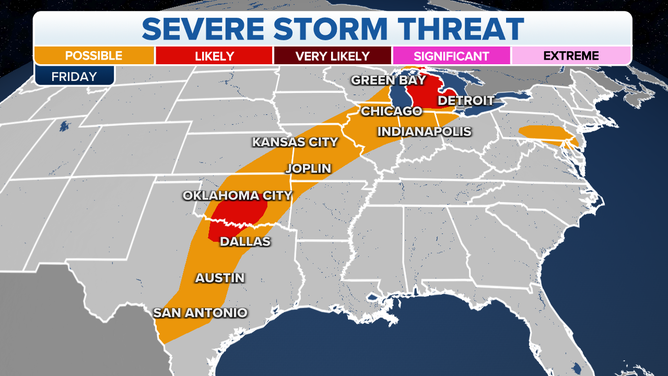 WEEKEND TO KICK OFF WITH SCATTERED STORMS FROM GREAT LAKES TO TEXAS
Stay ahead of the watches and warning where you live with the app, FOXWeather.com or watch FOX Weather on TV.