Torrential thunderstorms trigger urban flooding around St. Louis
An EF-0 tornado touched down in the western suburbs of St. Louis
ST. LOUIS – A line of strong thunderstorms sounded tornado sirens and dropped an enormous amount of rain across the St. Louis Metro area Thursday evening, overwhelming some storm drains and causing flooded roads.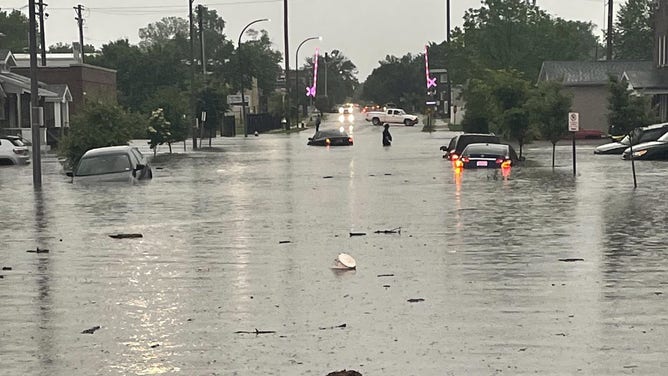 Doppler Radar estimated around 2 inches of rain fell in and south of St. Louis in short order as the storms rolled through eastern Missouri. Two Tornado Warnings were issued after radar-indicated rotation.
The National Weather Service confirmed a brief EF-0 tornado touched down in Kirkwood, Missouri, an inner-ring western suburb of St. Louis, at 4:58 p.m. Central time before lifting by 5:03 p.m.
WEEKEND TO KICK OFF WITH SCATTERED STORMS FROM GREAT LAKES TO TEXAS
However, firefighters were busy responding to several calls for help after cars became trapped in floodwaters. The St. Louis Fire Department tweeted seven different reports of flooded cars around the city, including three vehicles trapped along I-55 at Loughborough and another stuck on I-64. No injuries were reported.
Strong winds toppled trees and power lines in the area, knocking out power to around 20,000, according to PowerOutage.us. An anemometer in western St. Louis suburb of Clayton registered a gust of 53 mph, according to the NWS. 
Spotters submitted five storm reports of trees down across the western suburbs.
The storms also triggered numerous flight delays as it rolled over St. Louis' Lambert International Airport.