Derecho knocks out power to more than 500,000 from Midwest to Ohio Valley
A wind gust of 98 mph was reported at Fort Wayne International Airport in Indiana on Monday night
The National Weather Service has confirmed that a powerful cluster of thunderstorms known as a derecho was responsible for downing trees and knocking out power to more than a half-million Americans from the Midwest to the Ohio Valley on Monday.
HOW TO WATCH FOX WEATHER ON TV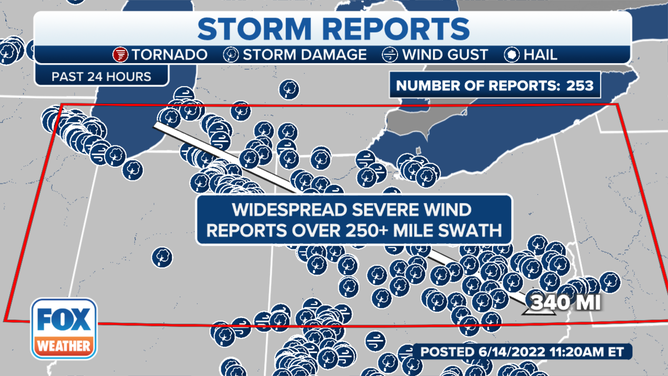 In order for the event to be classified as a derecho, the swath of straight-line wind damage caused by the storms needs to cover a distance of at least 400 miles and include wind gust reports stronger than 58 mph along most of its path.
It also must include several, well-separated wind gusts stronger than 75 mph.
In regard to Monday's severe weather event, there were more than 300 reports of winds stronger than 58 mph and several reports of wind gusts stronger than that.
In fact, there was a 98-mph wind gust reported at Fort Wayne International Airport in Indiana and another wind gust of 84 mph at Chicago's O'Hare International Airport as the severe weather was moving through.
An EF-0 was confirmed by the National Weather Service from Schaumburg to Roselle after conducting a storm survey Tuesday. They noted the tornado was flanked on its western side by a swath of severe straight-line winds
Large hail was also reported from the severe thunderstorms.
The National Weather Service in Milwaukee reported hail up to 2 inches outside its office Monday night, with similar-sized hail seen in Waukesha and Milwaukee counties.
Tornado Warnings were issued in the Chicago area when a supercell thunderstorm barreled through the region, and there were several reports of funnel clouds being seen.
As of Tuesday afternoon, there have been no reports of funnel clouds actually touching the ground. However, the NWS in Chicago said it would send storm survey teams to the communities of Streamwood, Schaumburg and Roselle to see if damage there was indeed caused by a tornado.
Sirens wailed across the Chicago metro area as the tornado-warned storm moved through, and strong winds were responsible for bringing down trees and power lines across the area.
In a video posted to social media, a large tree branch could be seen being blown down a Chicago street as the winds picked up in intensity.
There were also several reports of structures being damaged because of the storms.
FOX 32 Chicago reporter Joanie Lum tweeted a photo showing a large tree that came crashing down onto a home in the community of Riverside.
THE 5-POINT SEVERE THUNDERSTORM RISK CATEGORY SCALE EXPLAINED
Luckily, Lum said, the homeowner was able to escape injury after hearing the warnings and seeing shelter.
He had been in his living room watching TV, which is where the tree came crashing down.
To the south in Waynedale, Indiana, the powerful derecho knocked down several trees and utility lines, knocking out power to tens of thousands of customers, many of which are still without electricity as of Tuesday afternoon, according to PowerOutage.us.
Damage was also reported in the community of Wheeling, West Virginia, where photos showed trees covering roads with power lines underneath them.
The cleanup effort will continue throughout the day on Tuesday, including restoring power to hundreds of thousands of people from the Midwest to the Ohio Valley.
CLICK HERE TO GET THE FOX WEATHER UPDATE PODCAST
To make matters worse, extreme heat, with temperatures reaching above 100 degrees, is expected in some locations.
HOW THE WEATHER YOU'RE ACCUSTOMED TO AFFECTS NATIONAL WEATHER SERVICE HEAT WARNINGS, ADVISORIES
As a result, the NWS has issued Heat Advisories, Excessive Heat Watches and Excessive Heat Warnings as conditions will become life-threatening for millions of Americans struggling to stay cool without electricity.
Be sure to download the FOX Weather app to track any storms in your area and receive potentially life-saving weather alerts issued by the National Weather Service. The free FOX Weather livestream is also available 24/7 on the website and app and on your favorite streaming platform. The FOX Weather Update podcast also provides weather information for the entire country.