Fall flip-flop: West to get first significant rain in months as East enjoys late-October warmup
A change in the jet stream pattern across the US is bringing a variety of weather changes from coast to coast, including much-needed rainfall in the West and a significant warmup in the East.
A major shift in the weather pattern is now taking shape across the U.S., ushering in several changes from coast to coast highlighted by the West's first significant rainfall in months and a return to above-average warmth in the East after an early winter preview.
Autumn – and clean air – finally arrive in Pacific Northwest
For the Pacific Northwest, after about a month-long delay, autumn is finally making its presence felt as an area of low pressure ends a historic months-long dry stretch that brought endless days of well-above-average heat and barely any drops in the rain gauges, not to mention smoky skies.
The persistent hot and dry pattern helped spawn numerous large and stubborn wildfires, channeling a relentless barrage of smoke that has plagued the coastal Northwest, leading to days of unhealthy to even hazardous levels of air quality across Seattle and Portland, Oregon. Both of those cities were rated to have the worst air quality in the world for multiple days this week, according to IQAir.
THICK, RELENTLESS SMOKE LEAVES SEATTLE, PORTLAND WITH WORST AIR QUALITY IN THE WORLD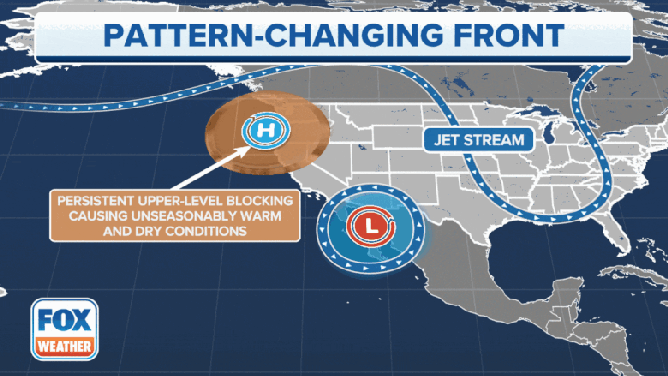 The heat, too, has been a persistent thorn across the West, with this late-summer and early-fall stretch becoming the hottest on record for nearly every station in Washington, Oregon, Idaho, Montana, Nevada and northern Utah. 
But the coastal Northwest awoke to clouds instead of smoke Friday morning, with rain soon to follow – and plenty of it. Friday's system will bring around an inch of rain to the Washington and Oregon lowlands, with another system late Sunday into Monday expected to bring another round of extremely needed rain. Already, winds ahead of the storm had cleared out much of the smoke in the Seattle area, and air quality alerts were set to expire later Friday morning.
Rainfall forecast over the next five days.
(FOX Weather)
---
More rain could fall in 12 hours for many locations than in the past three months. Prior to the arrival of Friday's rain, Seattle had received 0.54 inches of rain over the past 120 days – the driest such stretch in the city's recorded history. Olympia, Washington (0.27 inches), Portland, Oregon (0.48 inches), and Eugene, Oregon (0.42 inches), also had record months-long dry stretches.
What's more, the higher elevations of the Cascades will see the season's first snowflakes. Snow levels will fall to between 4,000 and 5,000 feet on Saturday and 2,500 to 3,500 feet on Sunday. At least 6 inches of snow is looking increasingly likely at and above 5,000 feet, according to the FOX Forecast Center.
The snow will then spread into the Wasatch Mountains of Utah and the Rockies of Colorado and Wyoming on Sunday. Heavy snow, possibly over a foot, is likely for all of the highest mountain ranges. At lower elevations where it'll be too warm for snow, rain and gusty winds can be expected.
WHEN IS THE EARLIEST IT CAN SNOW IN YOUR CITY?
Snowfall forecast in the West.
(FOX Weather)
---
The chill of autumn will accompany the rain as temperatures along the northern Interstate 5 corridor will drop by 15 to 25 degrees, resulting in afternoon temperatures stuck in the 50s and 60s.
Seattle, which reached a record 88 degrees last Sunday and hadn't seen a high temperature more than 2 degrees below average since July 3, will drop into the 50s on Friday and stay there through the next week, with rain showers in the forecast each of the following seven-plus days. Portland, Oregon, will join Seattle in the 50s on Friday as the Rose City, too, has rain in its forecast all of next week.
SEATTLE SMASHES RECORD HIGH BY 16 DEGREES AMID HISTORIC AUTUMN HEAT EVENT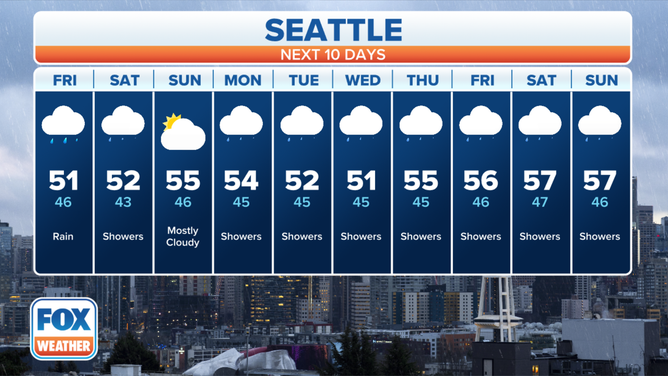 Midwest, South and East to enjoy significant warmup after record cold
For millions of Americans in the eastern half of the nation, Wednesday was the coldest day so far this season. Dozens of cities across the central and eastern U.S. plunged to record lows as temperatures dipped to near or below freezing all the way to the Deep South. Tallahassee, Florida's low of 31 degrees Thursday morning was its coldest temperature ever recorded that early in the fall.
But the winterlike chill will soon be a distant memory as the jet stream lifts northward into Canada, allowing a much warmer air mass from the South to overspread the Midwest, South and East.
WEEKEND COASTAL STORM TO BRING SOAKING RAIN, WIND FROM CAROLINAS TO MAINE
After highs in the 40s and lows in the 30s in Chicago earlier this week, temperatures are now expected to climb well into the 70s through Monday.
New York City will see a similar temperature rebound, as highs in the 50s and lows in the 40s are replaced by temperatures in the lower to mid-60s through Monday, then warming even further into the upper 60s from Tuesday to Thursday.
Even the Atlanta metro area, where overnight lows approaching 32 degrees prompted Freeze Warnings earlier this week, will climb well into the 70s beginning this weekend and continuing into at least Thursday.
Forecast highs on Sunday, Oct. 23, 2022.
(FOX Weather)
---
HERE'S WHEN TO EXPECT THE FIRST FREEZE OF THE SEASON
In other words, most areas will transition from temperatures that are 15 to 30 degrees below average to those that are 10 to 25 degrees above average for this time of year.
In the central Plains, cities such as Omaha and Lincoln, Nebraska, which set record lows with temperatures in the teens earlier this week, could approach record highs on Sunday as temperatures soar into the 80s.
After a record low of 16 degrees Wednesday morning, Lincoln, Nebraska, will soar into the 80s on Sunday and threaten its daily record high of 84 degrees set in 1915.
(FOX Weather)
---
"The warmer air is going to slowly start to move eastward, so by next week, some of you, especially in the Northeast, could be seeing temperatures well into the 70s," FOX Weather meteorologist Jason Frazer said.
The latest 6- to 10-day temperature outlook from NOAA's Climate Prediction Center highlights the Northeast as having the highest likelihood of above-average warmth through the end of October, but near- or above-average temperatures are expected to dominate most areas along and east of the Mississippi River.
HOW BAD WILL WINTER BE? NOAA PREDICTS LA NIÑA WILL PLAY ROLE IN SEASON'S WEATHER FOR 3RD STRAIGHT YEAR
Meanwhile, the West will turn much colder than average as the October warmth is wiped away by this pattern change, with the highest odds of below-average temperatures centered over the Rockies and Great Basin.
NOAA's 6- to 10-day temperature outlook.
(FOX Weather)
---