Tornadoes sighted in Oklahoma City; 114 mph gust in Texas as storms slam Midwest
Tornado sirens wailed in Oklahoma City and Memphis, Texas has already reported a gust of 114 mph as a ferocious line of thunderstorms rolls across the Midwest Sunday evening, threatening widespread damaging wind gusts with additional potential for tornadoes and large hail.
OKLAHOMA CITY --  A dangerous severe weather event is rolling across the Plains Sunday evening as a line of thunderstorms is bringing destructive winds as high as a Category 2 hurricane to parts of Texas and Oklahoma, in addition to a significant threat of strong tornadoes, large hail, and blinding dust storms.
Oklahoma City faced multiple confirmed tornado sightings as the storms approached their metro areas, with damage reported in the Norman and Shawnee areas.
A blistering 114 mph wind gust was measured Sunday evening in Memphis, Texas, according to the National Weather Service, while wind-driven golf-ball-sized hail has blown out windows in town.
Other gusts have exceeded 70 mph in Amarillo and El Paso in Texas, and one person was injured in El Paso County's Fort Bliss when they were blown off their feet, according to a National Weather Service storm report. 
Also in Fort Bliss, weather spotters reported that an exit off of Interstate 10 was closed due to leaning power poles. El Paso reported a 71 mph gust – the 7th strongest gust recorded in the city with records going back into the late 19th century. 
"A remarkable, perhaps historic storm system, is currently approaching our forecast area," National Weather Service forecasters in Norman, Oklahoma wrote in their 5:30 pm CT forecast discussion. 
Current Radar.
(FOX Weather)
---
In Liberal, Kansas a reported tornado destroyed a home and toppled trees and power lines Sunday afternoon, according to the National Weather Service, citing law enforcement reports.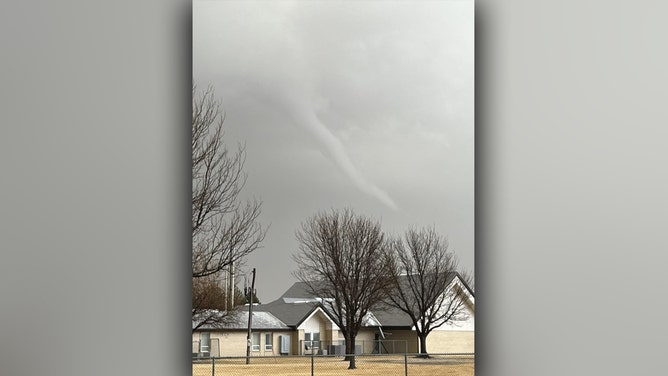 In a Public Severe Weather Outlook, Storm Prediction Center meteorologists forecast the storms could reach derecho status, which is a rare occurrence in a forecast.
"A derecho is forecast with widespread damaging winds and embedded swaths of significant severe gusts from 80-110 mph, centered on parts of Oklahoma this evening into tonight," the SPC wrote. "Embedded tornadoes are anticipated as well, with the greatest potential for strong (EF2-EF3) tornadoes across southwest Oklahoma this evening."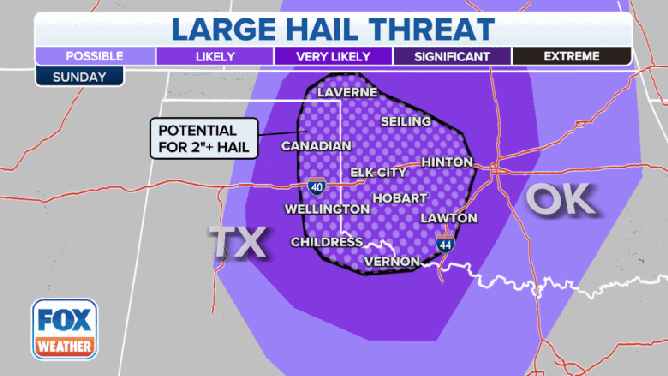 Some thunderstorms have been clocked at moving 100 mph while bringing gusts of 90 mph, according to the National Weather Service.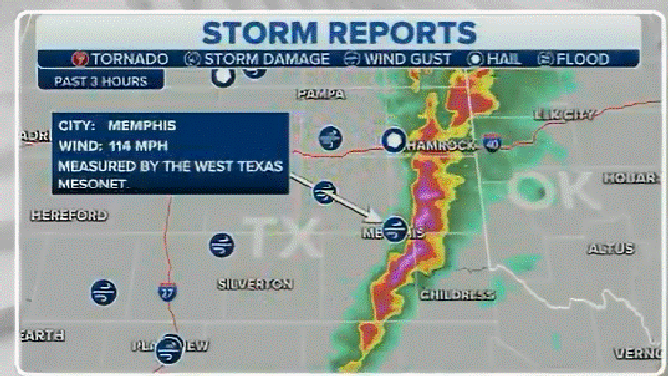 "If you live in a mobile home and the storms have not arrived at your location yet, now is the time to make plans for how to safely shelter from tonight's storms," National Weather Service forecasters in Norman, Oklahoma warned. "Mobile homes will not make for a safe shelter."
Severe weather tracker.
(FOX Weather)
---
In addition to the hurricane force winds and intense tornadoes, the SPC warns of isolated large hail across the area, up to baseball size. 
More than 10 million people are included in the severe weather threat, which stretches from parts of Texas through Missouri.
Here's a look at the severe storm threat for Sunday, Feb. 26, 2023.
(FOX Weather)
---
The severe thunderstorm threat level was raised to 4 out of 5 across parts of North Texas and central Oklahoma, earlier on Sunday morning. That hasn't been seen in this region in February since Feb. 23, 2019. 
The National Weather Service issued a Tornado Watch for much of Oklahoma, and parts of Texas and Kansas until 1 a.m. local time while a good portion of Kansas is also under a Severe Thunderstorm Watch until 8 p.m.
Tornado Watch.
(FOX Weather)
---
Tornadoes could develop across parts of North Texas through western Oklahoma and into portions of Kansas and Missouri. Cities included in the tornado threat are Childress in Texas, Oklahoma City and Tulsa in Oklahoma, Wichita in Kansas, and Joplin in Missouri.
Some tornadoes in southwestern Oklahoma could be rated EF-2 or stronger.
Blinding dust storms amid ferocious winds
In addition, Blowing Dust Advisories with High Wind Warnings cover much of New Mexico, Texas and Oklahoma through the early morning on Monday. 
Wind Alerts
(FOX Weather)
---
Throughout the day, those advisories shift east into the Ohio and Mississippi Valleys.
Winds from the storm have already picked up dust, blowing it hundreds of miles along gusts of 50, 60 and even 70+ mph.
Gusts have taken a toll on power lines across the area. PowerOutage.US reports that over 100,000 lost power across parts of Oklahoma, Texas and New Mexico as of early Sunday night. 
Power outages.
(FOX Weather)
---
A satellite loop shows a plume of dust carried by the winds starting Sunday morning.
The Albuquerque NWS office took a picture of the dust moving through just outside their office earlier Sunday Visibility dropped almost instantaneously. Some areas only had a quarter mile of sight. The dust completely made the Sandia Mountains disappear.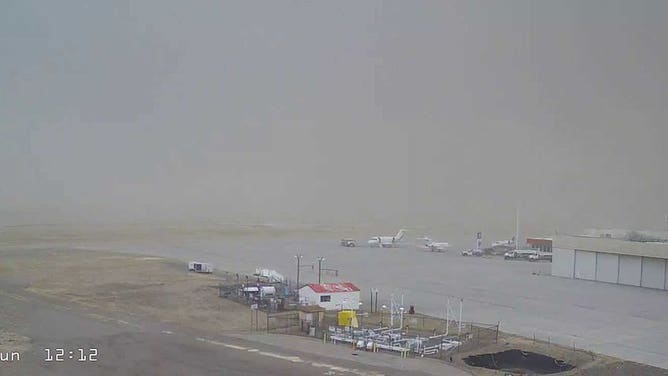 The office sent out a time-lapse photo loop of the bright blue sky disappearing as the dust moved in.
Storm moves into eastern Oklahoma, Missouri overnight
This line of storms is expected to move east Sunday night and could impact locations like Tulsa in Oklahoma and Kansas City in Missouri.
TORNADOES HIT LARGE CITIES: THIS IS WHY
Here's a look at the severe storm threat for Sunday, Feb. 26, 2023.
(FOX Weather)
---
WHERE ARE TORNADOES MOST LIKELY TO OCCUR IN FEBRUARY?
After storms sweep through the Plains, they will make their way eastward in the Tennessee and Ohio valleys.
The severe storm threat on Monday covers an area spanning from Indiana and Ohio down to through Tennessee. The SPC expects the highest risk will be across eastern Kentucky, southern Indiana and Ohio.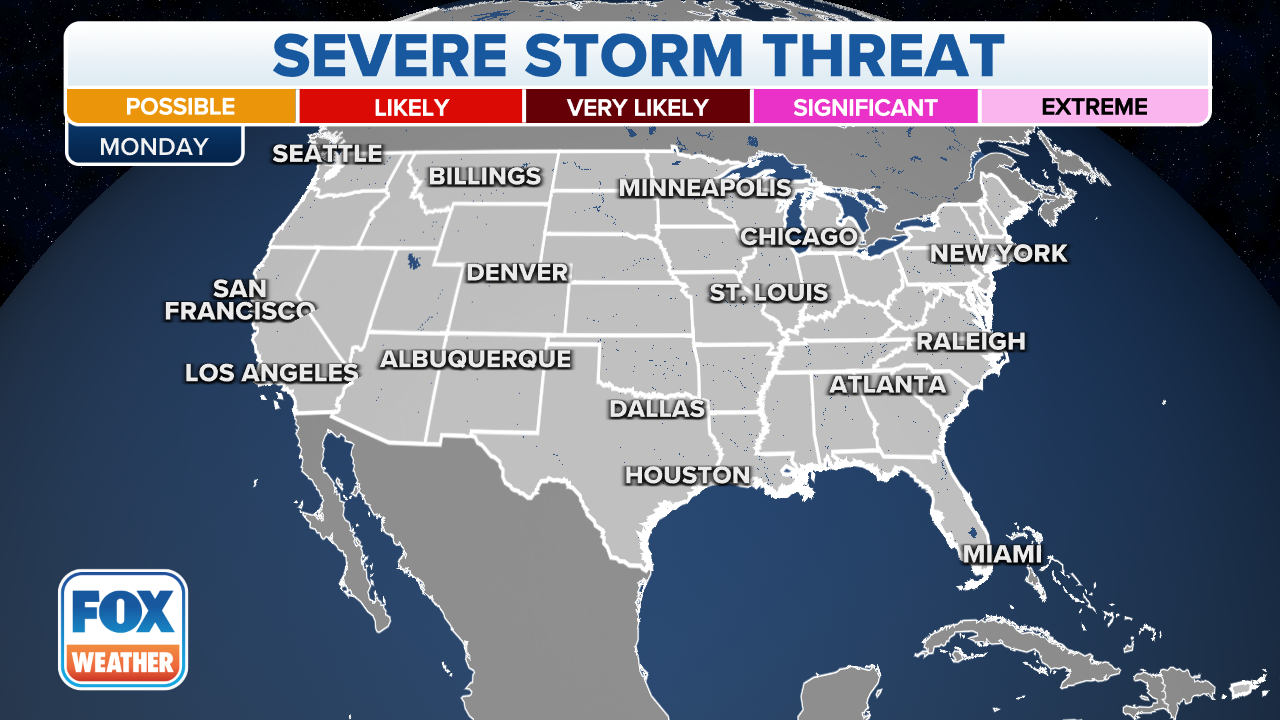 Here's a look at the February tornado probability compared to the severe weather threat on Sunday.
(FOX Weather)
---
Similarly to the weekend threat, damaging wind gusts will be the biggest concern, but isolated storms with hail and tornadoes cannot be ruled out.
The threat of severe weather will diminish on Tuesday as the storm system pushes off the Eastern Seaboard.
Not where February severe weather is most common
"What we have been seeing, which is not abnormal, is our kind of second Tornado Alley in the winter. We usually do see tornadoes across Mississippi and Alabama," FOX Weather meteorologist Britta Merwin said. "The change with this year it's just how many we've seen. It's just been so active."
This is the second week in a row, Merwin said, that we've seen severe weather shift a little bit farther into kind of the traditional Tornado Alley, which is ahead of schedule. We typically would see that shift closer to April.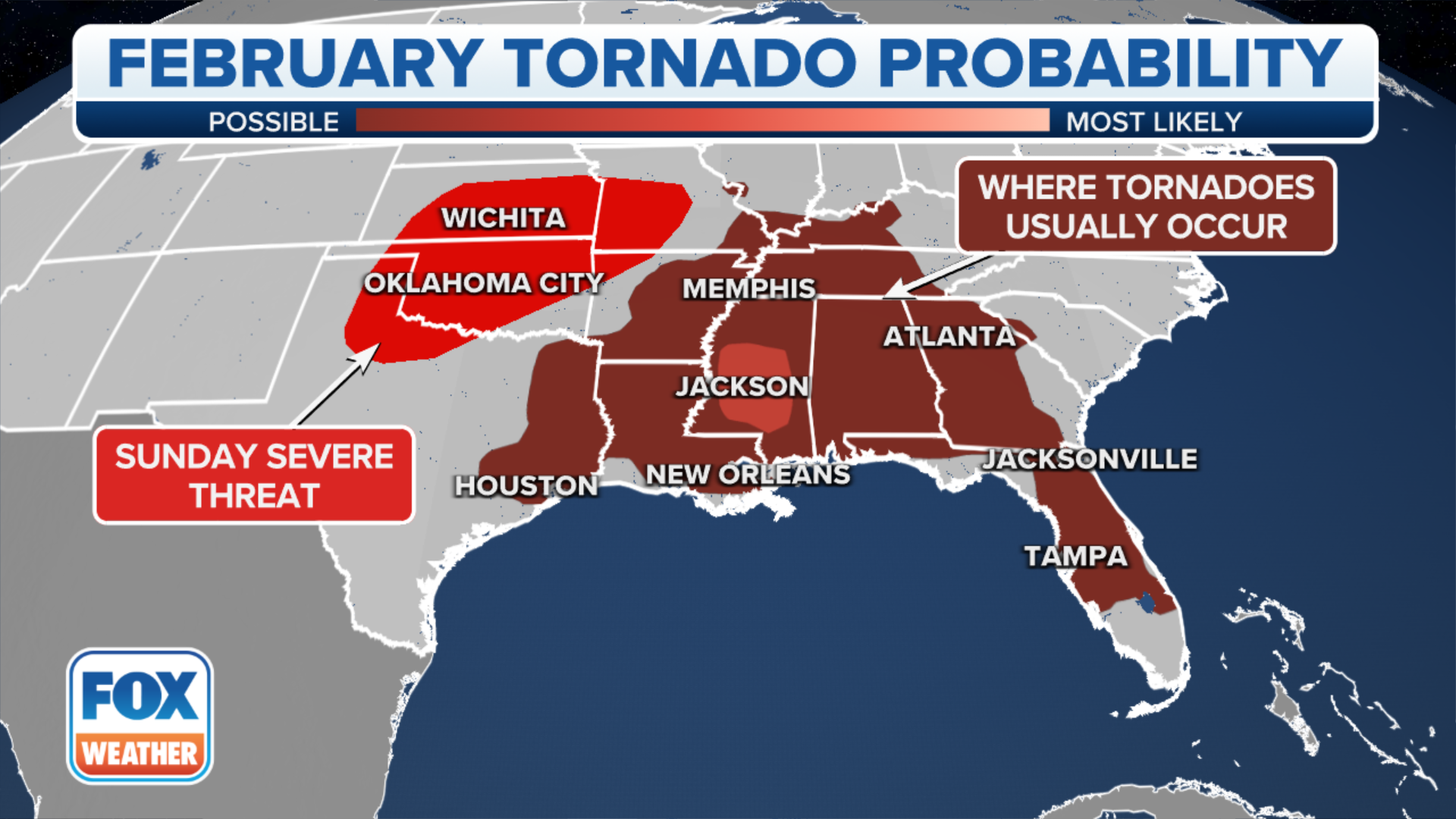 Here's a look at the February tornado probability compared to the severe weather threat on Sunday.
(FOX Weather)
---
If a tornado were to strike Oklahoma on Sunday, it would be a rare occurrence, with only 51 February tornadoes reported in the Sooner State since 1950. The last February tornado in Oklahoma was an EF-0 twister on Feb. 27, 2011.