La Nina's last grasp triggers active January severe weather outbreaks
Three of the more than 100 tornadoes were given the a preliminary rating of EF-3 on the Enhanced Fujita Scale. Tornadoes in Texas, Alabama and Georgia were estimated to have winds of at least 136 mph.
The combination of record-breaking warmth to start the year and an active pattern, typical of a La Niña episode, resulted in an unusual start to the severe weather season during what is usually a quiet month for extreme weather.
A combination of tornadoes, hail and damaging winds propelled the severe weather tallies to 182 percent of normal – making it the fourth most active January since 1999.
The Storm Prediction Center said it received nearly 800 severe weather reports, including 168 tornadoes. Some occurred in states that usually don't report many instances during the winter, such as Iowa and California.
According to data from the National Centers for Environmental Information, January's initial reports for tornadoes were the second most behind 1999's record-breaking 214 twisters.
HOW ARE TORNADOES RATED? THE ENHANCED FUJITA SCALE EXPLAINED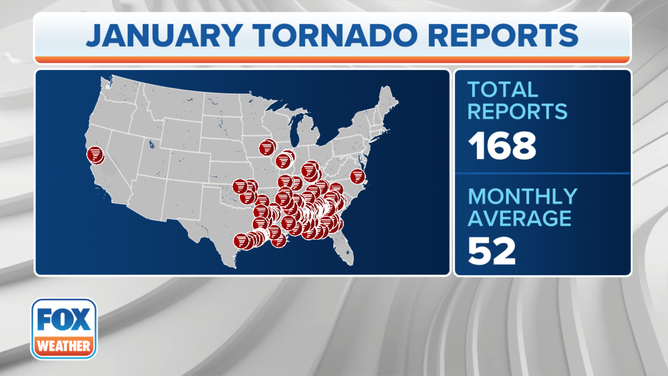 First outbreak of 2023
The first outbreak of the year started over the Southern Plains and Mississippi Valley on January 2 and continued until it exited the Eastern Seaboard on January 4.
An unusually warm start to January helped lead to enough instability to kick off supercells.
During the three-day outbreak, at least 58 tornadoes were reported, making it the largest of the month.
Many of the tornadoes were weak and ranked as either an EF-0 or EF-1 on the Enhanced Fujita Scale.
Video cameras at Arkansas' Jessieville High School captured the moments one of the EF-1 tornadoes damaged the campus.
Despite classes being in session, only two minor injuries were reported by the local sheriff's department.
In addition to the tornadoes, nearly 300 instances of damaging wind and three dozen sightings of hail were reported across 15 states.
Despite the scope of the severe weather outbreak, there were no reported fatalities.
Deadliest outbreak of the month – January 12
All eight deaths associated with tornadoes occurred during a seven-state outbreak that took place on January 12th.
National Weather Services offices received reports of 87 tornadoes, of which at least 39 were confirmed, including two EF-3 twisters.
EF-3 tornadoes are capable of what the NWS describes as severe damage, and meteorologists tracked one of these twisters through central Alabama and another around the town of Griffin, Georgia.
Seven of the deaths were attributed to a long-track tornado that traveled over 76 miles in Alabama and was 1,500 yards wide during the height of the storm.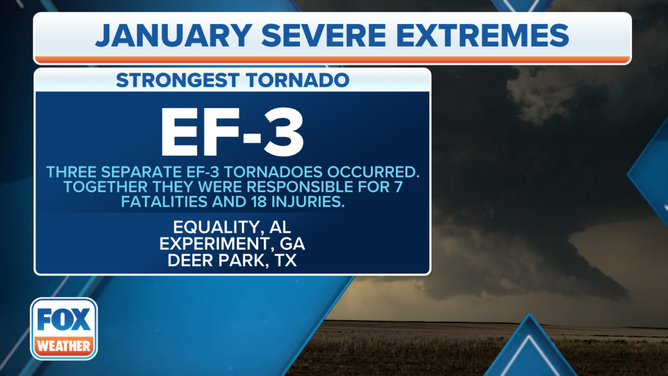 The cell also impacted communities around Selma, Alabama, and struck a daycare where around 70 children were sheltering. Due to the staff's efforts, everyone at the church survived the event with only minor scrapes.
As the storm system moved eastward across the South, officials in Butts County, Georgia, reported a person was killed after a tree fell on a car that was traveling during the storm.
The family identified the storm victim as 5-year-old Egan Jeffcoat and said his mother was picking him up early from school before the storms when on the way home, a tree fell directly on their car.
'WORST DAY OF MY LIFE': TORNADO DESTROYS SELMA DAYCARE, TRAPPING DOZENS OF CHILDREN INSIDE
First Tornado Emergency for Houston
A tornado spotted southeast of Houston on January 24 was one of at least 16 that formed during an outbreak and triggered the issuance of a rare Tornado Emergency for parts of the metro.
The strongest of the tornadoes was rated an EF-3 after damage was surveyed in Deer Park, Texas.
Unlike the previous two EF-3 twisters of the year, no deaths were tied to the strong tornado.
Other touchdowns were reported in Louisiana and Florida, but the damage was mostly limited to trees, power lines and mobile homes.
WHY TORNADO ALLEY IS SHIFTING EAST
Active start to year does not signify what could be in store during remaining months
A near-record-breaking month of severe weather is not an indicator of how the season will rank after the next 11 months wrap up.
Years such as 2022, 2017 and 2013 all got off to a relatively fast start with hundreds of reports of severe weather but finished the calendar year with activity that was either at or below normal.
Some meteorologists credit the uptick in 2023 reports to La Niña still controlling weather patterns around the globe.
During La Niña events, the polar jet stream tends to be more active over the country's heartland, where air masses collide, and moisture streams northward from the Gulf of Mexico.
Similar to more microscale events, global scale phenomena are not permanent and are constantly in flux, especially in the current year.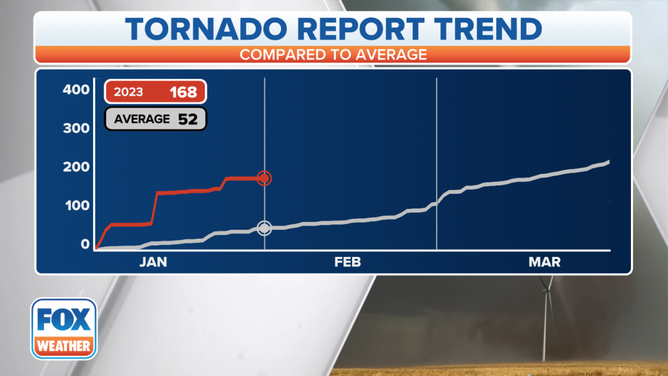 NOAA's Climate Prediction Center has been warning for months that the La Niña which has more or less been in control of weather patterns since 2020, is on its way out with a transition to a neutral or even an El Niño pattern by the end of the year.
A transition into a different state has historically led to a change in weather patterns in North America – one that could produce less conducive conditions for severe weather.
Research completed by various private, government and educational groups has found that neutral or El Niño conditions tend to produce tornado and hail events that are more in line with average or below-average historical tallies.
The U.S. averages around 1,300 tornadoes each year, with many classified as an EF-0 and EF-1 on the Enhanced Fujita Scale.